What is TikTok?
TikTok is one of the most popular apps on the market. The Chinese video-sharing app has been downloaded over a billion times and was installed more than 738 million times in 2019 alone - 44% of its all-time downloads.
TikTok is now one of the hottest and most versatile video-based social media platforms on the web full of fast-paced videos that users are consuming fast and in large quantities. Of course, as a serious marketer, you're probably wondering what a lip-syncing app for tweens has to do with serious marketing. To put it simply: advertising on TikTok works. But we'll get to that in a moment.
TikTok Demographics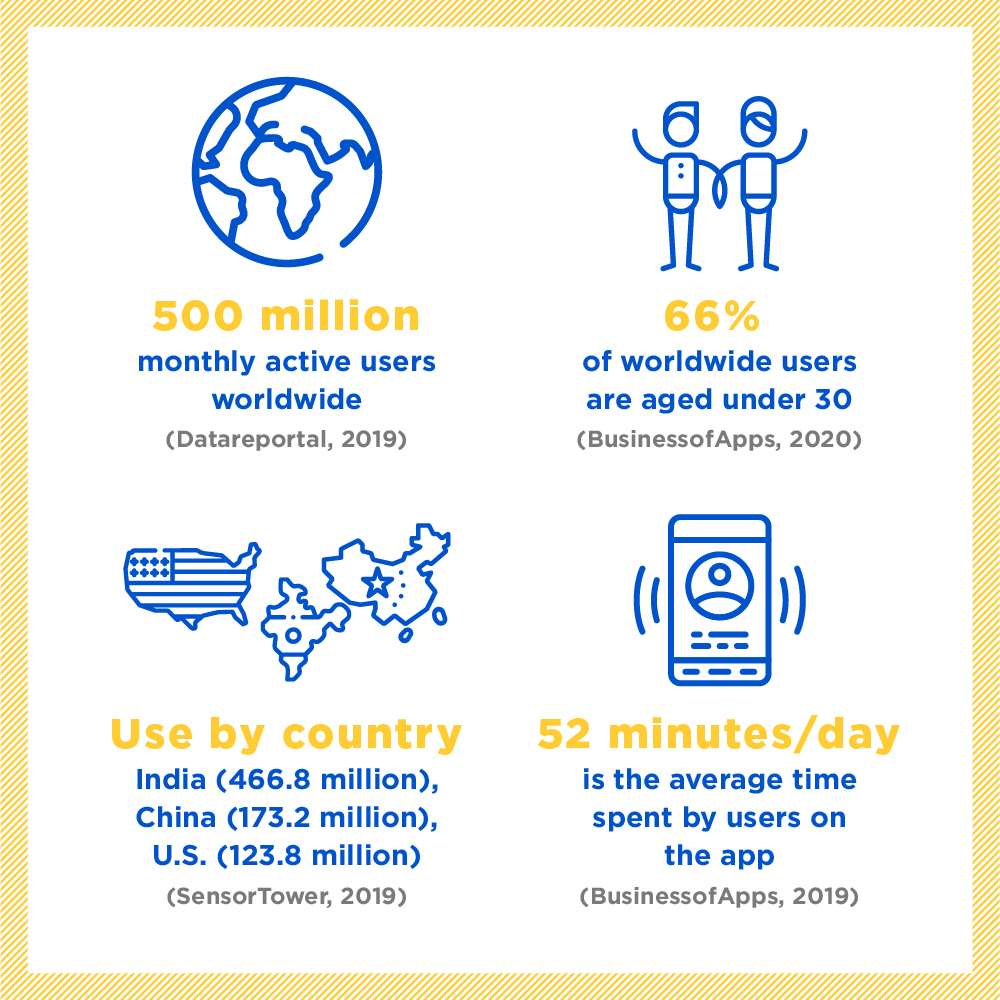 The popularity of TikTok has gone well beyond the Gen Z audience it originally catered to - 66% of worldwide active users are aged under 30. Actually, TikTok started as a lip-syncing app called Musical.ly where preteens (of all ages) would post hilarious videos of themselves mouthing and dancing along to their favourite music. But as the platform grows, so too has the content variety.
In terms of demographics, the largest percentage of overall TikTok users is based in India, followed by Douyin China, and the U.S. TikTok is available globally in more than 150 countries and 75 languages. TikTok users are growing worldwide, so if you're an international brand or based outside of these areas, TikTok is still potentially a useful channel to explore.
When it comes to using the video app, TikTok users are very active spending an average of 52 minutes per day in the platform and opening the app an average of 8 times.
TikTok Basics
The basic features and interface of the platform are part of what makes advertising on TikTok so powerful. Each TikTok clip can be up to 15 seconds long, and you can string up to four of them together into one-minute of total recording per video cluster. This makes for fast-paced and highly addictive video creation.
On TikTok, you have access to endless filters, effects and a music library. And, it is unbelievably easy to make, clip, filter, musically score, and add effects to an uploaded video. Users can tap their way to hilarity and fame by creating a stream of videos that delight the fast-paced TikTok audience.
Once your video is created, TikTok offers to help you set privacy (or publicity) settings and post to as many social media platforms as you care to connect in addition to the native TikTok platform.
From there, TikTok serves up a vivid feed for users based on likes, follows, trends, and hashtags. Since videos tend to be relatively short, users can flip through a few dozen in a single viewing session, liking and sharing all the way.
TikTok for Companies and Brands
It's also worth noting that TikTok has come very far beyond the original lip-syncing content which contributed to its rebranding. It is now a platform for comedian routines, mini video-casts, filmed athletic feats, and commercial branding. Whatever type of video your brand creates, if it can be built into 15-second clips, it can be hosted on TikTok. And the more videos you make, the more likely you will be discovered and exposed to the potential brand growth advertising on TikTok presents.
Many people and brand takeovers have gained influencer status on TikTok, and a surprising number of memes have either spawned or thrived in this environment. If you have a catchy video content designed to appeal to today's young viral-video-focused audience, then TikTok is a platform well worth expanding onto. Not to mention how easy it makes posting to other social media platforms simultaneously.
The secret to TikTok's rapid rise in popularity and success is its algorithm. Using artificial intelligence, TikTok generates personalised recommendations for each viewer, making content discovery frictionless. TikTok's algorithm is mutually beneficial for users and brands alike; users see content of interest and content from brands is readily discoverable.
Marketing on TikTok
Is your target audience active on TikTok? Are your products or services suitable to market on the short-form video platform? If the answer is yes to these questions, it sounds like TikTok could be a valuable tool to promote your business! So, how can you successfully market on TikTok?
The basic rule of marketing is to create valuable content, and the same applies to Tiktok - create content that matters and that your audience cares about. With TikTok, it's fair to assume that mastering advertising is not as simple when compared to other social platforms. You will need to think outside of the box and consider the types of content your audience favours and what's possible on the app.
TikTok recently introduced formal advertising to allow businesses to launch paid ads on the app, which was welcome news to marketers. TikTok is synonymous with fun, exciting and dynamic content, and this is the number one reason people are attracted to the platform. Ensure to keep this in mind when considering the direction of your TikTok ads; mirror what your audience is engaging with and use trial and error to determine the most effective content.
Looking ahead, TikTok is rumoured to be beta testing shoppable ads to allow users to buy products directly from the social platform, similar to Instagram. For the moment, shoppable ads are only available to a limited number of TikTok influencers. The shoppable ads enable influencers to add e-commerce site links to their posts on the platforms. For product-based businesses with a young audience, this could be a prime opportunity to extend reach and revenue.
Tips for Rocking Your Brand on TikTok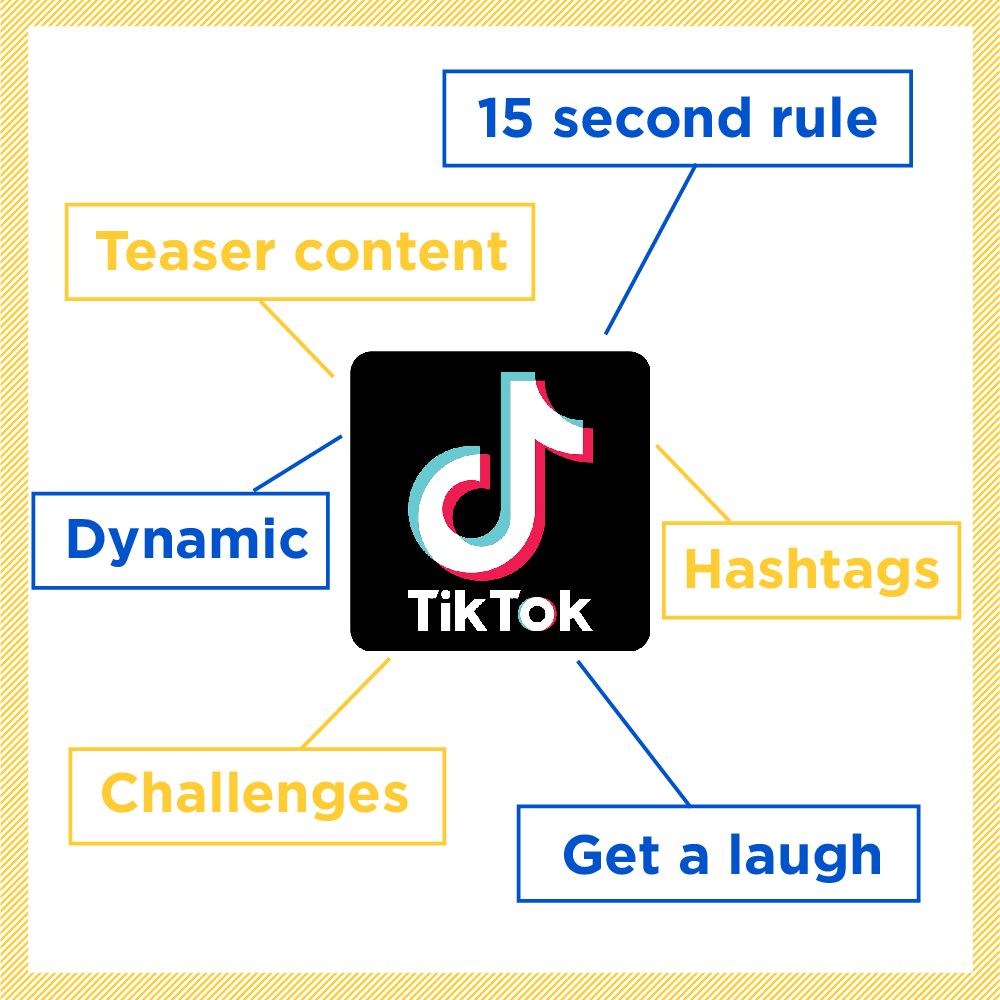 The 15 Second Rule
Advertising on TikTok has its rules - remember that every video must be only 15 seconds long, or compiled into 60-second sets. This means short, catchy content that captures attention but not a lot of time for your in-depth webisodes. So get punchy. Figure out what about your brand looks amazing in just 15 seconds and gain those all-important video views. TikTok moderates content too so ensure to adhere to TikTok Community Guidelines.
Get a Laugh
In a rapid-fire app like TikTok, few things are more powerful than a laugh. Find a way to inspire laughter, and your videos are far more likely to be a hit.
Your Best Clips as Teasers for Longer Content
Take a page from the TikTok comedian handbook: Clip your best content. If you have longer videos that are posting on Facebook and Twitter, then clip out the most intriguing and hilarious bits to use as teasers.
Visually Dynamic - Pique Curiosity
Clip something that makes people double-take. Find a weird angle or an awesome shot that piques the curiosity of viewers in a moment. Find clips that cause the eyes to question what they see or immediately fascinates. This kind of advertising on TikTok will get you the video views.
Connect to Hashtags
Hashtags are incredibly powerful on TikTok as they define the trends and what is most likely to win you, new viewers and followers. Even tangential connection to a currently hot hashtag is enough to get views, but the more closely associated the better. Try giving your brand's unique visual response to current hashtags, participate in hashtag challenges or work with promoted hashtags.
Start or Join Challenges
Finally, there are TikTok challenges. These are what bring the community together and often inspire millions of responses if the challenge is big. Challenges are sponsored by advertisers and followed by users. So you can build momentum by joining challenges in a hilarious way or join the big players by sponsoring challenges and see if they are adopted by the TikTok community as a fun thing to do.
Get Started
Marketing on TikTok isn't for every business. However, for brands with the right offer and audience, that are willing to get creative on TikTok, the video-sharing platform holds high awareness and business growth potential. Is your brand contemplating an expansion into the viral-video market if the TikTok app? Digital Stand can help you with advertising on TikTok and brand growth. Contact us today for a consultation on how to start making 15-second videos that will knock the socks off of your app-using audience.