B2B marketing looks nothing like it used to 10 years ago. We now live in a world of digital interactions.
From artificial intelligence, marketing automation, and contextual precise level targeting and advertising.
Even the sales role itself has changed when it comes to business-to-business lead generation. From opportunity identification, marketing qualification and sales closure, social and digital are there.
B2B marketing is a strategy designed to IDENTIFY other businesses that you can sell products or services.
In today's article, I will focus on the evolution of the B2B marketing strategy. How social media advertising and digital accelerate conversions, lead identification, and removes friction.
Any B2B organisation that hasn't digitalised its environment is soon going to be left behind. They are going to be left behind by competitors that understand and implement an effective digital strategy.
Progressive b2b companies look for every advantage they can find. And as we have seen time and again, just because you are an established business does not mean you are safe from digital disruption.
With data, analytics, and digital leverage points, you can grow any sound business through a structured digital B2B marketing strategy.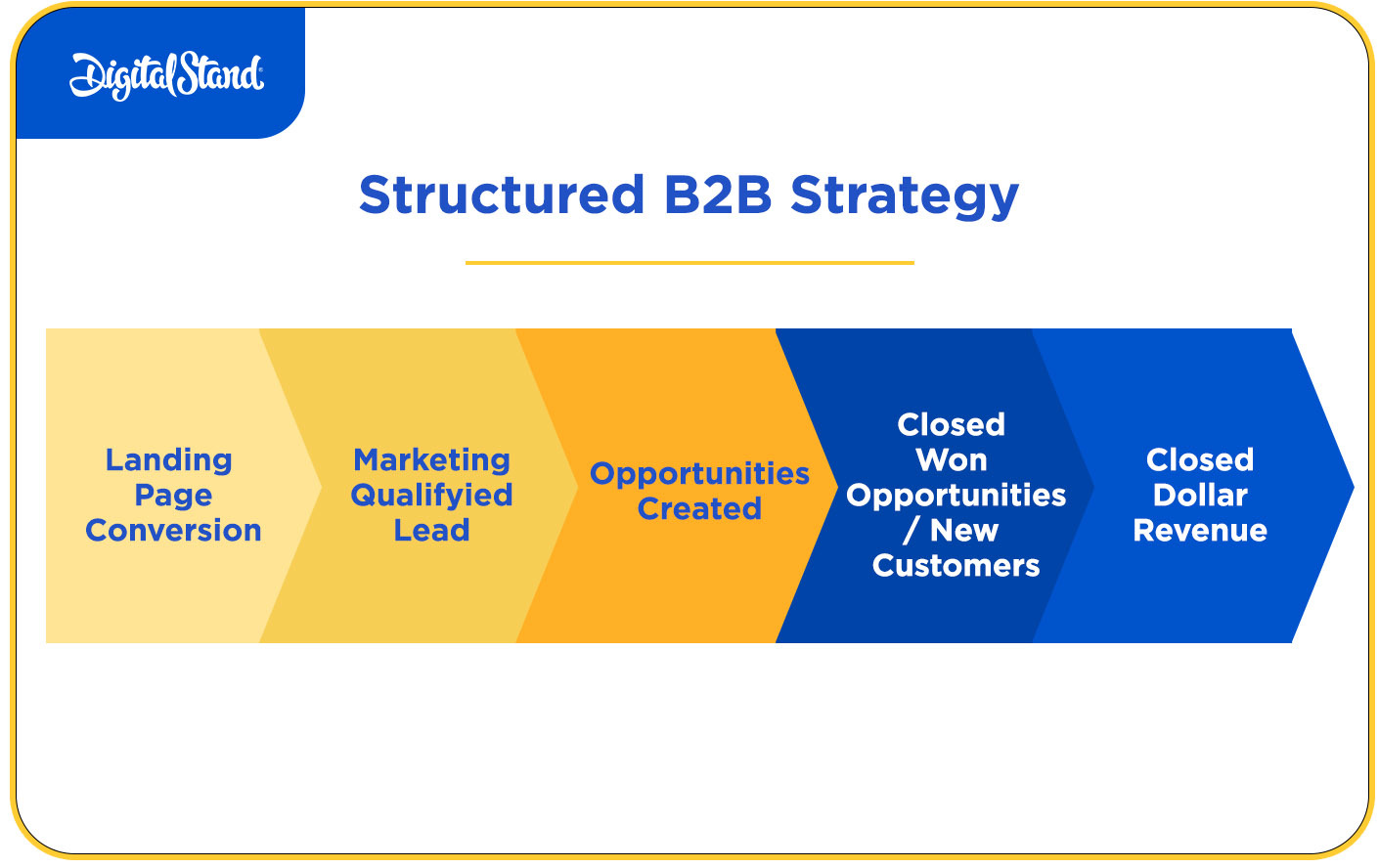 B2B Marketing Strategies
Typically, there are four types of marketing strategies when it comes to business-to-business marketing.
1. Market Penetration:
Market penetration strategies are designed around increasing the share of wallet with your existing clients and industry. Sometimes even referred to as maximum lifetime value.
Designed from a B2B marketing perspective to lock out competitors coming into your existing client base. You set out to grow the share of wallet for your products and services and, of course, at the same time delivering value to your client base.
For market penetration strategies, progressive organisations are using digital for the following:
They build digital organisation structure charts identifying influencers, buyers and decision-makers.
They structure and automate their outreach strategy and contract management plan.
They understand how many times a contact sees their ads and clicks on their advertisement. How many documents do they download, and interactions with their website. And of course, how often they open their proposals and the pages they are reading.
They use these digital insights to know when the right time is to pick up the phone and call their contacts. They have mastered the art of email scripts and market penetration strategies.
2. Market Development: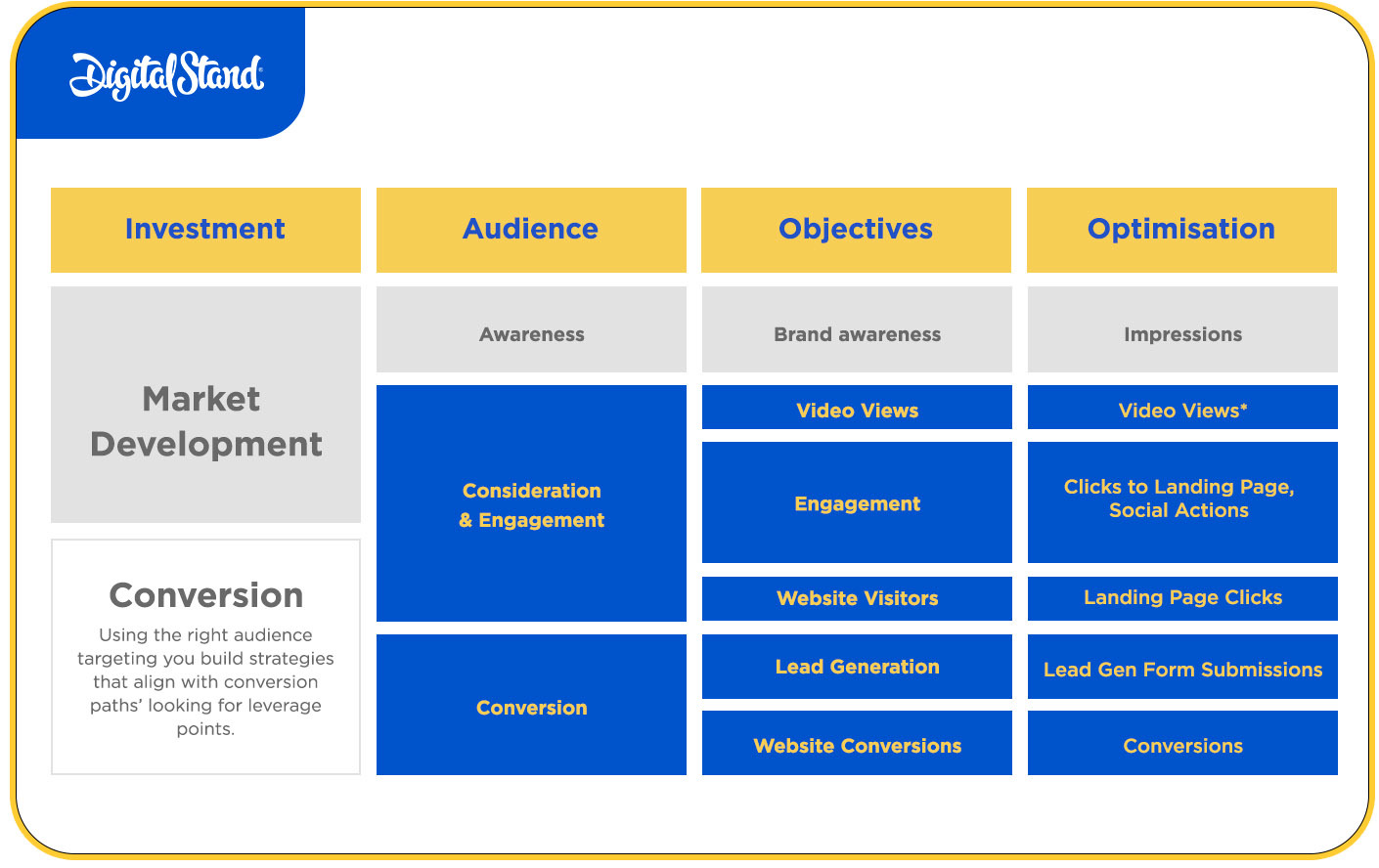 When it comes to market development, this is where digital comes into its own. All the social media platforms you are familiar with allow you to upload your email database and create audiences on this basis.
You can then target these audiences with contextual advertising and measure the return.
In addition to this, you can build look-a-like audiences from your existing client list. You are expanding your reach in advertising and potential growth.
With defined audiences, you can measure the performance of your advertising and your conversions.
The path by which it takes you to identify a lead through to closing a lead.
You can then look for mechanisms within your digital architecture to generate leads. Identifying areas of interest that potential clients respond to.
You are removing friction from your process and unnecessary points in the marketing qualified lead cycle. When it comes to B2B marketing, or any marketing for that matter, removing friction is one of the most important steps you can take.
3. Product Development:
In today's climate, a product development strategy should use data and pre-existing information on the digital and social networks to identify needs.
At a relatively modest cost, you can run advertisements for your ideal persona. Testing interest in a new product or product development ideas.
You can identify groups with common interests, join those groups, and listen to their needs first-hand.
Enabling you to reduce the cost of product development and product development errors. Mitigating risk!
4. Diversification:
With a diversification strategy, you can take the learnings of your existing digital performance and overlay this across a new industry and market.
Using the data, you must to identify the most appropriate stakeholders within the new industry. What they're likely to respond to, and of course, how to target them from a B2B marketing and advertising perspective.
The digital path created with your client base only requires changes to reflect the new industry.
This enables you to move faster and execute quickly to test for performance, taking existing knowledge from one market across to the next.
To illustrate this point, an effective landing page in the Health industry might also be effective for the Federal Government?
The page's context will be changed, but the design, structure, and associated workflows will fundamentally stay the same.
What is the Difference Between B2B and B2C marketing?
When it comes to B2B marketing, it is distinctly different from B2C marketing. In B2C marketing, you are usually targeting one individual with a low decision threshold.
A B2C customer may make a purchase decision from seeing only one of your advertisements if their need is high enough.
With B2B marketing, you are targeting an organisation and between four to five roles.
This, of course, depends on how complex the decision is and the typical time it takes you to close an opportunity.
You might be targeting the CEO, CFOs, CMO, and procurement. As a result, your marketing needs to be structured following the different roles inside the company.
Each of these roles will have different business drivers.
Today though, we are blessed with the insights of digital. We can see their role requirements and their business priorities.
With effective digital research, we can identify:
Each of the roles that we are looking to target
What their pain points are in their industry
And create content that is contextual to their needs.
What is B2B Content Marketing
We've just written an in-depth blog post about content marketing and its relationship to identify the right customers.
Businesses you are dealing with or have the potential to deal with want to be educated on your product and services.
This means creating content that answers questions your target market is trying to understand.
You can determine this from many sources, including search engine traffic in volumes, LinkedIn groups, Facebook groups, and even forums on Quora.
They are creating content that helps your potential B2B buyer identify answers to their issues. But also the industry as a whole and provide examples to recommendations and solutions.
The content's purpose is to help your potential client solve a problem they might be struggling with. Or improve a position that they currently have today.
There are a lot of ways that you can determine precisely what your client's pain points are.
Including looking at RFP's, you have responded to. Going through email responses, you have sent to client questions and notes in your CRM from meetings, to name a few.
Creating articles, e-books, landing pages, white papers for the particular industries you're targeting.
Even creating content around role types is an ideal content strategy when it comes to B2B marketing.
How to Conduct B2B Market Research
Researching the market in 2021 is substantially different than it was in 2010. The three main areas that you want to focus on from a digital point of view to speed up your knowledge:
1. Competition Analysis
In this instance, you want to look at your competition's social media presence on all the channels they're using.
If you are not the number one player in your market, you want to make sure that you look at everything the number one player is using.
Not only looking at what they are doing but where they are getting the best response.
This includes Instagram, YouTube, Facebook, LinkedIn, Twitter and of course, any other relevant platform.
Do you want to have a look at what advertising they are running? How are they positioning this advertising? And what your differential might be about their positioning?
You should also look at their organic posts and see what they're talking about consistently.
Identifying what seems to be getting the most response from their business audience. You can determine this through engagement, likes, comments, shares.
2. The Second is Surveys
Given the current state of social media advertising, you can target interest groups, your competitors, and of course, your audience to conduct digital surveys.
You can set these up on a multitude of digital channels. Making sure that you capture all the relevant information to understand more about the market.
You can even run sequential surveys or referral programmes when someone fills out the survey so that you get additional data.
3. Lastly, Environmental Analysis
Last but perhaps not least would be to use social media listing tools the capture information and the market sentiment. What might be occurring in the industry now, and how this may affect the industry as a whole.
For example, we currently know that COVID bricks and mortar business is having a difficult time from a retail perspective. This means that most retailers must find ways to use e-commerce effectively.
Trying to sell them shopfront solutions at this time would not be the right approach.
Being mindful of your industries needs enables you to solve their problem. It also prevents you from trying to market something to them that is not relevant.
There are many listing tools that you can use to do this, and below is just a shortlist.
How to do Social Media Marketing for B2B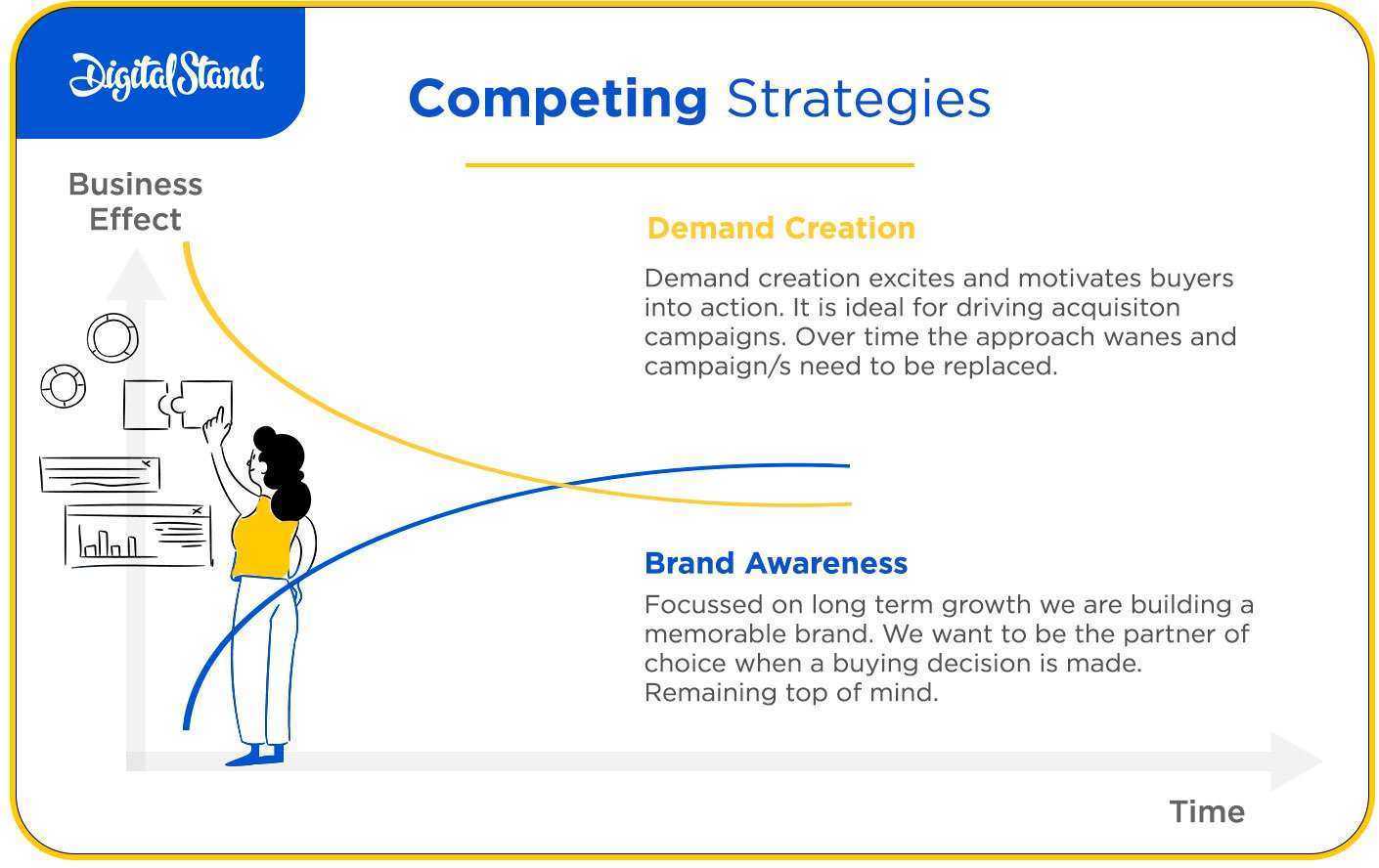 Did you know that 84% of C level executives use social media when making a buying decision? In terms of product and brand discovery, social media is on par now with Google search.
If you're in the business of B2B marketing, you will find no better vehicle than social media when it comes to reaching your ideal client.
No matter the platform, your prospective customers are using LinkedIn, Facebook, Instagram, or Twitter, to name only a few. You will find potential leads for your business on every one of these platforms.
Statistically, the proportion of Australians that now use social media every single day is above 17 million.
No matter the platform they use, their business problem is their business problem.
You want to make sure you have a presence on three leading platforms LinkedIn, Facebook, and Instagram. If your capabilities extend beyond these platforms, then you also want to consider YouTube and, in part, Twitter.
With the majority of the social media platforms, you can upload your entire email database and create an audience on that basis. For some of these platforms, you can also generate look-a-like audiences modelling your client list.
You can target by interest, role type, company size and of course, industry.
The more precise you can make your messaging and targeting, the better the return.
How to Use Instagram for B2B Marketing
Instagram now has over 1 billion users and active monthly users, with 90% following companies.
It is not only in your interest to use Instagram; it is in your interest to be active there. Given the visual nature of the platform, it allows you to show your company capabilities. From thought leadership, products, or your differential in the market for your services.
With Instagram, you want to create educational based content. You need to think about your client or potential markets pain points and how you solve for those.
Rather than using hashtags related to your industry, you might want to consider using hashtags related to the market you are pursuing.
This means that you will start to show up in the potential companies feed, and if the content is crafted in the right way, it will gain interest.
You want to make sure that you are posting regularly, and you want to make sure that you have also set up your tracking pixels.
There are now 25 million businesses on Instagram and growing.
If you are stuck for ideas, the four main areas that you can focus on when it comes to Instagram is:
Thought leadership
Company announcements
Company culture
Educational Content
How to do B2B Marketing on LinkedIn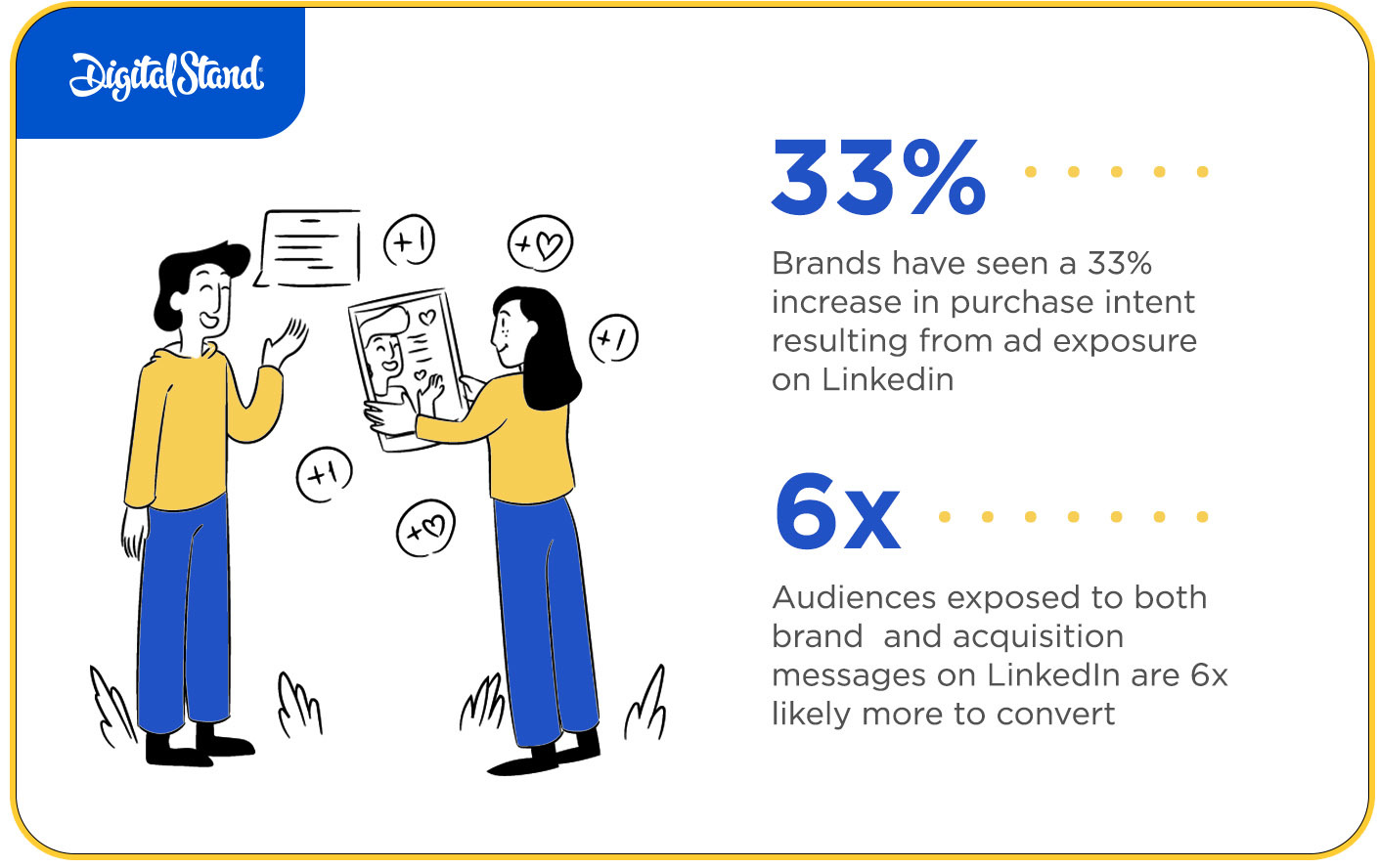 The preeminent platform for B2B marketing is LinkedIn. LinkedIn has marketed itself as a platform to acquire business to business marketing leads.
According to the latest LinkedIn report, businesses see a 33% increase in purchase intent due to advertising exposure on the platform.
Every platform algorithm works differently. With LinkedIn, you do have the advantage of not posting as regularly as some other social media platforms.
This means you can use your company page three to four times a week. To post valuable and meaningful content, from articles to industry updates and announcements.
Similar to all the other social media platforms, LinkedIn can also add stories, live videos, and pre-recorded videos.
It is a deeply rich multimedia platform enabling you to tell your story about your company and brand in a unique way.
The unique characteristic of the platform is that when it comes to advertising, you can target specifically around job role skills, companies, industries and, of course, company size.
What is B2B Inbound Marketing
When it comes to business marketing, inbound marketing is a goldmine.
It provides you with the ability to turn up organically, answering
potential markets questions usually in long-form content.
It is the pull side of marketing. In some ways, it is the jujitsu of marketing. You are not pushing your services or your products and solutions.
You are instead answering potential clients queries and doing so in an informative and meaningful way.
Writing articles that answer clients' or potential clients' needs allows you to show thought leadership and build brand awareness.
Done correctly, this is a game-changer for many organisations.
We've written a more extensive piece on Inbound Marketing which you can access here.
How is B2B Marketing Changing
The most significant change to B2B marketing that's happened over the last 10 years is you need to turn up digitally in a very contextual way.
It is not a broad push anymore; it is a highly targeted strategic and integrated marketing team pursuit.
For those of you who have been doing B2B marketing for a while, we are not saying that it hasn't previously been a strategic pursuit.
But we are saying the game has changed!
You need to demonstrate that you know your audience, industry, and buyer personas.
It would help create advertising, case studies, articles, and social posts reflective of your personas needs. And it would be best if you also were doing this for their industry pain points.
This information should all sync to move someone through a tailored to the buyer's journey. And should appear that it was designed for them.
Let's put this point in context.
You're CMO at a SaaS Financial Services company. Looking for information, you come across two articles educating you on social media.
How CMO's decide to use social media.
How CMO's in SaaS-based financial services companies use social media
There is no question that the second article is going to grab your attention.
This company that wrote the second article is demonstrating that they understand your industry. They know your role and how you can maximise the use of social media.
Creating content digitally built around your personas is how you speed up B2B marketing in 2021.
Once Upon a Time, you might have run a full-page ad in the hope that your target audience was reading that newspaper.
Today you are creating your content, and you have become your own media house.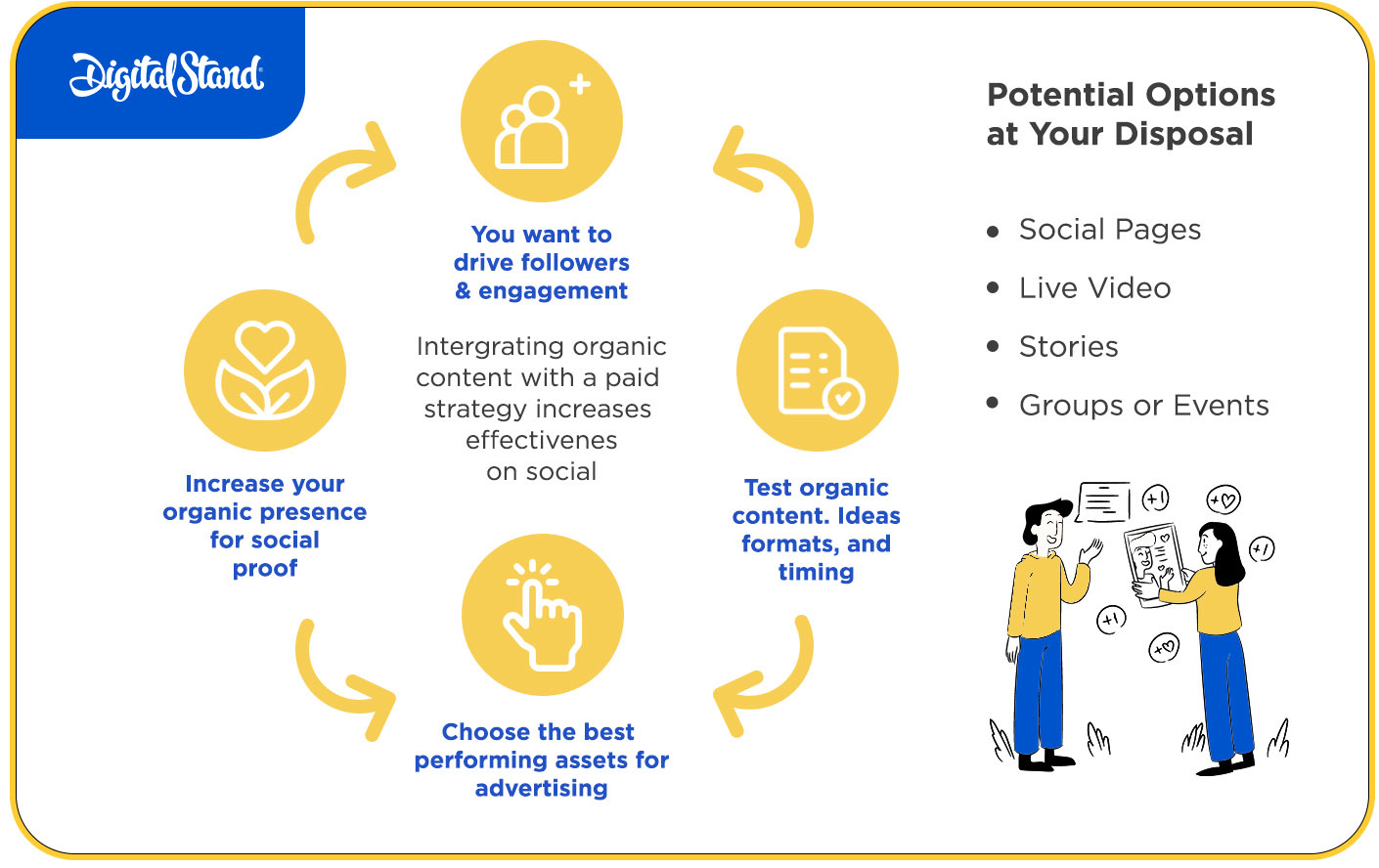 Email Marketing
Email marketing is not email marketing anymore!
With the right tools, you can send time-based EDM's when your client or potential client is likely to open it.
You can personalise things such as their name, company, industry, pain points etc. You can segment your list by industry and role type.
And, of course, you can create innovative content based on where they are in the buying cycle, measuring the data across your digital environment.
Marketing Automation
As B2B marketers, our role is to identify leads, potential customers, and industries to drive additional revenue.
This means that as a bare minimum, we need some form of marketing automation. We need contextual landing pages and valuable content that potential leads can download.
We need to nurture those leads to marketing qualified opportunities.
And when we say marketing qualified, we mean to the point that we know handing off to the salesperson is going to likely result in a one in three chance of closing a sale.
Using all the tools available to us, we can use data and know exactly where the potential client is in their buying journey. The B2B marketer is no longer a cost line but in a revenue generation role.
The faster you bring your organisation to this point, the quicker they will realise the power in marketing to generate revenue.
You may have heard of the term" "growth marketing" well, this is today's B2B marketer.
It does not matter if you are the CEO, CFO, or CMO at your organisation.
The quicker you deploy the power of digital and social media for client identification, acquisition, the faster your company will grow. Often at a materially lower cost.
Marketing automation, whether it be HubSpot, MailChimp, or some other platform depending on your needs. It is a must.
It is not only a must to have marketing automation place. But it's an essential requirement to make sure that you are using all of the components within marketing automation's capabilities.
In essence, please don't buy the car if you are not planning to drive it.
How to identify your B2B Target Market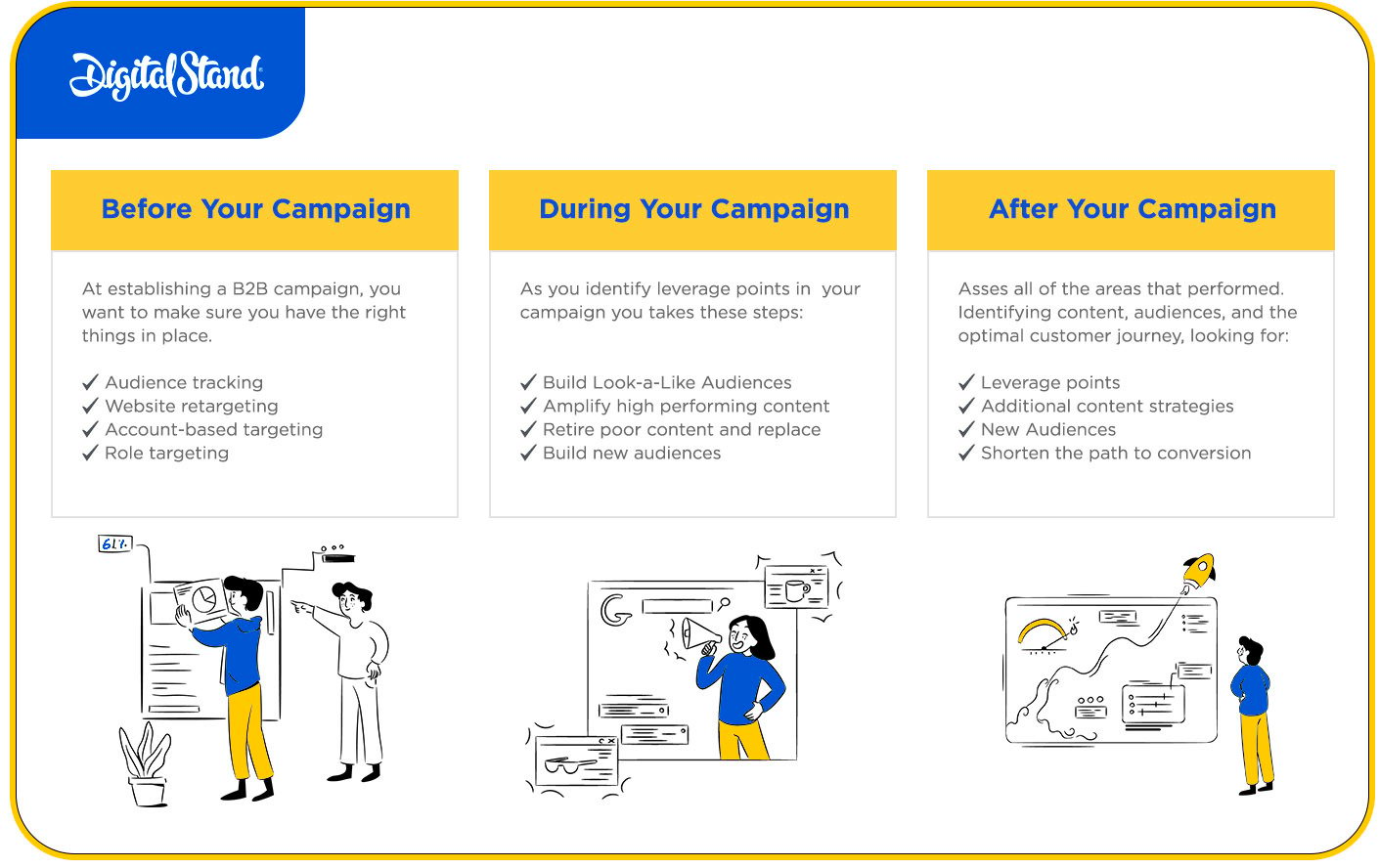 Identifying your B2B customer market is a lot simpler than it's ever been. However, there are some key aspects that you need to consider when doing this, or rather some key things that you need to put in place.
You need to ensure that you have all the tracking pixels set up on your website. So you know exactly who's coming to your website and what industries are looking for your services.
It would help if you looked at joining the groups that your potential clients and customers are accessing.
This could be a LinkedIn group or a Facebook group.
You might even find your audience on platforms such as Quora, and if not, you'll find the questions your audience is asking there.
Uploading your email database to the social media platforms and creating audiences from this, including a direct audience, lookalike audience should also be a minimum.
Research the hashtags your clients are using. The two main or three main areas to look at here would be Twitter, Instagram, and LinkedIn.
Going a little deeper if you're serious about your business-to-business marketing pursuit.
Have a look on platforms like LinkedIn and Seek at the roles such as CMO SaaS-based companies (or whatever role suits your pursuits) and the key priorities for these role types.
Use listing tools to identify conversations across the web that relate to the product, service, and or industry.
When it comes to B2B marketing in 2021, you should leave nothing to chance. If your competitors are not playing the same game, this will help you accelerate your growth trajectory. But if they are, you're going to fall demonstrably behind!
How to identify a B2B Marketing Agency
Identifying a B2B marketing agency means identifying an organisation that understands the complexity of business-based decisions.
They understand long and complex sales cycles.
They know how to help you identify areas of influence within the organisation.
And, of course, understand the committee-based decision matrix.
They must understand the complexities of selling to this market. And how to overlay digital and social, and how to enable different stakeholders in your organisation.
Can help you identify the market that you're going after.
Are able to create and position contextual content based on inbound and outbound marketing approaches.
Know how to acquire new leads and customers.
They can identify patterns within your data to accelerate opportunities.
B2B marketing is now a revenue generation part of the business and will continue to drive enormous growth. The digital agency you choose will undoubtedly influence that performance.
For almost 10 years now, we've been using digital from a business-to-business perspective. Helping our clients accelerate positions and completely pivot marketing strategies.
If you're interested in talking to us more about our capabilities, you can contact us here.
If not, feel free to download one of the free guides below and reach out to us at the right time.