Inbound marketing is the practice of creating valuable content that attracts your ideal customer. It draws them into your digital environment and keeps them engaged.
The contents' purpose is to educate the consumer until they are ready to make a buying decision. The content needs to be valuable and informative and address what people are searching for.
Since about 2015, Digital Stand has been using both inbound and outbound marketing to attract clients and grow our business. Otherwise known as the push-pull methodology.
Since this time, there's been no question in our minds that the number two channels for effective marketing are your website and social media.
Of course, your number one goal should be to drive potential customers, clients and leads to your website because this is your digital hub. Getting both environment's right is critical to your digital marketing strategy in 2021 and beyond.
In today's article, I am going to cover:
How Inbound Marketing Works
Inbound Marketing Advantages
Inbound Marketing and SEO
Inbound Marketing Vs Social Media
Inbound Marketing ROI
How Inbound Marketing Automation Enables You to Scale
How to Set Inbound Marketing Goals
How Inbound Marketing Works
Back in 2019, Brian Halligan, the HubSpot CEO, presented the concept of the flywheel. The flywheel itself is an excellent summation of how inbound marketing works. It is broken down into four critical stages, each one of them as important as the last.
This is how it works.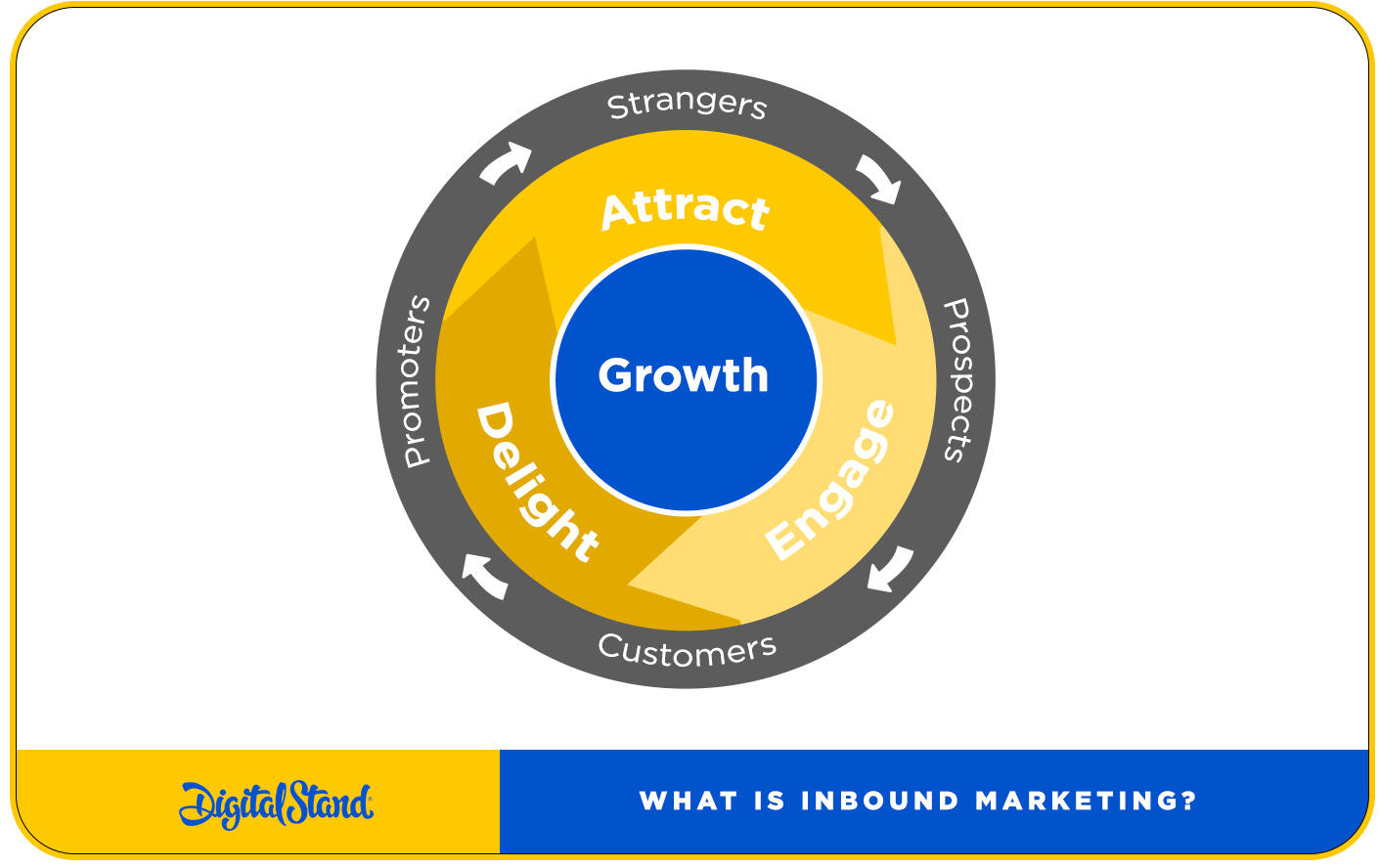 Attract
In the attract phase, you're looking to create content that your prospective client or customers are searching for. They are searching for this content usually in one of three stages;
They're looking to educate themselves further.
They might be in a consideration phase.
Or they may be ready to purchase.
The content you create at this stage should be so valuable that your prospective customer sees you as an authority on your subject matter. It does not matter whether you're selling toys online, consulting services, cars or real estate, for that matter.
After all, the best way to serve any client is by educating them on the products or services they're buying. We can, of course, only do this if we are subject matter experts in the space and understand both our industry and products intimately.
When you know your products and service industry intimately, you can solve your clients' problems. Thus, resulting in a perfect marriage of the problem meeting solution.
Now when it comes to producing content of that nature, there are various forms you may want to consider.
Articles
Video's
Infographics
An Educational Graphic
Engage
It is essential to point out that you will only get to this part of the journey if you:
Have content valuable enough that people bookmark your website and keep coming back
Subscribe to your email list
Or follow you on social media
Worth mentioning the average conversion rate on any website of either a sale or an email subscription sits between 1 to 2%.
When you're creating content valuable enough, this can go up to 5% and more. And this could be the difference between 200 leads a month and 500!
In the engage phase, you educate your target audience about everything relating to your product or service.
You will know that you are doing this right by measuring these three things:
1. Bounce rate: Are your returning visitors engaging with new content and reading more than one page.
2. EDM's: Are they opening the EDM that you are sending them? Are they clicking through to read the content and downloading the white papers you created, making a purchase, or donating?
3. Average time on site: Is the average time on your website going up? Showing the quality of your content keeps both return visitors engaged and new visitors.
Delight
This stage of the inbound marketing journey is the conversion stage. It is where you turn the prospect into your client.
It is called the delight stage because that's what you should be doing, solving the problem they have with the solution that you offer.
Growth
While not originally part of the inbound marketing journey, the growth stage is the most critical part of an inbound marketing strategy.
This is where you can accelerate the benefits of inbound.
Suppose your customer discovers your business based on the quality of content you produced. It is more than likely they have a network of people interested in your product and services. In that case, after they purchase your product or service and it solves their problem.
Providing the ability to share the content you created in step one enables you to accelerate your growth. Further leveraging your original inbound investment.
It is also the most potent form of marketing known as social proof!
Below is real data on how this can impact website growth.
Inbound Marketing Advantages
1. Relevant leads: If you are creating content that answers your buyers' questions or prospective clients questions, you're going to attract relevant leads.
It is not complex, but good to point out that writing how to create a digital marketing strategy might appeal to someone looking to do just that?
Or writing an article about how to run an effective social media campaign would appeal to someone interested in this.
As a side benefit, the other thing it fundamentally does is help you deep in your expertise in your subject matter. Because as Napoleon Hill might say, it's one thing to know something but another thing to teach it.
2. Brand Awareness: Creating relevant content increases your brand awareness. If you create content that people are searching for, this benefits search engines like Google. In turn, this helps you.
Both the social media platforms and Google's goal is to serve the best content to the right person at the right time. Helping them do this helps you.
It should not be a secret, but it does seem to be based on some content strategies we see.
3. Trust: Like any relationship, trust takes time to acquire. By creating valuable inbound content consistently, you build trust.
They will see you as a subject matter expert in the space because that is what you are. It will differentiate you against all your competitors and will highlight your expertise in your domain.
4. Sales and Marketing Alignment: Creating valuable content will also create relevant leads. When salespeople get high-quality leads, they appreciate the marketing teams efforts. A more substantial alignment starts to form between marketing and sales.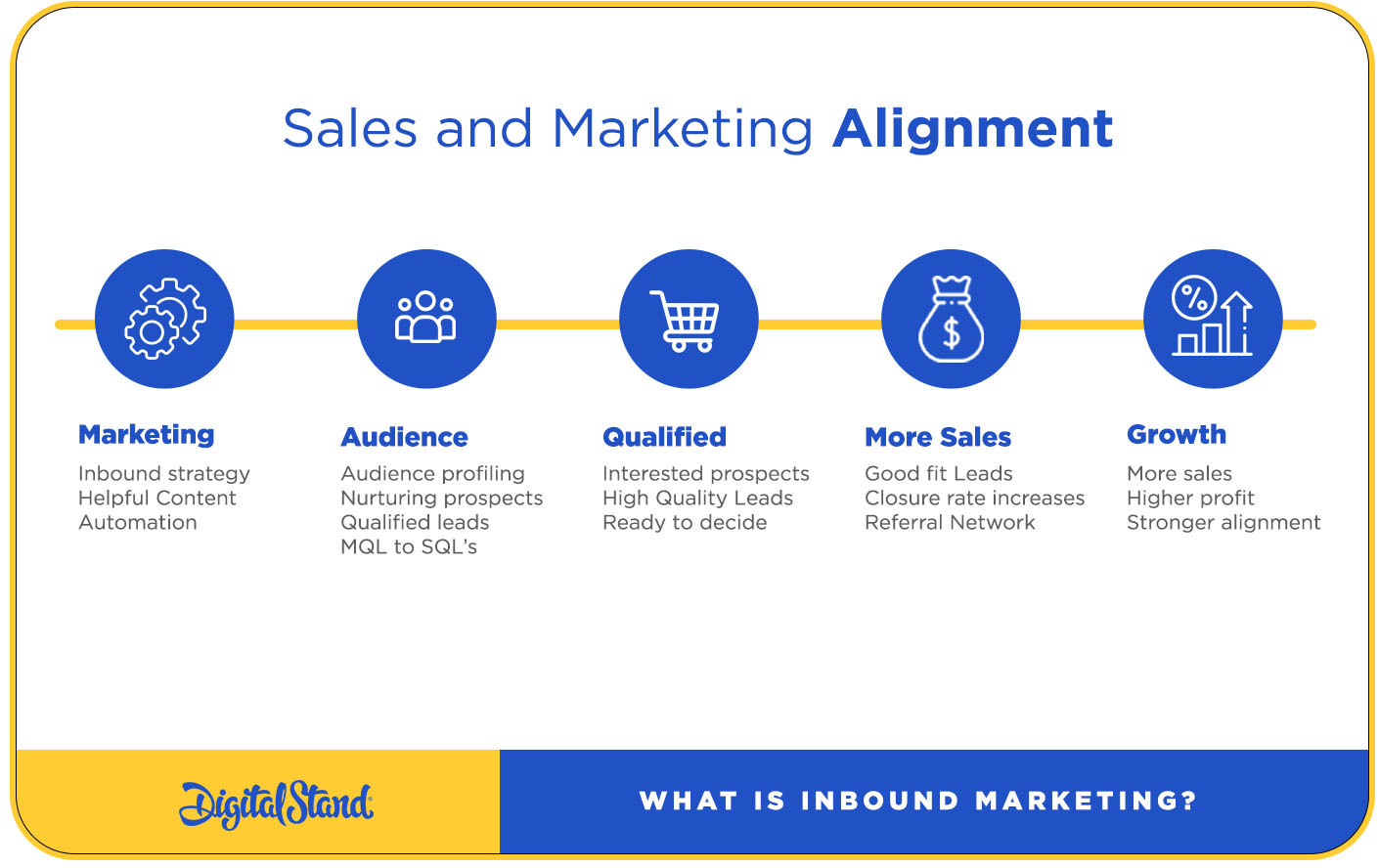 The other hidden benefit of creating valuable content is that your sales team will have content to share with potential clients.
This, in turn, increases the reach of the content you created but also empowers your sales team.
And in due course of time, then likely to give you a whole range of suggestions of content that you can create.
5. Cost Effective: Inbound marketing can be cost-effective because it can continue to rank on the first page of Google for years to come if you create valuable content.
Costing you no more than the time it took you to create it initially and generating new leads for years to come.
Inbound Marketing and SEO (Search Engine Optimisation)
Every marketer and business knows that SEO is essential. But not every company and marketer knows that inbound marketing and SEO are intrinsically linked.
You see, we only create content from an inbound marketing point of view that we know people are searching for.
Only by creating relevant content that people are searching for can inbound marketing be successful. It is the same as taking a product to market when you know a need for that product exists.
We believe it is the best form of SEO that you can do because you are creating content from a search perspective that people need and want.
And should you be able to do this better than any of your competitors, you will get the SEO benefit over a long period.
Inbound Marketing Vs Social Media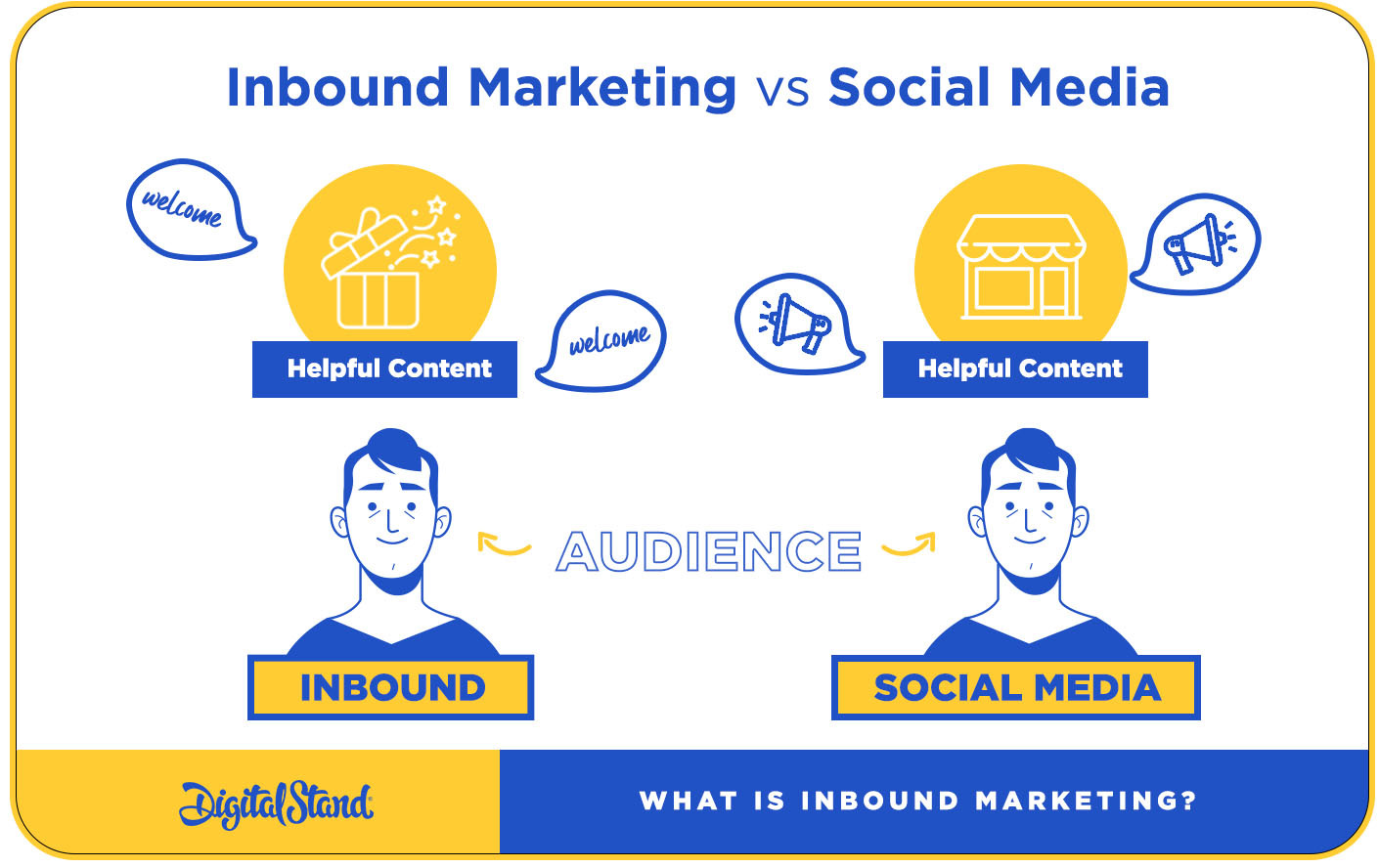 Why the title of this area might suggest, there is competition between inbound marketing and social media. This couldn't be further from the truth.
Whilst social media is a push marketing approach, creating valuable inbound content fuels your social media push.
Taking an article you've created and sharing it on LinkedIn, Twitter and Facebook gives you valuable content on these platforms.
You can take snippets out of these articles and send them out on social media platforms over a week, month or year.
Because if you take our space for a second, how to find new customers never gets old. Of course, you may need to update it from time to time, but that is just maintenance.
Sharing a graphic on Facebook or Instagram with subtext and a link to the article again provides valuable content on that platform. It also attracts people back to your website and leads to even more inbound leads.
The two go hand in hand because you need content to push out on social media platforms. Creating valuable inbound marketing content enables you to do this.
Inbound Marketing ROI
According to Groove Digital Marketing forty-four per cent of brands that use marketing automation software see ROI within six months, while 75% see an ROI after one year.
In 2018 HubSpot completed research on the ROI of using the HubSpot platform and found that within 1-year.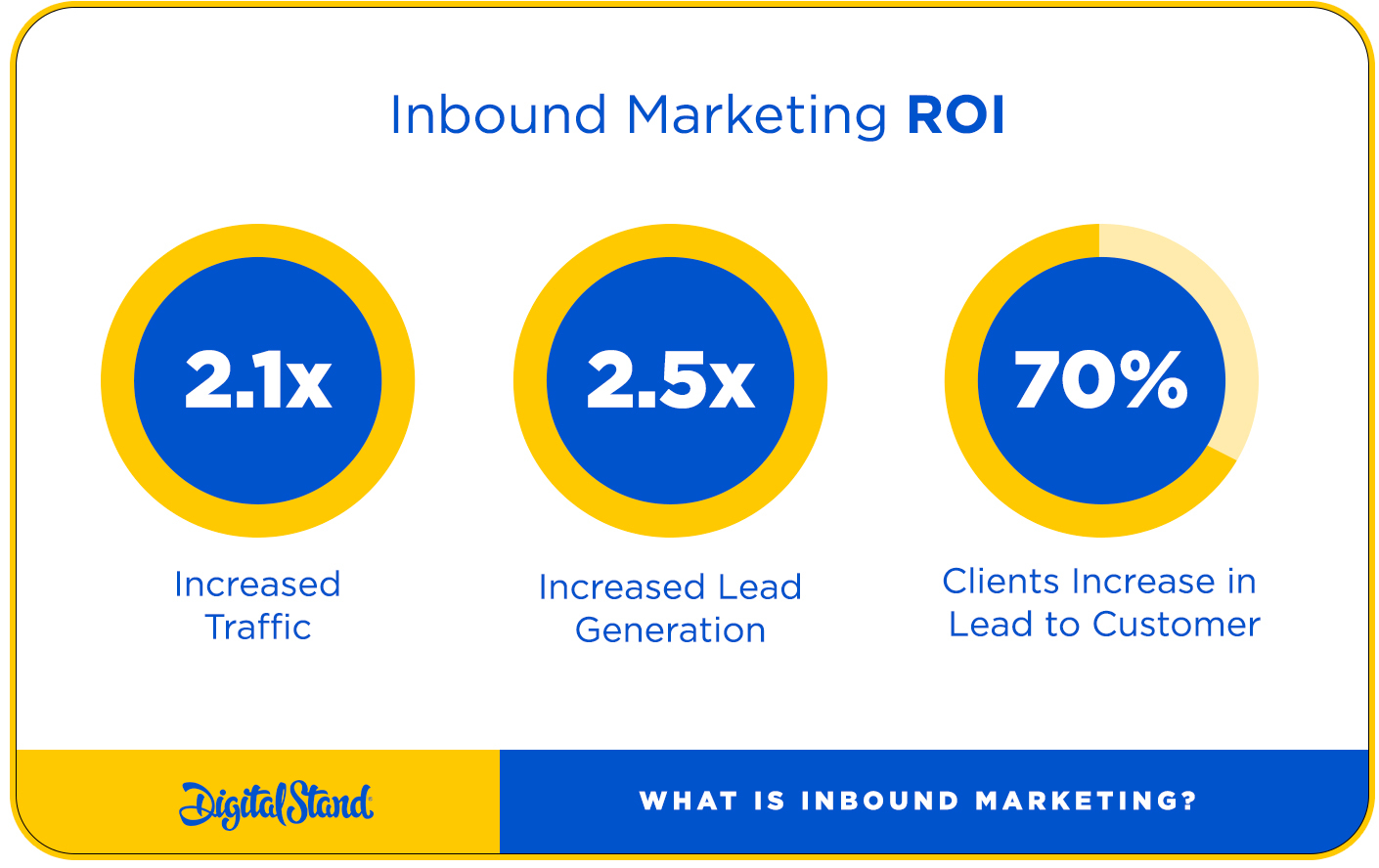 Depending on the size of your organisation, this number can be higher or slightly lower. But regardless, effective deployment of an inbound strategy saw every business size grow.
It does not matter whether you are a business to business organisation with a sales team, a business without a sales team, or a B2C.
Successful Inbound marketing works in every one of these three areas.
It drives a greater awareness of your company, more leads, and more sales regardless of the industry.
How Inbound Marketing Automation Enables You to Scale
The best way to think about inbound marketing automation is as your digital salesperson.
Through inbound marketing automation, you can personalise messages, delivering relevant content.
When someone first takes action on your website to subscribe to a newsletter or download a white paper, you know where they took that action.
Based on this, you can send them relevant content. It could be case studies, articles through a series of automated emails.
As they continue to engage with your content, your calls to action and landing pages, you can build progressive profiling. You are asking them a series of questions gradually to understand where they are in the buying cycle.
Enabling you to know the right point to engage with them and to see if there might be a fit from a customer perspective. Done through a phone call or product offer.
Once you've set up your content and your automation paths, it enables you to distribute this content at scale and review its performance.
You can test different automation strategies, content, and forms to find the most effective path for acquiring new leads and sales.
The benefit of this is twofold. Essentially, they are getting a feel for your business, and you are getting a sense if they are a good fit for you.
This means you can do qualification at scale. Because once you have the automation process and content setup, it does not matter if you send one or 1000 leads through the process. Your digitally qualifying leads and they are qualifying you.
According to Marketo, "93% of all buying cycles now start with an online search."
How to Set Inbound Marketing Goals
Setting in Inbound goals is straightforward.
Current Website Traffic: Before you set out and begin creating inbound content and setting up automation, you want to make sure you understand how much traffic is coming to your website today.
You want to understand what keywords drive traffic to your website and what pages are ranking in terms of performance.
For this, you can use tools like AHrefs, Google Analytics or Google Search Console. These tools tell you the best performing content, how much traffic is coming to your site today, and its current trajectory.
Based on this, you have a starting point for monthly traffic volumes and the percentage of growth. This is your baseline before you begin your work.
As you create inbound content relevant to your industry and Google search, you will want to see web traffic grow. You will want to measure the keywords you are targetting and what percentage of search you are achieving.
New Leads into Our Business: In terms of new leads into the business, as your website traffic grows and relevant search terms are beginning to rank in Google, you will see a lift in leads.
If you did nothing more than create relevant content and your site was already converting at 2% just by growing your traffic, you will increase your leads.
But because you are now creating relevant content related to your customer's pain points and their Google search queries. Also, the quality of leads will grow because the people interested in your content are also interested in your business.
New Sales: As your inbound marketing strategy starts to take hold, you should also see a lift in sales. As more people discover your business or products, your sales will also lift.
Time Frame: With inbound marketing, you can start to see a benefit as early as three months, sometimes even sooner. Like anything, this depends on the related effort.
The competitive nature of your industry and how advanced they are can have an impact. But irrespective of this, we have seen our client base start to yield results within 90 days.
Summary
We do recommend, though, that you invest at least 12 months to get this right from a strategic perspective. Because as you develop your inbound marketing approach, you'll start to identify the content that resonates well with your audience that drives conversions.
As you continue to iterate based on this data, you will find ways to drive digital leverage. You will start to accelerate your position and your inbound marketing strategy.
It leads to greater website traffic, quality of leads, and attributing sales to your inbound marketing strategy.
It is a long term approach that continues to build and is cumulative. But that is for another article.
Since 2015 we have proudly been HubSpot inbound marketing partner and use Klavio for Shopify.
Hi! Should you be interested in understanding more, you can contact us here for a no-obligation strategy session.
Or you can download the free white paper below to get a greater insight into some of our strategies.