Did you know that half of all search and brand discovery is now on social? Social media for business acquisition is no longer optional, in fact not being effective could be the end of yours!
If your potential client or customer uses the Internet, there is a 90% chance they are also using social media. We are now at a point where getting social media right for your business is not optional.
If you are using social media for your business, you will understand the ever-changing complexity. If you are not using social media and have not created your social presence, you're probably wondering how you begin and where to start?
In 2021 the usage of social media continues to grow. There are currently 4.48 billion social media users worldwide as of July 2021.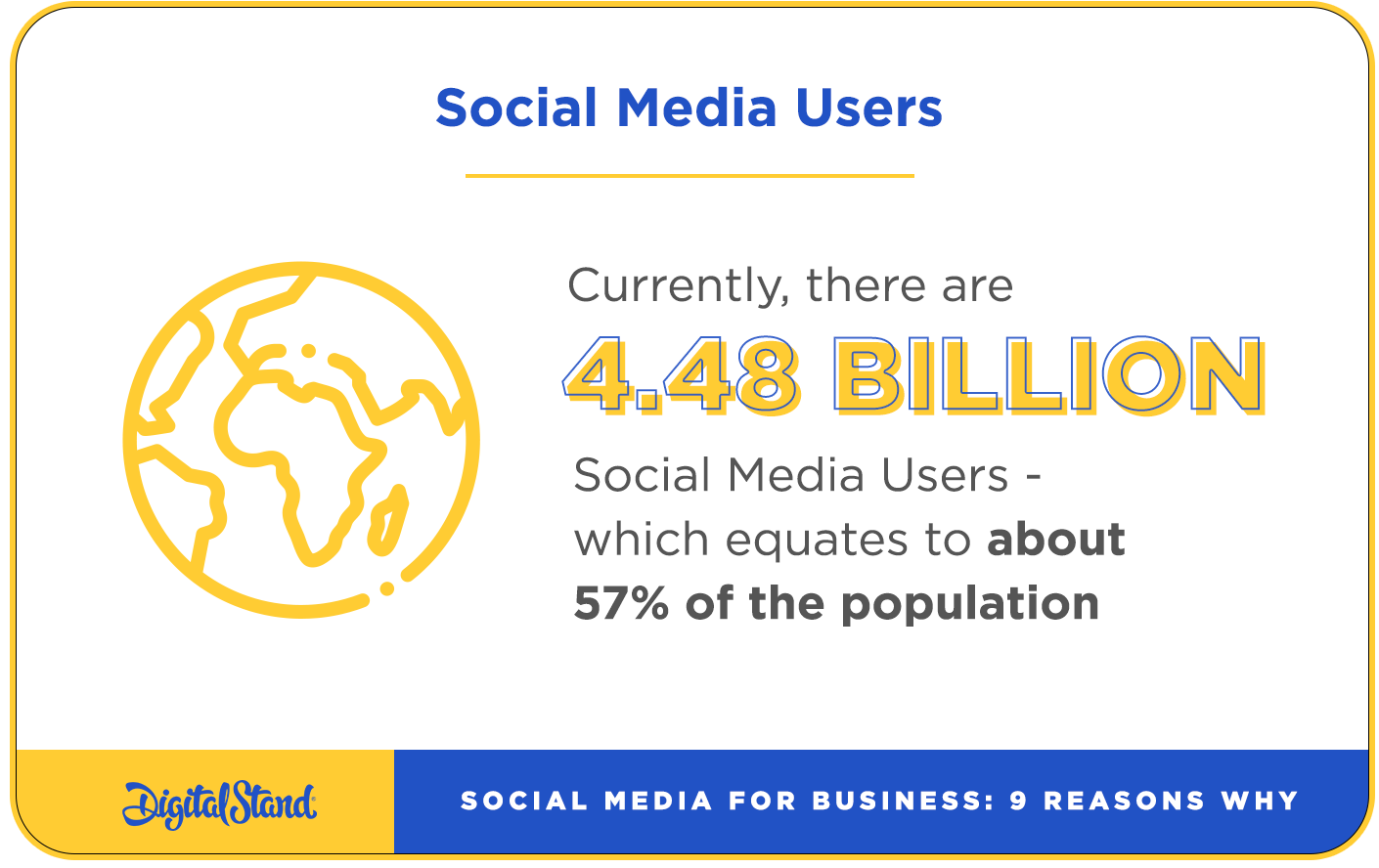 Accounting for 50% of the world's population. And according to Hootsuite's latest report, the amount of time on social media is 2 1/2 hours. With the average user using 6.6 different social media platforms.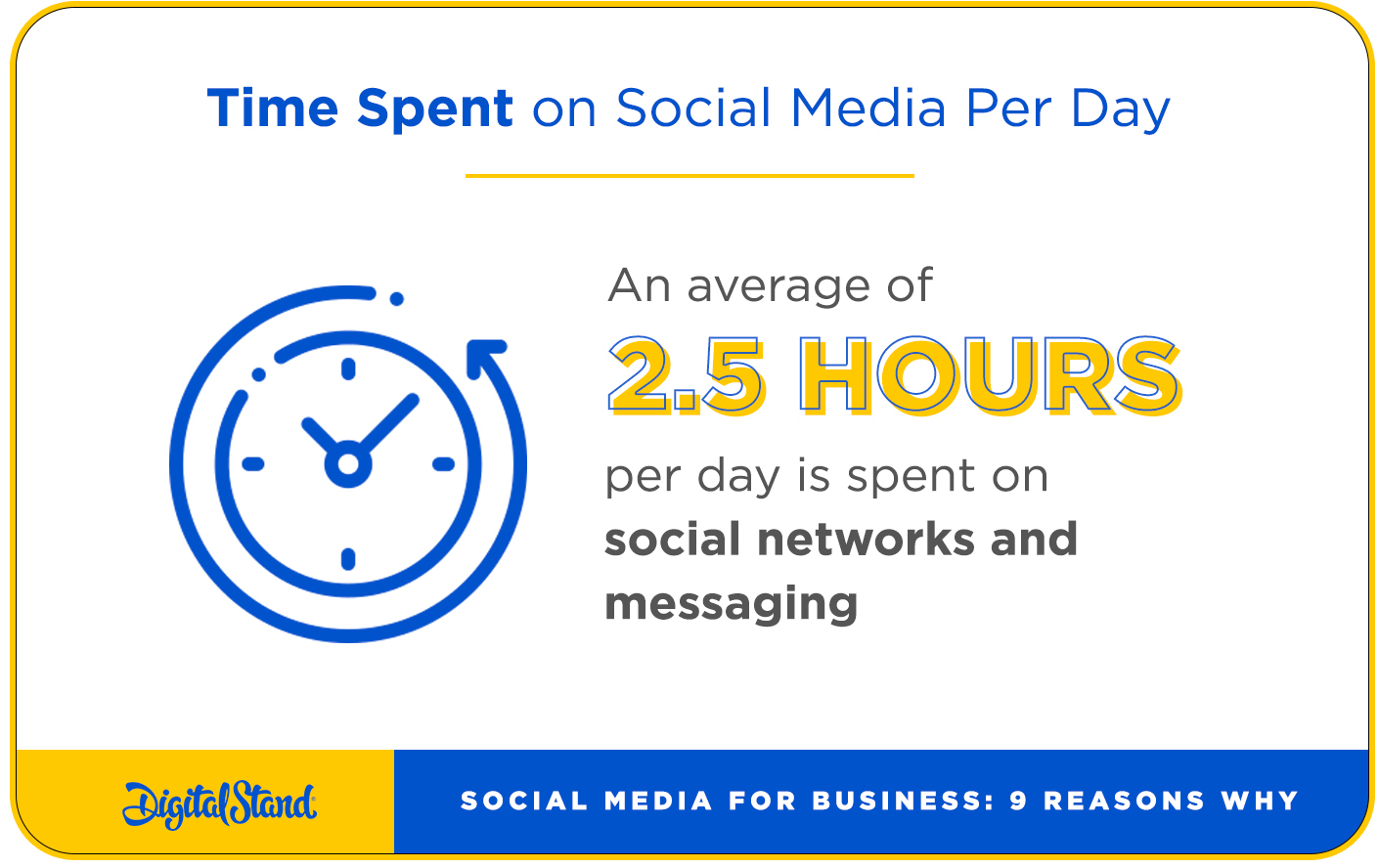 So almost 90% of the connected world is now using social media daily; the question isn't whether or not to use social media for business. The reality is, how do you maximise its return for your business?
The Importance of Social Media for Business
If anything, you may be underestimating the significance of social media for your business. Social media, in a lot of instances, is now actually over search engines for discovery.
To place this in context, 52% of all product and brand discovery is made on social. Your chance of being discovered at the awareness stage is equal to being found on Google at the same time.
The distinct advantage you have, though, when it comes to social is that you're building your direct relationship and audience.
This means it is not just a simple click onto your website, a review of your offering and potentially a bounce. But instead, the ability to build an audience that you can communicate with continuously.
Of course, you can also do this with Google search provided someone subscribes to your email database.
While we don't have the data yet to support this, we believe that following someone on social media has less friction than signing up for your newsletter.
Irrespective of this, you now need to put social on an equal footing to Google search when it comes to growing your business.
1. The Persona of Your Brand
Every single brand has its unique identity. Something you want to be known for and something that you believe you excel at. Social media allows you to put your brand on display, state what you stand for, and demonstrate your unique selling proposition.
It is an extension of your digital presence and intrinsically linked to your digital architecture.
By giving your brand a voice and communicating what you stand for, you can grow your digital footprint and reach new customers in new markets.
Yes, I am saying you have a larger audience than you realise. No brand understands the extent of its potential audience. Only through communicating what it is you stand for will you find the potential of your business.
2. Thought Leadership
When you create content on your website it enables you to demonstrate thought leadership in your particular field. Social media provides the perfect distribution channel for that content.
Conductor's study found that consumers are 131% more likely to purchase from a brand when consuming educational based content. As you can publish organic (free) and paid educational content, this enables you with a unique opportunity to educate your audience.
At no point do we understand where someone is going to discover our brand and content. Using the relevant social media channels for your business enables you to maximise your reach and client acquisition.
It also enables you to become very clear about your differential points and your expertise in your sector.
3. Your Website Traffic
As a marketer, business owner, or business leader, your job is to grow your business. And if your business is not growing, it is shrinking.
There is a direct correlation between the traffic going to your website and the number of conversions and conversion rates that you get. Whether that be from an e-commerce perspective or business to business point of view.
Social media enables you to increase the traffic coming through the website. This, in turn, increases your probability of finding new customers and or new leads.
Typically though, it does not represent a significant amount of website traffic. It has been shown that platforms like Facebook have the largest impact and can add somewhere between 4 to 6% organically.
But that is another 4% to 6% of traffic you did not have. And depending on your conversion rate could be 100's of new clients or leads.
4. Your Audience is Already Their
It does not matter what industry you're in today. Your audience is already using social media. Regardless of the product or services you sell and the demographic, you will find your potential audience on the platform.
While celebrating the second with more meaningful data, I want to give you two examples to illustrate this.
The first is a client that we work with specifically in this SaaS. They were targeting a very particular role globally. The specific area that we're focusing on was renewal managers' job titles in the IT services vertical.
Until we started working with them, they had failed to identify how to reach these people and convert them to their digital environment.
Not only in the first four to six weeks did we identify this audience for them, but we started converting leads. Those leads turned into sales, and now they are scaling globally.
The audience itself, as you can appreciate based on the title and sector, was finite. Still, we can identify this audience and start converting new leads by using social media for their business.
The second example I'll give you is in direct contrast to the above but an equally tricky audience to discover. This audience was in the E-commerce sector, and the age bracket was over 50 years plus.
This company was focused on disability aids, or rather the selling of these products. They felt their audience segment did not use social media but wanted to test this out as a potential line of revenue generation.
In the first 14 days, we closed $7,000 worth of sales within and continuously achieved a 4.39 ROAS (return on advertising spend) for them.
According to a study by Pew Research, the breakup is as follows.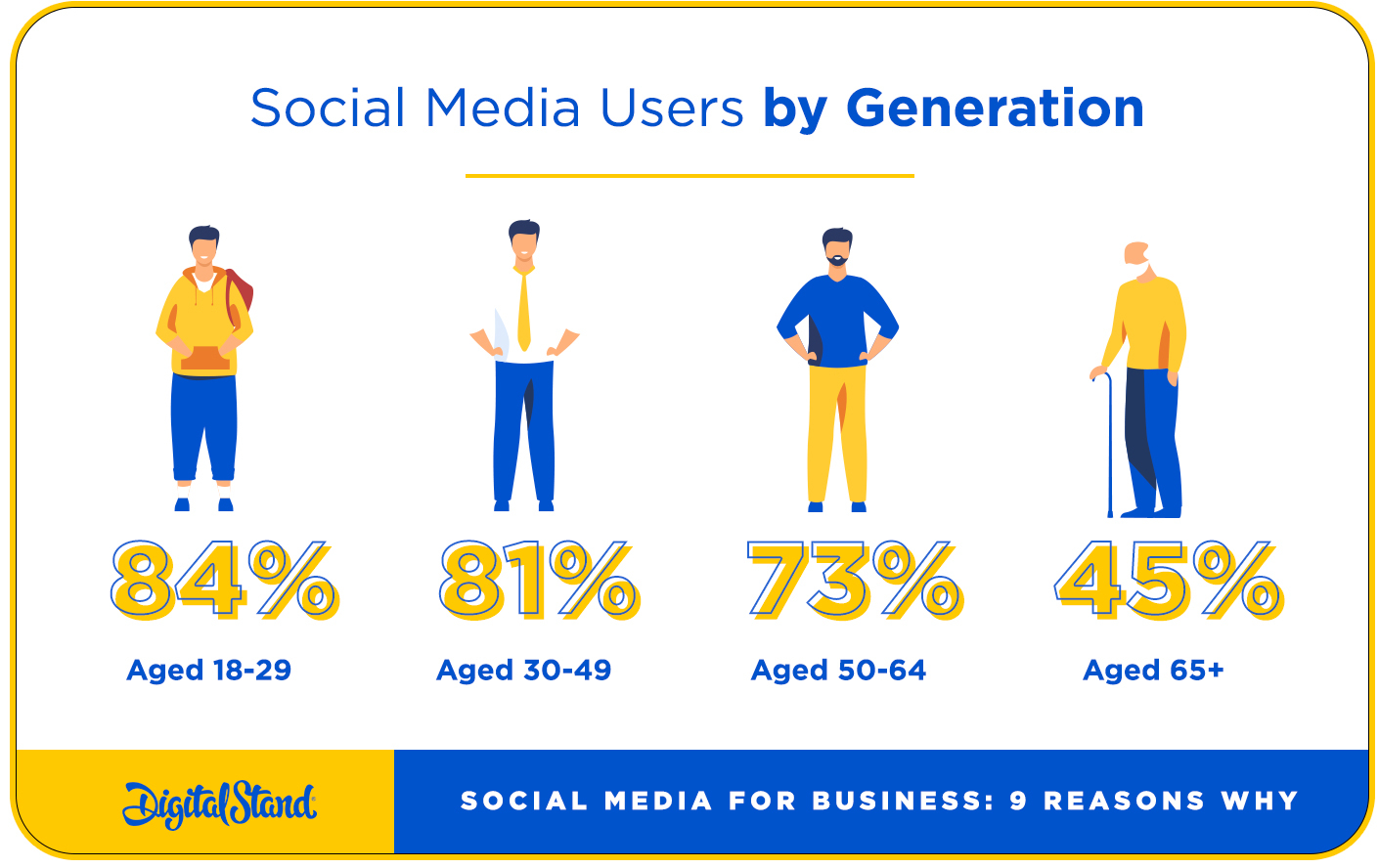 No matter how niche your product is or service your audience is on social media.
5. Tests Ideas
Social media provides you with a low-cost way of testing new ideas and concepts as they relate to your product, services, and brand. Not only saving you money but saving you time.
The number of things you can test on social is endless, and in reality, it deserves its own article.
You can test:
Different campaign ideas
Different audiences
Other times of day for performance
Different copy
Different images
And really, the multiples go on. For example, we will test six different pieces of creative for one audience to determine the most effective messaging image and ad. The embedded analytical tools make it easy to assess performance,
Unlike traditional advertising of the past, you can do this at a reasonably modest cost. Only then slowly lifting your spend as performance continues to increase. You no longer need to commit to large budgets or spend to test an idea or hypothesis.
6. Customer Feedback
With the integration of tools such as Facebook Messenger for your website, you can obtain direct feedback from your customers. All done in a frictionless manner and conversational style.
This customer feedback will allow you to understand what your customer thinks. It also provides you with a great channel to drive sales.
With 1.3 billion people using Facebook messenger worldwide, it enables you to get real-time feedback and answer questions that can turn into sales.
7. Customer Loyalty
A solid presence on social media and answering your customers' questions builds customer loyalty.
Customers want to be educated and heard. They are more than willing to promote your brand if they have an excellent customer service experience.
They're specific things on social media you can do when it comes to creating customer loyalty. You can spot a customer's post related to your industry or brand and comment on it, or even just hit the like button.
You can run competitions for user-generated social media content related to your brand and post them on your social feed. You can send them a direct message on social thanking them for their business.
You could even set up Facebook or LinkedIn groups and share information with them? Including unique content, discounts, or new and upcoming products.
7. Social Proof
Social proof has proven to be the highest of all influences when it comes to referral-based sales.
We are far more likely to buy from a brand our friend or network recommends than we are from any form of advertising. Including Facebook advertising.
But a friend passing on a Facebook ad will definitely influence us.
Social Media provides you with a wonderful way to have your content and brand shared. It is almost frictionless; with a simple click, one of your clients can share your content, product, or brand with their network.
8. Reduce Marketing Costs
I've given the above a funny title when it comes to reducing your marketing costs. As a performance-driven agency, we never look at marketing as a cost but rather as an investment.
Suppose your company is still looking at marketing as a cost line or expenditure and has this filter. Then put your social media marketing is not working.
Having said that, when it comes to most other forms of marketing, social media, when viewed on a cost basis, is materially less than anything else.
A distinct advantage of social media is that you can test campaign ideas; social posts at a modest cost to determine how likely it is to be successful. Once it is successful, then you can lift your expenditure and monitor performance.
According to a study by data box, you should be aiming at around 6 to 1 for return on advertising spend. This means obviously that for every dollar you spend, you get a $6 return.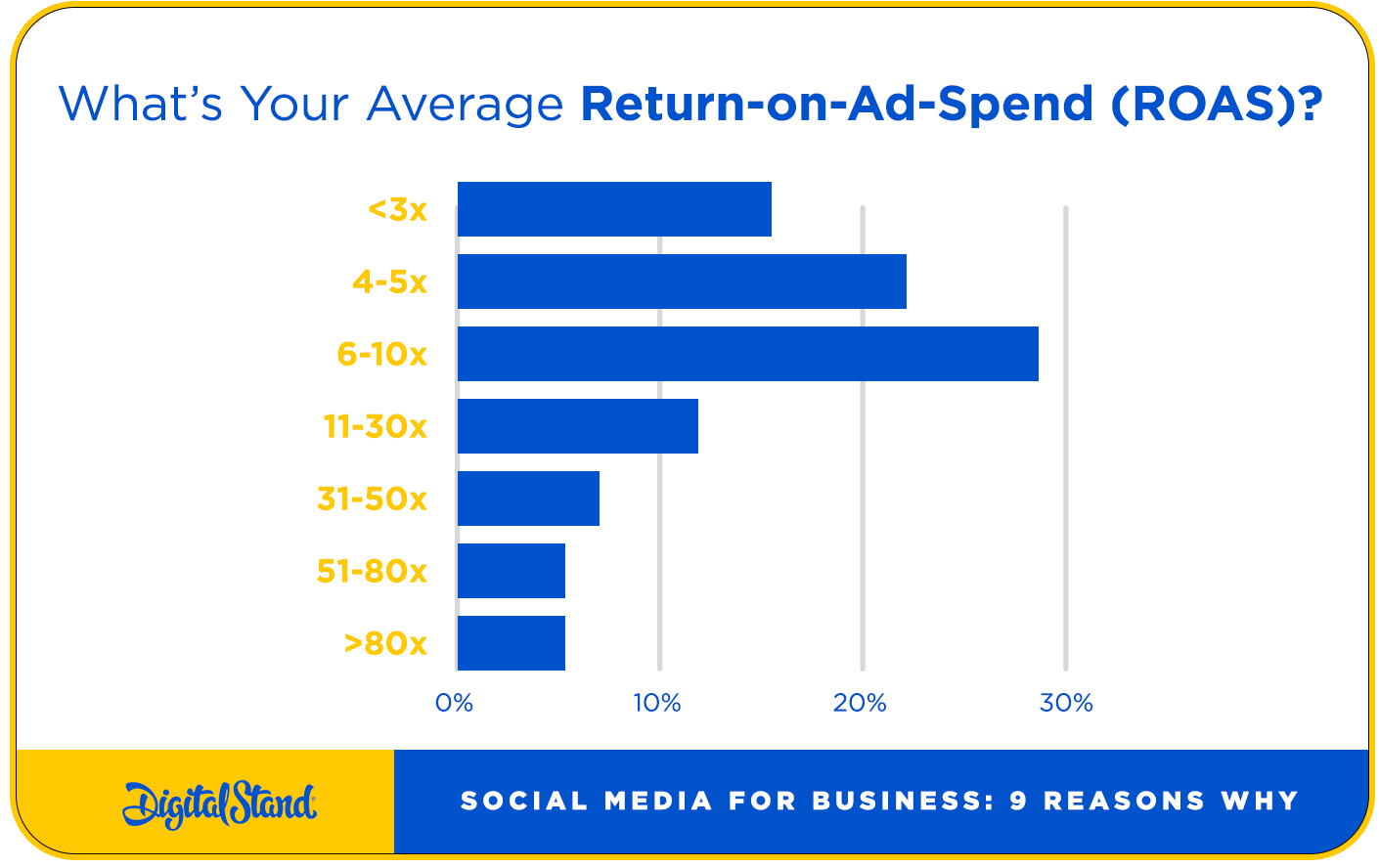 Started at the beginning, this would mean that your marketing is not a cost but rather a revenue generation vehicle. Which is precisely what it should be.
I wanted the same by your business as that had no longer presents a cost but an excellent opportunity to grow your organisation.
9. Search Engine Rankings
Supported by research, it shows a correlation between search engine rankings and social media. There are approximately 5,000,000 blog posts published every single day!
Some of this content is exceptional; of course, some is average, and some of it perhaps shouldn't even be published.
However, they are all competing for the same limited attention you are regardless of the industry or sector that they are in.
Social media has been shown to impact the performance of search engine rankings. In one particular study where a piece of content went viral, being shared over 31,000 times. The article itself went out to the number one spot in search for several keywords.
Research by cognitive sei went on to further substantiate this by analysing 23 million shares in social media. This study determined an unmistakable link between social and search engine optimisation.
All the signals from the social shares show to have an impact on the Google algorithm.
From this, we determine that the piece of content that performs well socially provides Google with enough signals to let its algorithm know the content itself is valuable.
Google and every social media platform's goal is to ensure that their readers get the best quality content with the least effort. They will undoubtedly use any relevant signal to ensure that this is the case.
Summary
The benefits of social media for your business are not limited to the above. Whether you are looking at reducing your cost of advertising, improving your customer service, or finding new target audiences and channels to market, social media plays a role in your digital marketing strategy.
With 50% of the market using social media for product and brand discovery, every generation is active on social media platforms at around 2.5 hours per day. It is not only a medium you must use. It is a platform you must understand how to be effective on.
Every business is different when it comes to social media. This, of course, enables each company to show their understanding of their market and demonstrate how they improve their customers' businesses and or lives.
In a world that has become digital, your clients and customers expect you to be there. Turning up will offer you both a short term and long term advantage.
As social media continues to grow, perfecting the art of engaging the platforms will ensure the growth of your business in turn. It does not matter if you have a small business or enterprise account; your audience is there.
For almost ten years now, Digital Stands has been at the forefront of social media marketing and advertising.
If you're interested in a no-obligation strategy session, you can contact us here. If not, please feel free to download one of the pieces of content below, and we will hear from you at the right time.