Digital marketing is the organisation of information architecture built around the persona you are pursuing and a content strategy that ties it all together. It is about understanding your audience and their needs, then delivering the content they're looking for in an effective way.
It might surprise you, but according to Smart Insights, 45% of organisations do not have a digital marketing strategy.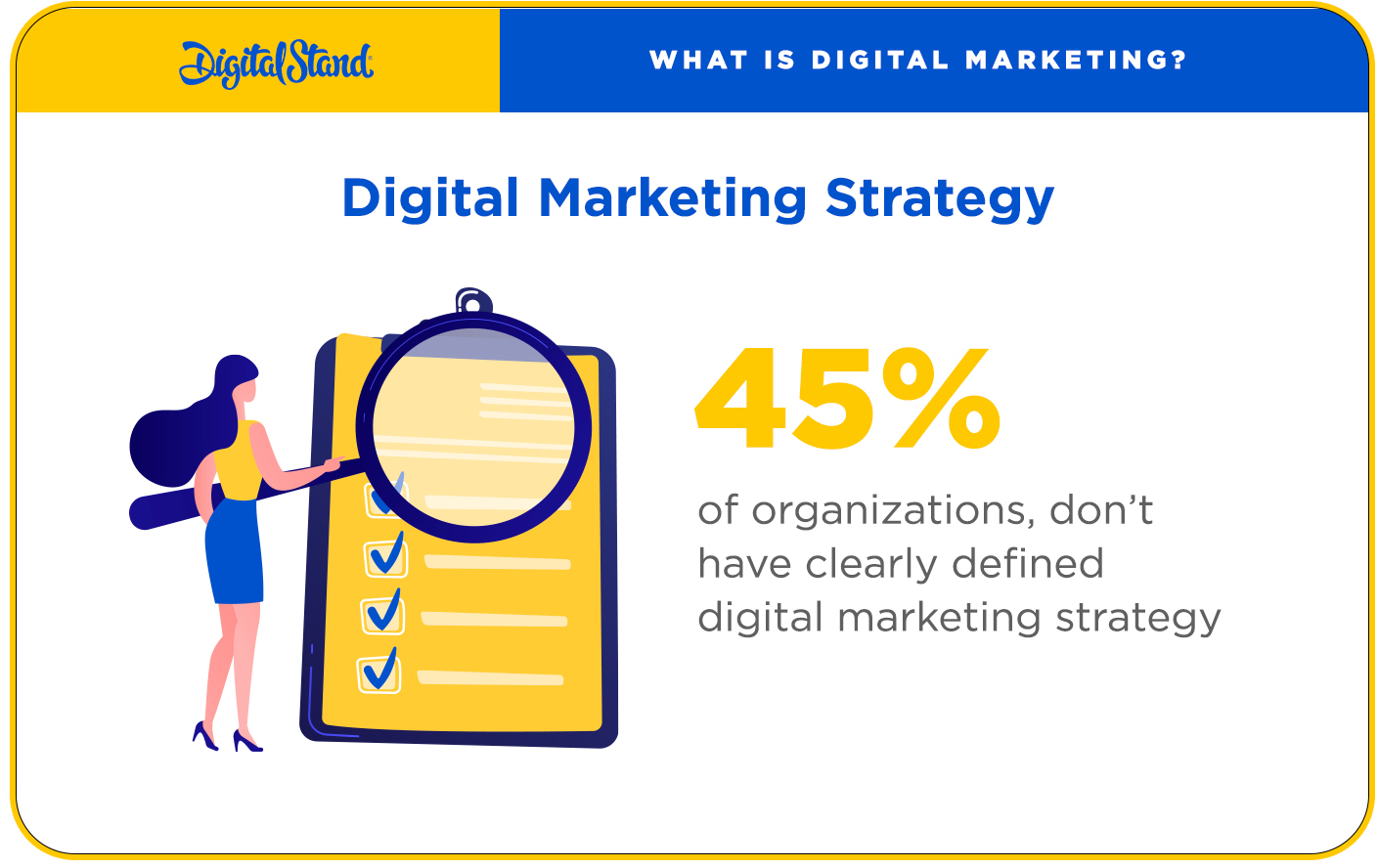 Don't let this happen to you!
I will cover what digital marketing is and how information architecture and content marketing tie into this. Covering all the facets you need to consider when building an online marketing strategy.
In 2021 brand and product discovery through social networks and search engines across all generations is about 50% and growing.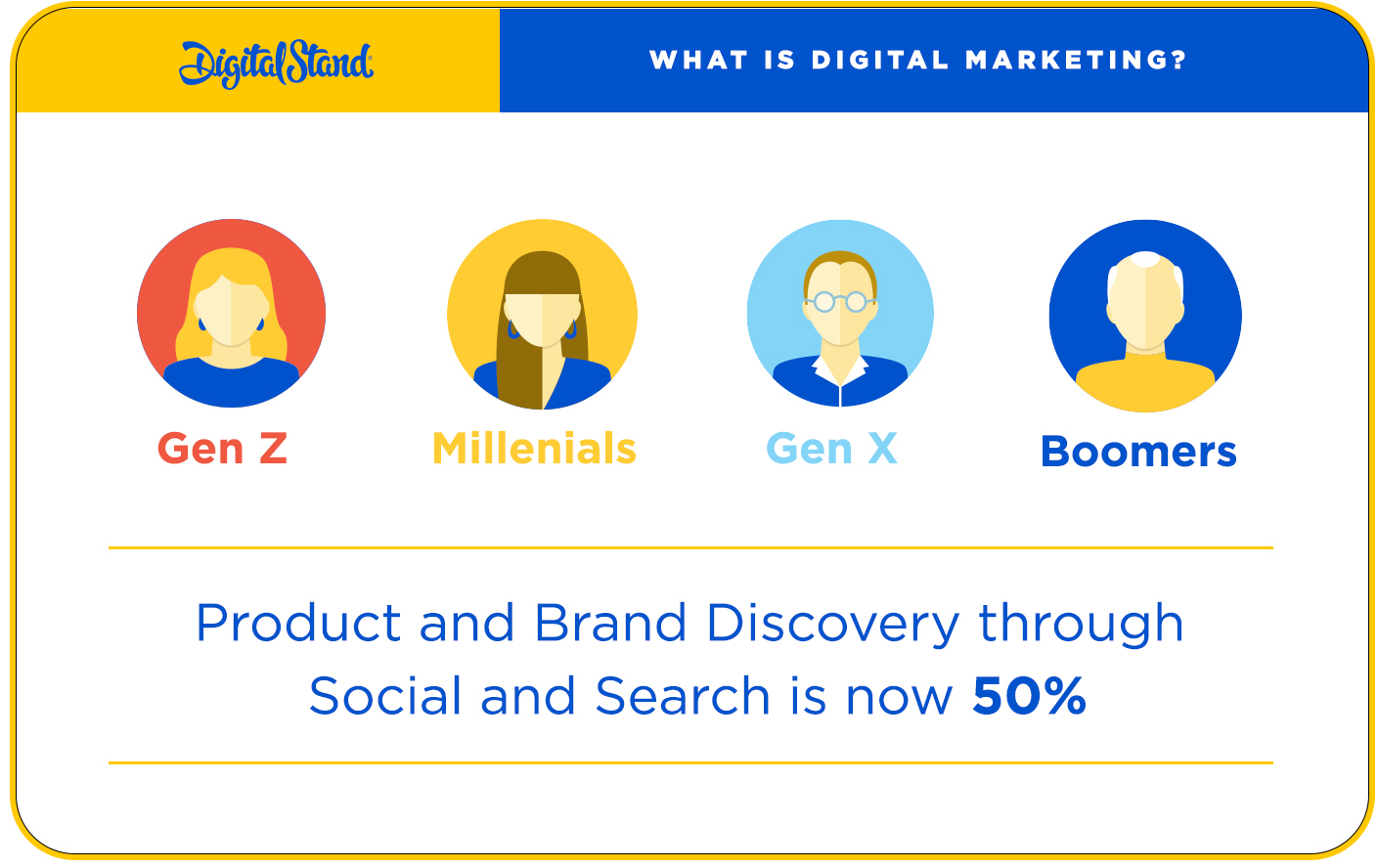 However, you may find it interesting to know that 59% of baby boomers research products online before buying. This is higher than any other generation.
In its essence, digital marketing should be designed to support your clients' or consumers interests. In the current digital landscape, we have an abundance of data. This data enables us to know what our clients are looking for and what our consumers are researching.
For example, if you think that Woolworths or Coles move into sustainability is not data-driven, then think again. 60% of consumers are willing to pay more for an eco-friendly product.
Or, for that matter, have you ever asked yourself why LinkedIn ads always seem to show someone at home working after hours?
Both strategies are built around understanding their consumer and client from a B2B or B2C perspective.
While both of these companies are large enterprises, please don't think size is a factor in effective digital marketing.
What are the Benefits of Digital Marketing?
1. Global or Local Reach
Digital marketing provides you with the ability to reach the consumer locally or globally. Almost regardless of their location.
As an Australian brand, you can launch digital marketing campaigns in the US, UK or the Asia Pacific. You can do this with no infrastructure in place in any of those areas. Targeting the city or even a postcode, sometimes even at a street-level radius.
One of the unique aspects of digital marketing is it enables you to micro or macro target. It does not matter whether it's the CBD of Sydney or every major city in Australia. You can define the parameters based on your requirements.
2. Targeting
You can target someone between the age of 25 to 34, a marketing manager, CFO, parent, teacher, or the senior leadership team within a large enterprise account.
Precisely targeting the market you are going after.
3. Cost
The cost of digital marketing, when compared to traditional marketing forms, is economical. You can test ideas and concepts with as little as a $1k - $5k. Allowing you to identify what works and what does not work. Ensuring your investment in the digital architecture supporting a campaign or a campaign idea is right.
4. Analytics and Optimisation
With digital marketing, you can analyse all of the data you're receiving on your campaigns and adjust your strategy in close to real-time.
You are analysing every step of your funnel and identifying areas to leverage. This is invaluable for optimising campaigns.
5. Varied Content
The magic in digital marketing is the ability to test multiple content ideas. You no longer needed to be what it's one concept, one campaign principle.
This does not mean you change the purpose of your campaign or the driving force behind it but rather how you execute it. The messaging and content you put behind it. Testing different types of messaging enable you to identify what resonates best with your target audience. Developing a greater understanding and their needs and desires.
6. Speed
Unlike traditional forms of marketing, speed is an advantage of digital marketing. You can launch new campaigns in hours and retire them just as quickly.
You can support a movement, moment, or event as fast as one can be created.
7. Scale
When it comes to digital marketing, you can scale this exponentially once you know what's working. If the campaign is working in Sydney, the same campaign will likely work in Melbourne and perhaps even Australia.
As you start to find the formula that works for your brand and grow your business in a digital capacity, you can scale it to other locations and markets. Enabling you to do so efficiently but effectively.
How Does Content Support Digital Marketing?
The content you create is the supporting architecture when it comes to digital marketing.
Each piece of content is connected logically, enhancing your digital marketing and the customer journey.
The content you create impacts the performance of any digital marketing activity.
Paid search or PPC
Known as Google search or Bing search advertising. A complete 75% of people click on search ads because they expect an answer to their question.
Having content supporting these ads that answers your personas' questions increases advertising effectiveness.
SEO
Search engine optimisation, on the other hand, is about creating content that ranks organically.
It performs the same function as PPC but is often trusted more than an ad. Having a piece of content that ranks on the first page of Google supporting a PPC campaign is a perfect state.
There is no avoiding it, but the reality is that many consumers and businesses trust organic content more than they will PPC. The data now shows us the 54% of people are more likely to click on the organic result.
Being in both places creates a deeper trust in your brand's capabilities and ability to solve potential client issues.
Social Media Marketing
Creating social media content supporting digital marketing efforts shows consistency throughout your digital ecosystem.
Not creating social media content supported by digital marketing efforts is a significant gap!
When it comes to influencing the customer journey, younger generations primary source of information is social media. This has now eclipsed TV advertising. When it comes to the younger generation, it also shows social media is also starting to eclipse search engines.
Even 20% of baby boomers are now using social media to find products to purchase – Web Index.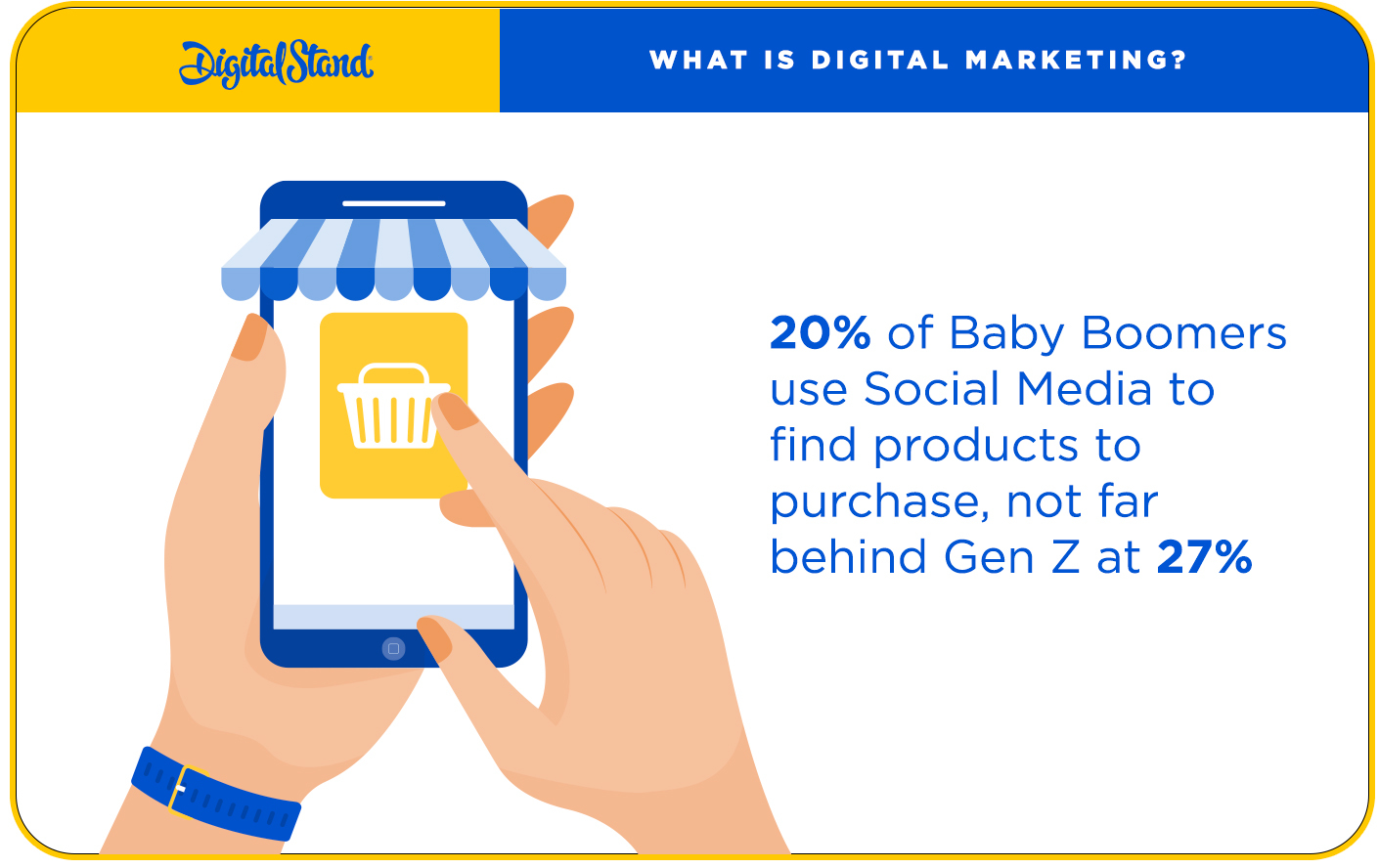 Social media content supports your digital marketing efforts and provides consistency of messaging.
This would include but is not limited to Facebook, Instagram, Twitter, LinkedIn, and YouTube. Depending on your demographic, it could also include Snapchat, Pinterest and Tik Tok.
Not all social media platforms will be relevant, only those that your personas are spending time on.
Email Marketing
Email marketing is still the backbone of effective digital marketing efforts. It is an open channel for communication for potential clients who subscribe to your newsletter or download your white paper—referred to by Seth Godin as permission marketing.
You've earned the right to communicate with them and continue the conversation. You will know what content they consumed and what they are interested in.
By understanding this, you can serve them content relevant to their needs and interests.
The data shows that 49% of consumers like to receive emails from their favourite brands. This study from back in 2019 shows for every $1 you spend on email marketing; you can expect to return $42.
Landing Pages
If all of the above is the architecture to support your digital marketing efforts, landing pages are the foundation.
They answer the problem that your potential customer is trying to address or the need that they currently have.
Your advertisements are the question, and your landing pages are the answer. A study from HubSpot shows the companies with 31 to 40 landing pages get seven times more leads than those with one to five landing pages. Also materially increasing website traffic.
How Does Marketing Automation Fit?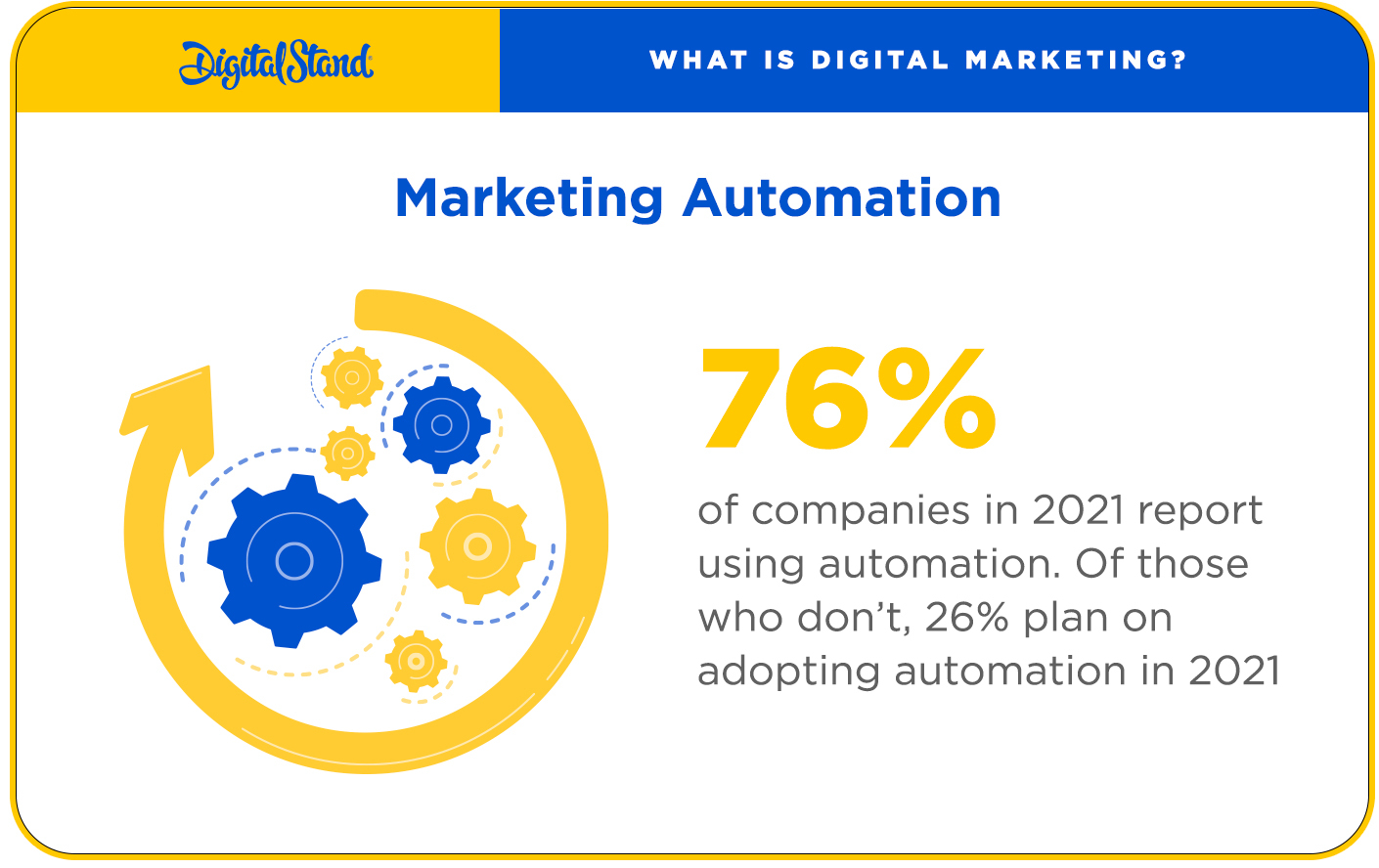 76% of organisations are now using some type of marketing automation. Marketing automation can tie the above together and remove repetitive tasks.
It can be a game-changer for efficiency and identifying leverage within digital marketing campaigns.
Using tools that enable you to be efficient and productive in this area.
Inbound Marketing vs Digital Marketing
Last week I wrote an in-depth article about what is inbound marketing; you can read it here.
I would consider inbound marketing to be the Jiu-Jitsu of digital marketing. Inbound marketing's primary focus is to create brand awareness, engagement, leads and sales. It can also be very effective in creating referrals.
Digital marketing covers the entire landscape of all the services that you can use from a push and pull marketing perspective.
Inbound marketing is a component of the information architecture you have created.
Whether it is:
Articles
Case Studies
White Papers
Or specific industry analysis
Inbound marketing is part of the larger digital marketing strategy.
Inbound marketing provides the framework for a pull-based marketing approach.
Will Digital Marketing Work for Your Business?
The question isn't whether digital marketing will work for your business? Instead, it is how do you make it work for you? It does not matter if you are selling a product or a service; digital marketing plays a role.
Some quick stats:
Mobile is the first screen as we spend 53% of our online time on mobile devices.
More than 3/4 of internet users are shopping online.
As of January 2021, there were 22.82 million Australian's using the internet.
Digital marketing is all about meeting the consumer and where they are at. Whether you are Business to Business organisation or a Business to Consumer Company, your consumer is online.
The question is not what digital marketing works for your business but instead how you make it work. There are several ways to activate your organisation from a digital marketing perspective.
I have written about this extensively, and you can review
Your primary goal should be to understand where your consumer or customer is spending their time online. Building your digital marketing efforts to align with their online consumption.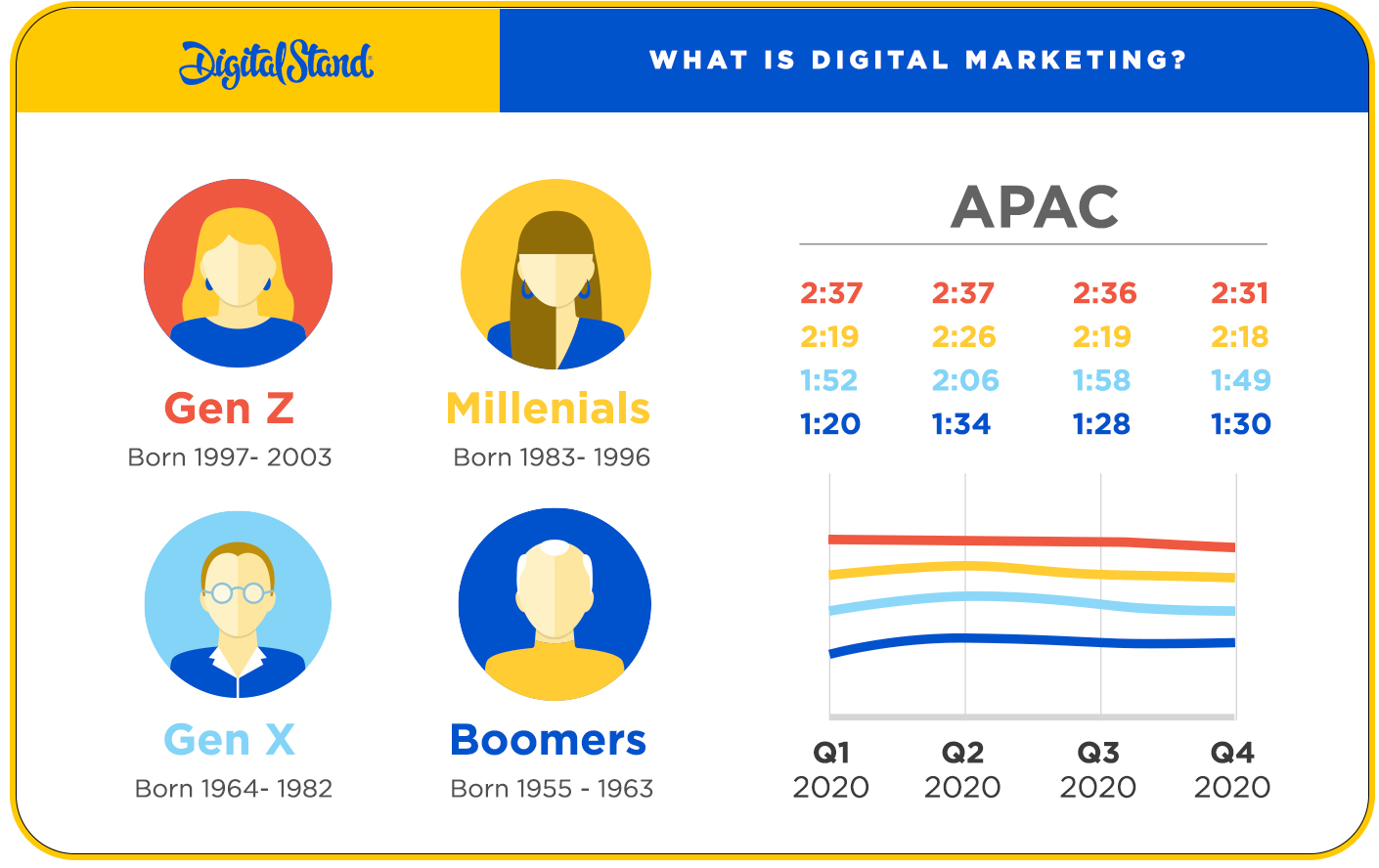 Once you have done this, you want to identify what works within that customer journey and whether points for improvement exist.
Digital marketing works for every business in 2021, but you need the right guide, marketing team, or both to make it effective.
Digital marketing has to be the greatest leveller since traditional advertising first began. A well-executed digital strategy will help you outplay your competition and grow at a faster rate than your peers.
If you have invested in digital campaigns and digital marketing and yet to see the results, this means that you're doing something wrong. Or the agency that's guiding you is not able to execute effectively.
Digital marketing will work for your business regardless of the size of your company or your competition.
Business to Business (B2B)
From a business to business perspective, the point of digital marketing is to acquire new leads for your organisation. This will come via advertising, content, calls to action, case studies, and testimonials.
All are delivered in a digital format. The goal here of produceing marketing qualified leads to hand over to Sales.
Business to Consumer (B2C)
From a business to consumer perspective, the goal of digital marketing is to convert new sales.
You are ideally using a push-pull marketing-based approach. One that includes social media, inbound marketing and EDM, with an overarching digital marketing approach.
The goal of digital marketing in this respect is to reduce your cost of acquisition and increase the lifetime value of your clients.
Marketing Automation
Regardless of the size of your business, finding ways to automate your marketing approach is something you want to consider.
You can use several tools on the market to do this, from automating social media to automating your whole marketing strategy.
This software enables you to:
Send out social media posts at a scheduled time
Automate the lead nurturing processes through email marketing
Connect content to create customer journey paths
You are enabling multiple touch-points across your digital marketing campaigns.
It does not matter whether you have limited resources or a large marketing team. This will enable you to move faster, and more efficiently and use data to test performance.
You are improving your knowledge, capabilities, and effectiveness.
A complete 51% of organisations are now using marketing automation in some capacity. When looking at how you do digital marketing, it is something you want to factor in.
A key component of marketing automation is it enables you to do more with less.
Enabling you to take an omnichannel marketing approach. In a study by Omnisend, it was found that this can increase customer retention by 90% and lift purchase rate by up to 250%!
Marketing automation is now weaved into the fabric of digital marketing permanently. 75% of marketers are using at least one automation tool.
How to Choose a Digital Marketing Agency
When it comes down to choosing a digital marketing agency, there are several factors that you want to consider.
Do they know that digital marketing is the organisation of information architecture, designed around a persona/s? And a content strategy ties it all together?
Do they have a deep understanding of all of these components?
Marketing automation
Inbound marketing
PPC
Social media advertising
Search engine optimisation
Landing page design
Conversion rate optimisation
And customer journey mapping?
Do they then know how to identify with your assistance your competitive advantage and unique value proposition? Where your potential leads are, and how to drive the most effective conversion path?
In 2021 digital marketing is a science; there is a formula for success regardless of your business size or industry. A business owner or business leader needs to identify a partner that can utilise the science to make digital marketing effective, as this is your key to growth.