Looking to choose a digital marketing agency and don't know quite where to start? Then this article is for you.
Digital marketing has fundamentally shifted over the last ten years. It is no longer about putting up a website and hoping for leads. You need digital architecture connected in a frictionless manner to drive conversions and growth.
Many organisations and, for that matter, agencies have failed to keep up.
According to Bain Consulting and a Facebook study, over $325 billion is lost every year from digital friction in the Asia Pacific. Approximately 45% of organisations have no digital marketing strategy in place.
For companies with a digital marketing strategy, some only have components in place, and they are not using data to measure the entire customer journey. The majority of cases have nothing to do with their capability but instead, has a lot to do with the digital agency guiding them.
That is why choosing the right digital marketing agency has never been more critical.
In this article, I will cover what you need to know when choosing an agency.
When we look at how to choose an agency, there are many areas that we should address.
This, in part, is a list of areas of competency knowledge-based questions that you need to ask any agency you're considering choosing: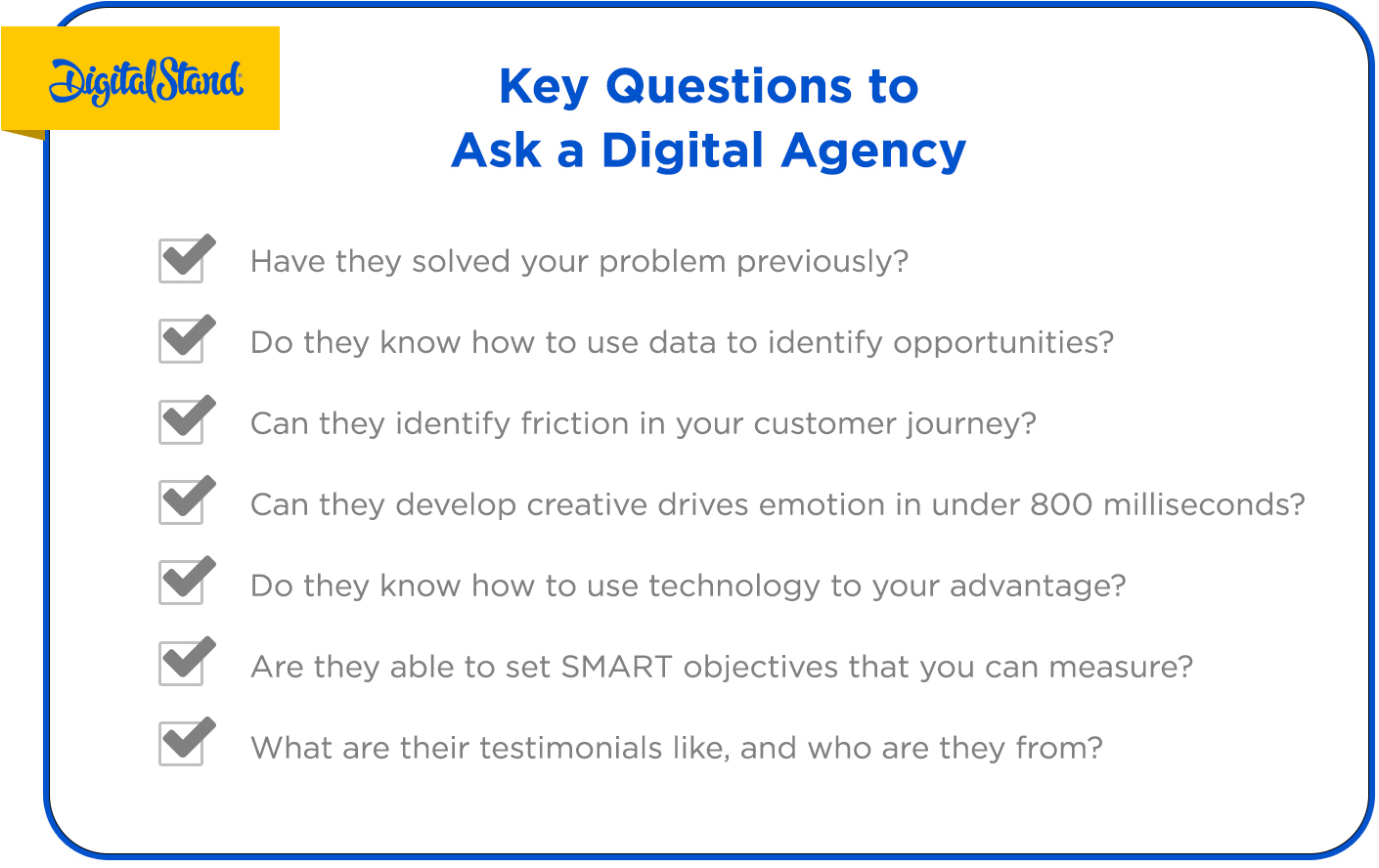 Some of the answers to the above questions will only come from a conversation with the organisation you are considering. However, let's look at each of these in isolation and further define the parameters of that conversation.
Digital Performance
Over the years, we've noticed a similarity when it comes to problem identification for clients. Typically, clients are unsure why their social media, digital advertising is not performing, or their website is not converting. They need guidance and assistance with making one or both environments work.
This can include the whole range of digital or social media services, which I'll discuss later in this article. One of the things a lot of digital agencies talk about is driving additional traffic to the website. They may ask you that very question at the outset.
This is a trap. There is no point in driving additional traffic to your website if that traffic is not related to your business and the audience you need.
Not only is there no point in doing this, but it will also lead to more significant problems in the future. Because if you have the wrong traffic, you have the wrong audience. Then any future advertising you do will be to an audience that is not interested in your content and offering.
So what should you look for when it comes to performance? In the first conversation, the agency you're talking with should be able to look at your digital environment and spot areas of improvement immediately.
I want to make that point is not lost on you. They should be able to spot some issues immediately.
These improvements should be something that you will logically know will increase conversions.
Digital marketing and advertising have a range of complexities, especially in the execution. But when you talk with a performance-driven agency, you will know their suggestions make sense. How? Because they can explain them to you in a manner that you know will work.
The key drivers that we recommend are discussed and reviewed are:
1. How do they plan on winning you more customers?
2. How will they grow your market share?
3. How will they improve the economics of digital architecture?
4. How will they enable internal key stakeholders with relevant data?
5. How will they equip you to outflank and outplay the competition?
Yes, let them talk about more traffic and leads, but more importantly, they will answer the above areas.
Do they Know How to Use Data to Identify Opportunities?
Data can be the single source of the truth! It's not just a matter of having the data, but it's also a matter of knowing how to use it. When it comes to digital marketing and advertising, the customer journey is not a straight line. We know you know this.
Through data, you need to analyse the most effective path for customer acquisition.
And as you know, all customers are equal! So you must also identify the path the most profitable customers is taking.
The reality is that every organisation we've dealt with already has this data embedded in their business. They either know how to extract it, or they need someone to help do it.
A competent digital agency should be able to map the customer journey. They will then highlight areas of performance and weakness.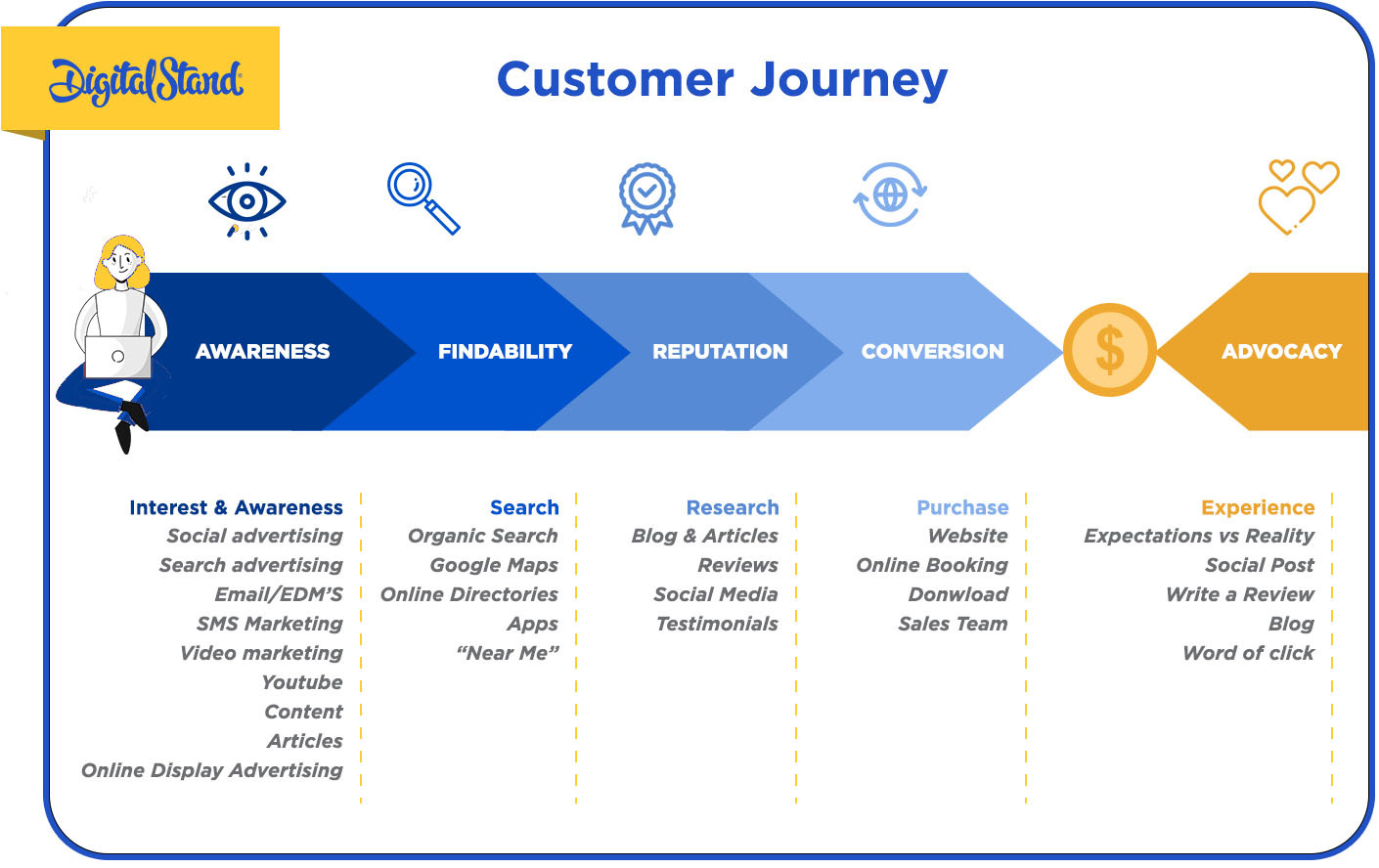 They should also be able to reverse engineer your competitor's customer journey. Yes, that's right, they should compare competitors customer journeys.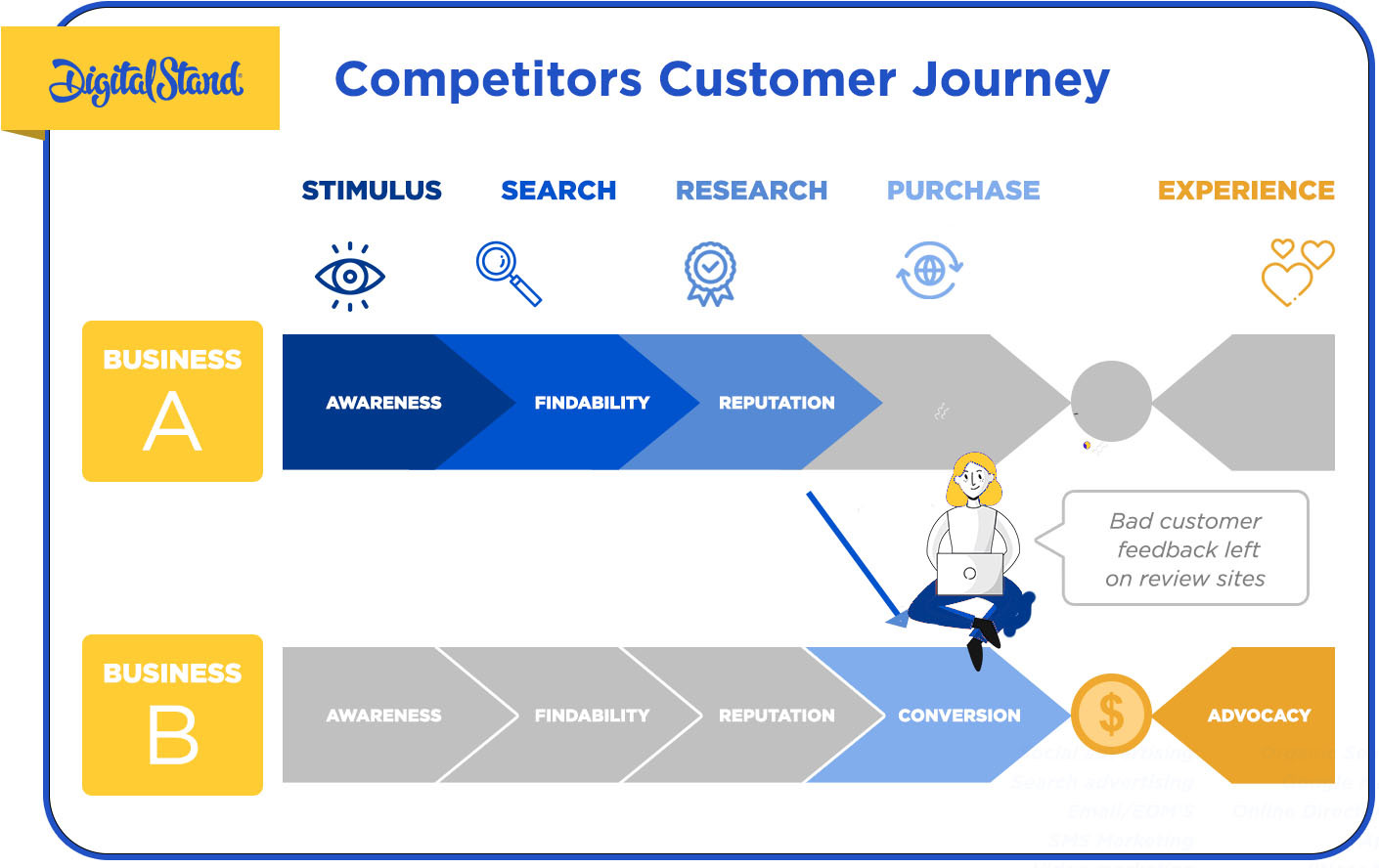 Why? Because where else do you think you're going to get your growth from?
Unless you are launching a brand-new product into the market or educating a consumer about a product that is not used at this point? Understanding the digital journey of your competitors' clients is also critical.
Now let's say you are taking a new product to market or educating the market on your product to gain new clients this way. This, of course, is a very noble pursuit, but the reality of this pursuit is your potential client or customer still only has so many available dollars.
This means that you need to understand the total share of wallet in that space or the potential market expenditure of that demographic or persona.
There are two primary areas that you are looking to leverage with this data.
1. The cost of customer acquisition, cost of sales, plus the cost of marketing is equal to new customers acquired.
2. The next and equally important area being lifetime value. What is the average client lifetime value? The number of transactions or services that the client is buying or buys, and clients' typical retention period?
By understanding the above data, we have the information we need to maximise those two areas.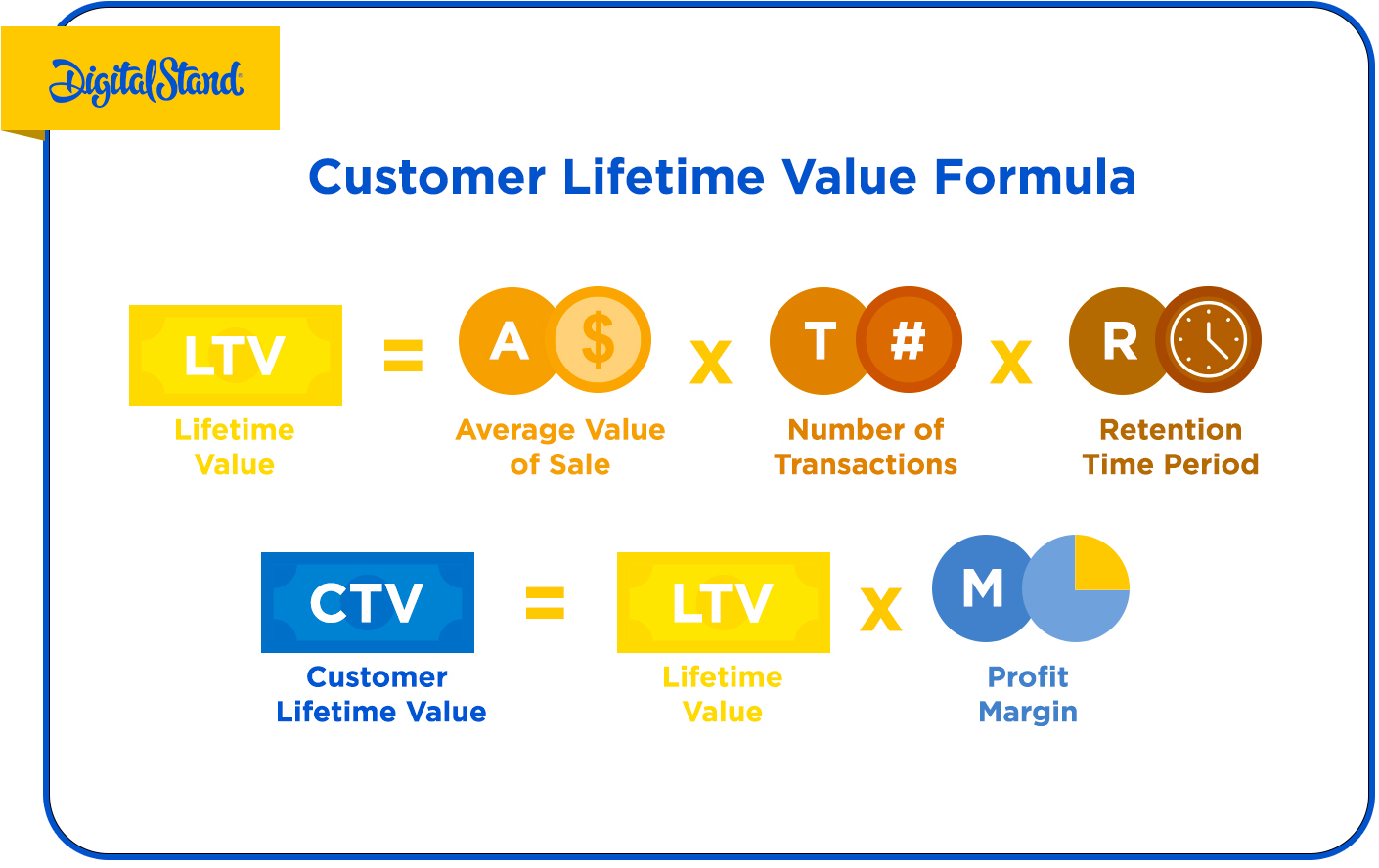 As you no doubt know, both customer acquisition cost and lifetime value have an interdependency. Leveraging that connection enables you to maximise profit and your growth strategy.
Can they Identify Friction in Your Customer Journey?
If you've read any of my previous articles, you will know friction is costing businesses approximately $325 billion per year in APAC.
This number comes from a Boston Consulting Group and Facebook report and a joint study of what friction is costing businesses.
Identifying friction in your business is not as straightforward as you might imagine. This is because when you're putting together your digital journey, there are so many interworking components. And any one of those components could be causing you issues that you are unaware of.
As a high-level example, it is suggested that only 42% of marketers are currently A/B testing. This would mean 58% of organisations and companies are not optimising for conversion!
Friction in a customer journey, of course, can take many forms:
It can include a product that's out of stock
A website that loads too slowly
No reviews about your business and social proof.
At each stage of your process, your customers encounter choices they need to make, such as whether they buy this product or fill in this form to learn more. Or perhaps even read more of this article :)
They can be seemingly straightforward decisions to make. But as you know, the path to making these decisions is often complex and full of potential pitfalls.
A digital agency focused on your customer acquisition cost and the lifetime value of your clients will help you map out the entire customer journey.
They will analyse each component and help you implement a strategy to test and improve each aspect of customer acquisition.
Now having said this, there is a straightforward test you can take to determine if you have a high friction customer journey.
1. If you're in a business-to-business organisation focused on lead generation. Then according to a study by Unbounce, which analysed over 74 million visitors, the average landing page conversion rate is 4.02%.
Please remember that this is the average conversion rate, and this is not where you want to be. So if you are achieving 10% above, you'll know that you have in part removed friction from your business.
2. In E-commerce, the average conversion rate between April 2020 and April 2021 sits around 2%.
So, in short, if your conversion rates are sitting somewhere between 2 and 4% in either respect, there is friction in your customer journey.
A digital agency that wants you to win will highlight this to you and your in-house marketing team. They will help you identify areas of improvement in your marketing, even if these improvements have nothing to do with paid services.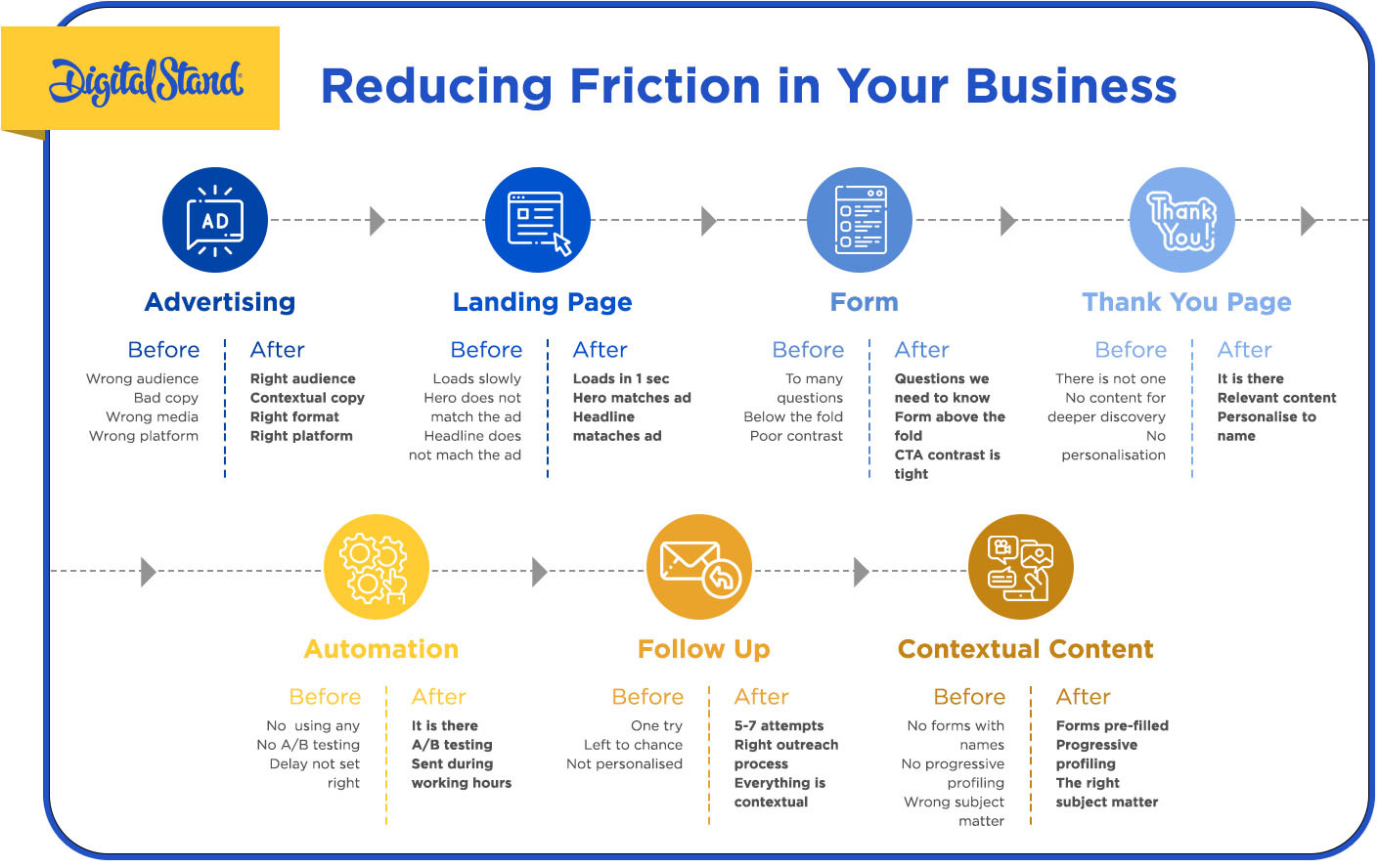 Are they able to develop Creative that Catches Your Leads Attention in Under 800 Milliseconds?
At every part of the customer journey, you're fighting for attention.
The latest neuroscience research shows that your potential customer will respond emotionally to your advertising in under 800 milliseconds. They will then process this intellectually at the one-second point, deciding if to take any further action.
Based on a study from Microsoft in the Canadian consumer market, they will then spend a further 8 seconds analysing your environment. Determining if they are going to continue down your customer journey path or not.
It is approximated that we see somewhere between 4000 to 10,000 advertisements per day. Competition for the consumer or customers attention has never been greater.
Putting together creative that's contextual, highly targeted, and built around the customer journey, is critical when it comes to digital advertising.
There are two areas to consider here:
1. Does the agency know that this is the case, when it comes to time?
2. Does the agency have a history of putting together high-quality content and creative that converts?
Depending on how large your organisation is and your approach, this needs to cover many aspects of digital advertising.
Because a PPC ad compared to a Facebook ad or, for that matter, LinkedIn ad are different vehicles with different customer journey paths.
To put this another way, what works on Facebook may not necessarily work on LinkedIn, and it may not necessarily work when it comes to PPC ads. Each platform requires a different understanding of how their specific digital architecture works and how you can maximise it to your benefit.
Do they know How to Use Technology to Your Advantage?
One of the most significant challenges any business has in today's market is keeping up with digital and social media technology changes. Every day it would appear that there's something new on the market.
From A/B testing tools, artificial intelligence copywriting tools, or even landing pages that use AI to optimise the best conversion path.
Keeping up with these changes is the role of a good digital agency. Understanding what these changes mean and if they have any practical use in your customer journey.
You can lose a significant amount of time trying to analyse all the digital tools in the market today.
A strong agency will let you know about relevant tools in the market today and the emerging best practices.
They will also be able to analyse your environment and what tools you are using and have some competency around them.
A full-service digital agency will have deep knowledge in:
Email marketing
Search engines
Inbound marketing
Marketing automation
Social ads
Content marketing
Content creation and optimisation
Google search and PPC Ads
Growth driven website design, and landing pages
Helping you maximise your existing environment with the tools that you are currently utilising.
We have discovered that clients can have tools in place, like marketing automation, but fail to utilise their full potential. Because once the vendor has sold it to them, this can be where the advice stops.
A digital agencies role is to help you maximise your existing infrastructure and present you with potential opportunities out in the market that align with your business objectives.
Are they able to set SMART Objectives that You Can Measure Independently?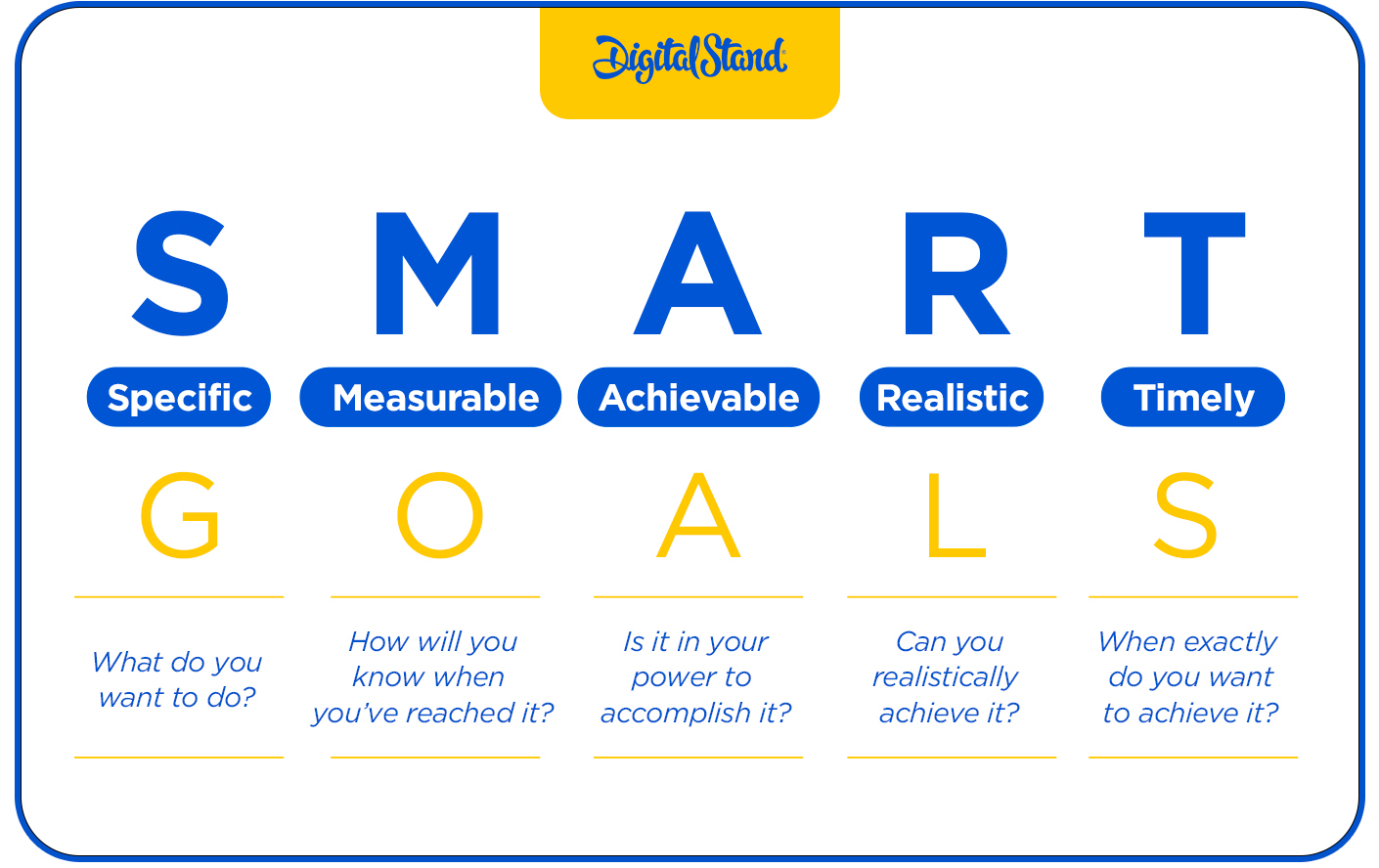 When it comes to digital marketing, there should never be a grey area. When everything is said and done, you hire a set of skills when you hire a digital marketing agency.
Your straightforward goal is to increase your growth consistently and sustainably over time. This means that both you and the digital agency should start on precisely the same page.
How many website visitors are you getting today?
How many of your pages rank on the first page of Google?
How many Instagram or Facebook followers do you have?
How many LinkedIn followers do you have?
How many new website inquiries are you getting each month?
How many of those inquiries are becoming marketing qualified leads?
How many of those marketing qualified leads are turning into sales?
The above, of course, is only a snapshot of some of the areas you might identify from where to begin. Depending on your purpose for engaging in a digital agency?
It could be from creating a new website built around growth-driven design
Creating advertising the converts
Building an entire customer journey that improves your lead acquisition and number of sales each month.
At the outset of the relationship, these numbers should be built into the plan you are performing today and the agreed goal for moving forward.
They should be smart goals—specific, measurable, attainable, relevant, and time-based.
When you both work from the same page, you can measure performance monthly, quarterly, and yearly. Allowing you to independently review performance and understand if the relationship is of mutual benefit.
What are their Testimonials Like, and who are they from?
Like any industry, when it comes to finding an agency, there are many games that agencies can play, and there are red flags you should look for. These games can include low-level people or irrelevant contacts at previous clients to write 5-star reviews.
You might see a headline figure like 30, 5-star reviews. We would encourage you to read who those reviews are from and what precisely they say, and make sure they are not form just one area like SEO.
But if you want to take this one step further, look at their LinkedIn profile and see what role they perform. And if they're performing it for the company from which the review is coming.
When it comes to choosing a digital agency, it can positively impact your business beyond your expectations. You need to make sure you're deciding on the right areas.
At Digital Stand, we have been very proud of our reviews and who they're from. The case studies of what we've achieved and the businesses we've worked with and work for.
We see every engagement as a long term relationship. As you will probably agree, all reviews are not equal, as all digital agencies are not equal.
If you're interested in understanding our capabilities and considering hiring an agency, you can contact us here.
If not, feel free to download one of the guides below, and we look forward to hearing from you at the right point in time.