Between $2,000 per month up to $20,000 per month. A social media agency will structure the fee in these ways, a fixed fee, performance fee, or project-based arrangement.
But what are you paying for, and should it be a fixed fee? Performance-based? Or a project-based arrangement?
Let's be clear about this, regardless of how you choose to work with a social media agency and what they might propose in terms of charging, the right place to start is your business objectives.
It is from this point only that packages and or charging models become relevant.
You are more than likely to come across three different types of charging models when talking with a social media agency. These are:
Predefined pricing packages for social media management or specific platform management.
Retainer based packages are built around a continuous relationship with your social media management needs.
And project-based arrangements that define a scope of work over a period of time.
Any of the above pricing models might suit your business and targeted goals. It is, however, paramount to point out that regardless of the pricing package you are offered, any relationship should be built along with performance-based metrics.
We cover this in greater detail here, but examples would be:
Increase Brand Awareness
Grow Market Share
Increase Marketing Qualified Leads (MQL)
Launch a New Product
Improve Social Media ROI
Increase Customer Engagement
Increase Revenue and Sales
Launch in a New Market
As you would note from the above list, the objectives are centred around business performance and improvement. Any investment you put into marketing irrespective of the medium should justify the appropriate return to the business.
Having said this, let's now explore three main types of social media packages you're likely to come across. These models are retainer-based, project-based, creative tiered pricing models, value-based, packages, and even in some instances equity pricing.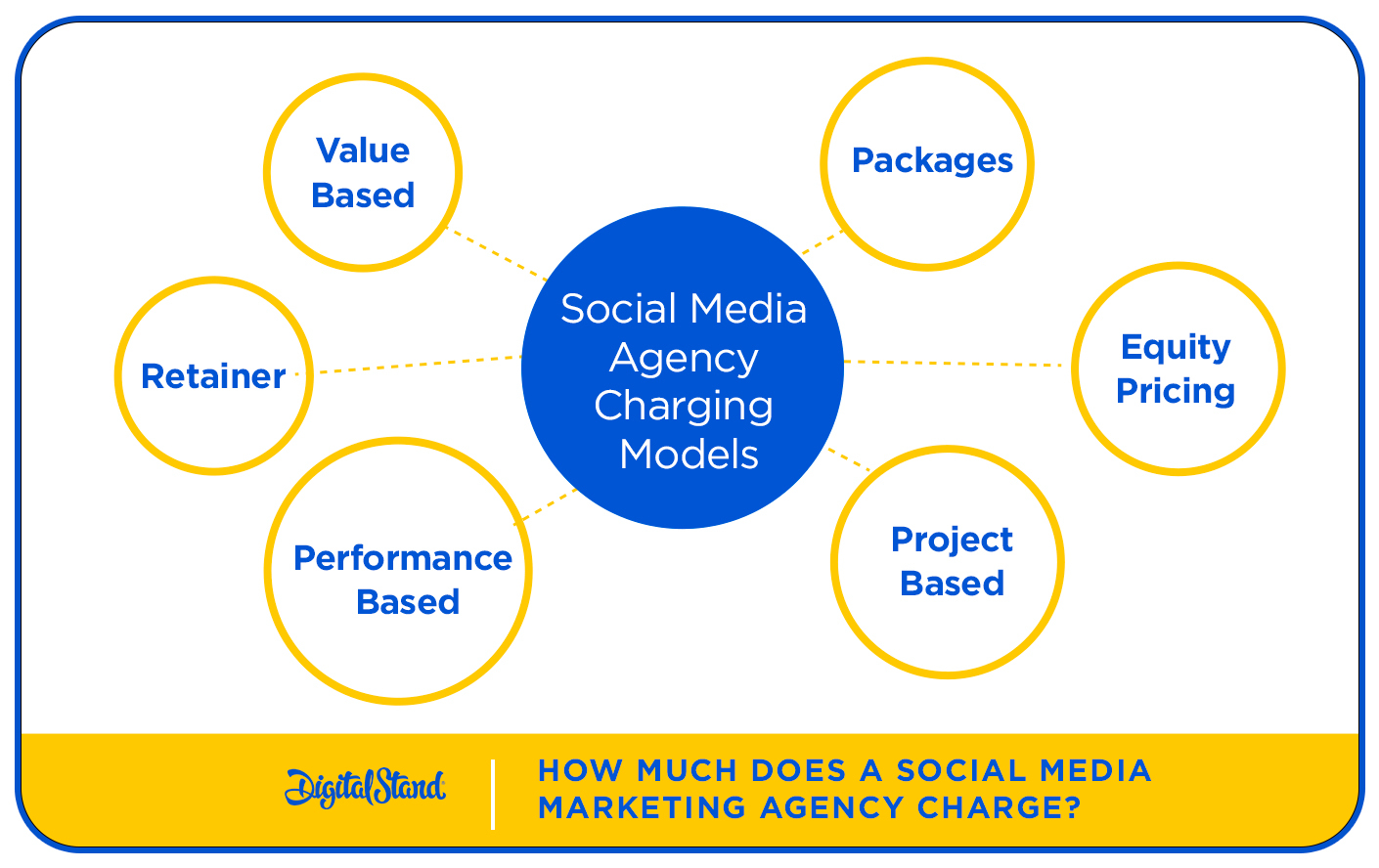 1. Social Media Marketing Agency Packages
A common question I get from some clients when they first reached out to Digital Stand was how much do you charge for social media services? This question is fundamentally flawed from a business perspective.
From a business perspective, it's missing the critical component, which is what are the business outcomes you need to achieve. There is little to no point in using social media as a vehicle for marketing if you aren't achieving revenue growth.
When researching this article, I came across a top-performing piece of content that laid out charges on a social network platform basis.
They effectively suggested a charge for Instagram and a separate charge for Facebook, LinkedIn, and Twitter. They conveniently forgot YouTube, Tik Tok, and SnapChat.
If you were to take their pricing model as a guide, you would end up paying between $6,300 per month or $42,000 per month, depending on your needs.
I find pricing like this incredulous without understanding a client's objectives. The first rule of outsourcing any service to a business is that if you pay $1 for their services, you can get $3 in return or equivalent value.
I also find it intentionally misguided. A social media strategy/campaign must be managed across all social networks. A full-service agency will not spend time isolating prices. Instead, they will focus on your objectives and advise on the right social media channels to achieve them.
So given that they have no understanding of your business objectives, their package only represents a cost and not a return.
Which is fine if you're the agency but not so good if you're the client!
2. Social Media Marketing Project-Based Charging
You have a campaign or programme of work coming up, and you either want to test social media marketing for your business. You want to see if it's an effective vehicle to drive leads and or sales.
Or it is a once-off piece of work that you require additional resources outside of your regular day-to-day business. You're looking for an agency to support you in this.
In this instance, any competent marketing agency will model your project on an hourly basis—factoring in time, resources and your business objectives for the project.
At Digital Stand, we typically do not take on project-based work. We only do so when the client has the potential for a longer-lasting relationship and they are using the project to test out the effectiveness of social media or us.
We, of course, will only take on the project if we also know we can hit the client's business objectives. I mean, why else would you take on a project?
All of our agreements have a 30-day notice period for convenience. We see no need to lock anyone in through a contract. It should be the quality and effectiveness of our service that does this and not an agreement.
3. Social Media Marketing Retainer Based Charging
Retainer based charging is a fixed monthly agreement between both parties. The agency and the client agree on a scope of work that needs to completed with X timeframe. Typically with the retainer model, the client pays a monthly fee to the agency to perform the scope of work.
The work and time frame scope is negotiated upfront and should include the client's baseline expectations. As in what is the client achieving today, without any extra expenditure.
Not dissimilar to any of the pricing models above, the retainer should work on a performance-based construct. For example, the client is achieving 10 leads per month, of which 1 in 3 became customers.
The client's goal for the next financial year might be to turn 10 leads into 20 leads per month, maintaining the 1 in 3 closure rates. As a consequence of this, they can double their business in terms of revenue.
There are many different ways the retainer-based model might work depending on the clients' needs and scope of work. However, at Digital Stand, we always to a performance-based construct. As is it important to set baselines and achievement thresholds so both parties know when performance is on track.
There are several reasons why you might want to consider this type of arrangement with any agency that you work with for social media marketing.
All the social media platforms focus on lifting their user base and engagement. Your joint focus should be to acquire a direct relationship with those consumers through a conversion-based approach.
Marketing, for marketing's sake, makes no sense! As you are leaving the client or potential lead on the platform where you have no direct relationship.
It is paramount to your future success to build a direct relationship with the consumer and business lead. Any social media agency focused on your success will provide this type of guidance.
Why Would You Even Use a Social Media Marketing Agency?
I guess equally as important as how much you should pay your social media agency; is why you would even bother to hire one in the first place. After all, should you not just hire internally?
This, of course, makes sense if you can hire internally and are prepared to pay the appropriate salaries for your desired skills. You must also ensure that the people you are employing have the skills to perform the tasks required.
If this is the case and you can afford to hire the resources you need to perform the function, you should do so internally as this would be an ideal state.
Over the last eight years, we have discovered working with clients who both have large teams and small teams; we are typically engaged in two scenarios:

The First Scenario
In the first instance, the client does not have the resources required and can not hire a graphic designer, social media manager, advertising strategist, and account manager to look after their account.

They find the cost of a retainer materially less than hiring four resources and more closely aligned with hiring one. Consequently, they can achieve significant leverage, as they can pay $1 and get a return to the business of $3.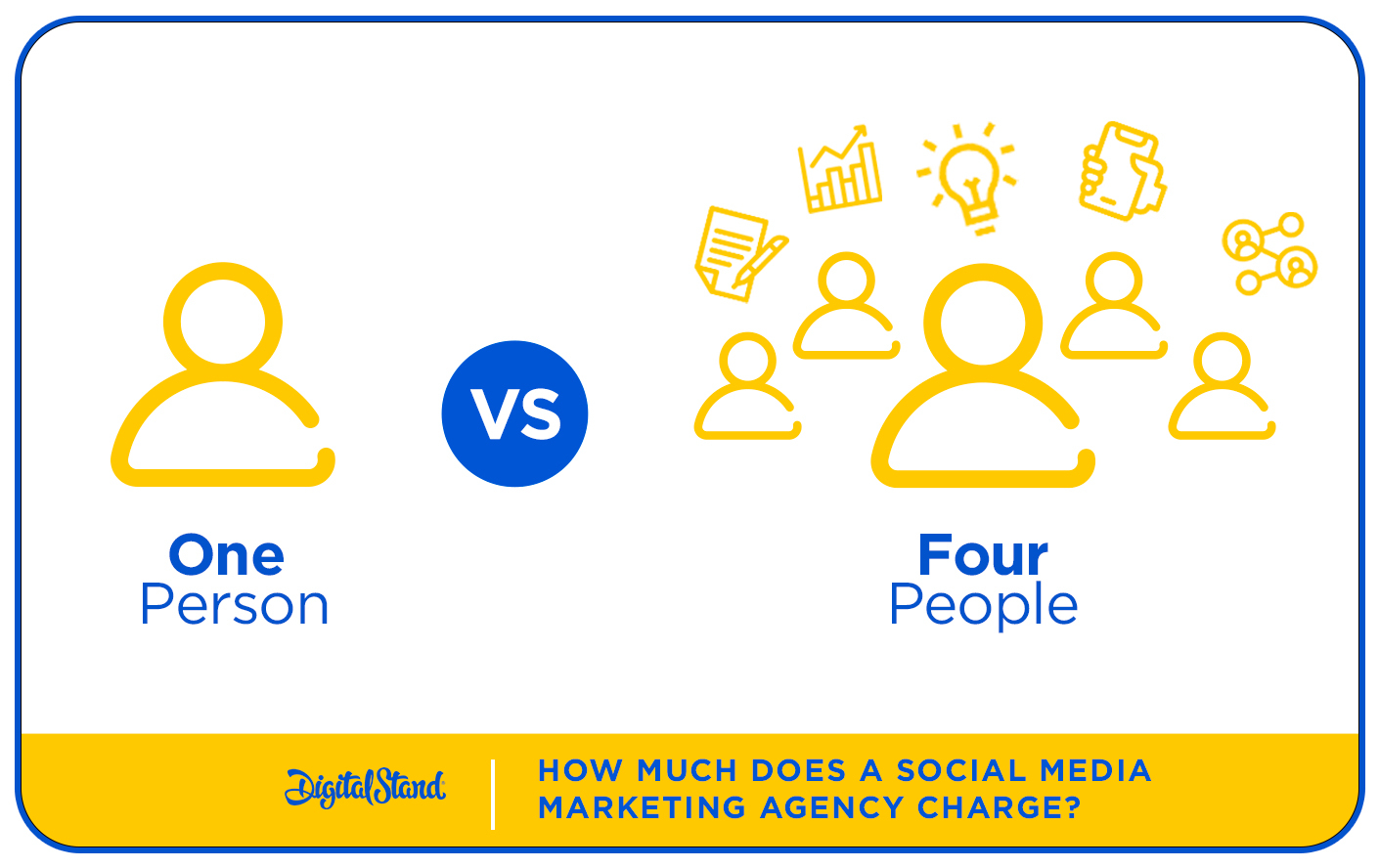 The Second Scenario
The second scenario is where the client may have an extensive resource capability, but they do not have the deep dive expertise that a specialist agency does. Their resource is best utilised to develop the strategy, campaigns and objectives, and manage the agencies accordingly.
Once the strategy, campaigns and objectives are set, the client can bring in the specialist resources to perform the function. This approach is typically for medium to large enterprise businesses with a deep understanding of all functions across the media landscape.
Summary
I have not discussed several other pricing models above, which you may come across in the course of events. Such as:
Value-Based Pricing: Where you are paying the agency for its solutions to your goals, and it is performed at an agreed value
Performance-Based Pricing: Where you are paying the agency based on achieving set objectives
Equity Pricing: This may occur where you do not have the funds to market your business. But the agency agrees with the potential, and you share the rewards.
When choosing the right social media agency to work with, more important than pricing is the ability to achieve your business goals. If they talk about pricing before business objectives, I suggest moving on and finding another agency to engage with.
It is no good to hire an agency at $2,000 a month to be another cost line to business. As the old saying goes, buy cheap, buy twice!
Since 2013 we've been growing businesses with social media and inbound marketing. We are a growth focussed agency, as our testimonials attest. Equally capable in b2c and b2b marketing.
Should you be interested in a no-obligation conversation, you can contact us here. Alternatively, take the free e-book below, which centres on choosing an agency and the seven questions you must ask!