Every year, I have written an article outlining the essential criteria you must consider when choosing a social media agency.
The foundation principles have not changed dramatically from 2013 to 2021. However social media certainly has!
Although the acquired knowledge gained since starting this agency back in 2013 enables us to move clients from zero to 100 in a relatively short period. You can look at our commitment on our home page for more on this.
But having said this, let's move straight to the question initially asked. How to choose a social media agency in 2021? In a world where an effective digital and social marketing strategy has never mattered more.
There are seven key areas you should focus on when looking to work with a social media advertising agency.
These seven key areas are also what a social media agency should be focusing on continuously for their existing and new clients alike.
To some extent, I will list them in order of importance, but their interdependence on each other cannot be ignored.
1. The Right Social Media Audience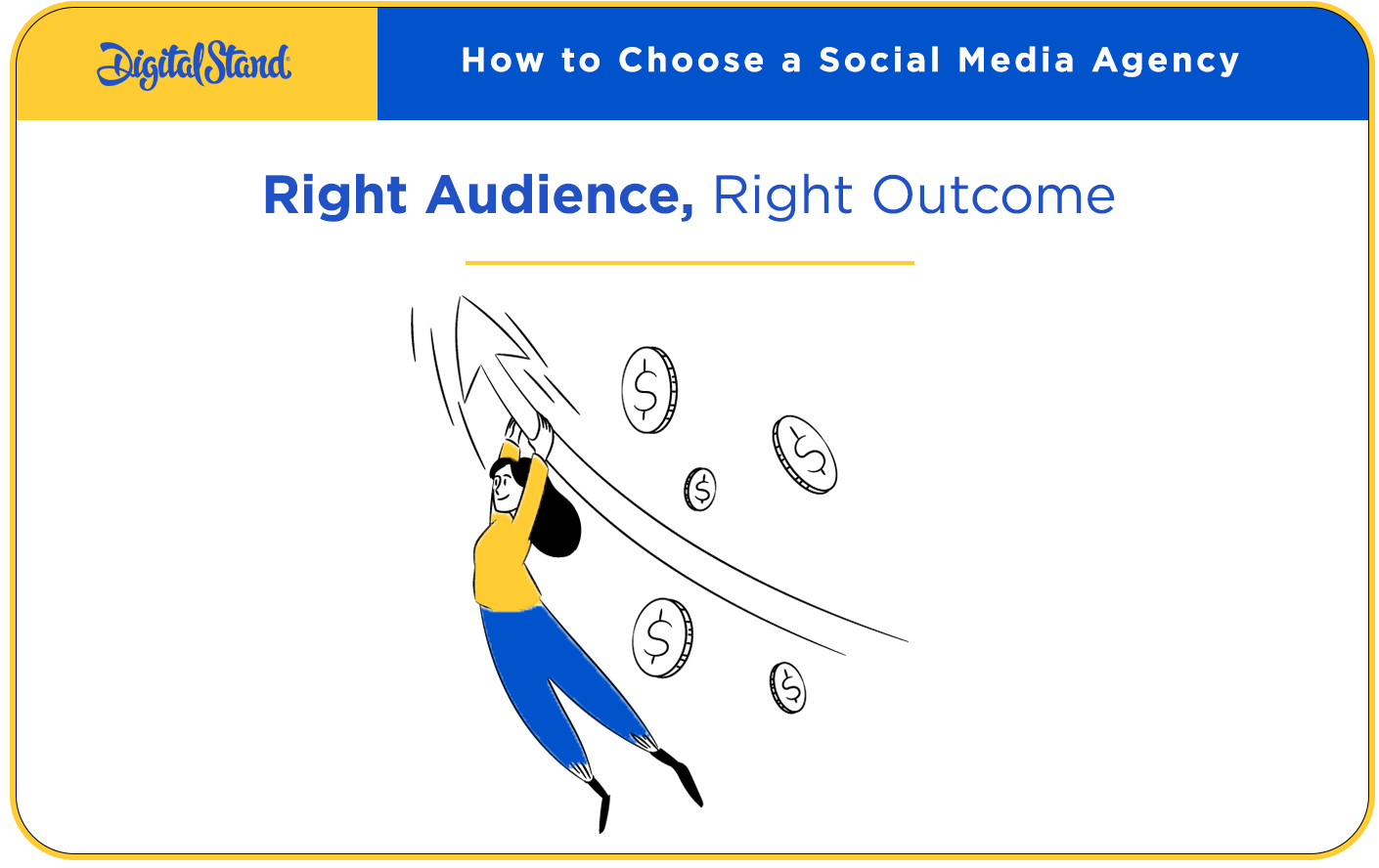 Building the right audience. An audience that is interested in your industry, product, services, business is critical to success.
Successful social media advertising is built on targeting the right audience with the right message at the right time and converting them!
Targeting the wrong audience with the best creative will not yield any results. It's obvious but happens a lot more than you think.
One of the key metrics Facebook uses to measure audience effectiveness is a quality ranking. And from a Digital Marketing perspective Google also uses quality score.
As you might suspect quality ranking is exactly what the name suggests, it is a ranking of your ads perceived quality. Facebook is a little bit different though in this respect as they also give you an engagement right ranking, and a conversion rate ranking. All these three rankings have a significant influence on the performance of your advertising.
You can have a good quality ranking but a poor engagement ranking and conversion ranking. If you put this in perspective the quality of your creative is high, but you are targetting the wrong audience. This of course impacts your engagement ranking.
To put this simply, if your ad is being targeted to an audience that is not interested in your message, your quality ranking on engagement and conversion is going to be low.
Sometimes your ad is being targeted to the right audience, but your ad is not right. As in the message you are using is just not resonating with your audience and this will also push down your quality score.
This holds true for all of the social media platforms in their own right. The better the experience you can provide them from click to conversion, the lower the cost of your advertising, and the further range you were going to get.
You don't need to be the highest bidder you just need to target the right audience with the right creative and provide the right path. It is not just a game of spend but rather a game of performance.
For the other social platforms like LinkedIn, Twitter, Snapchat that do not have a relevance score. Your click-through rate, CTR becomes a very strong indicator of relevance. If it is below your industry standard, you can reasonably assume your adverting or audience targeting is wrong. This leads me on to the next key factor to consider when choosing a social media agency.
Data is your single source of the truth. A client we onboarded close to 12 months ago, was not measuring anything. They had a very basic understanding of Google Analytics. They did not know where most of their traffic was coming from, and they did not know how to influence the growth of their brand by analysing the data.
2. Data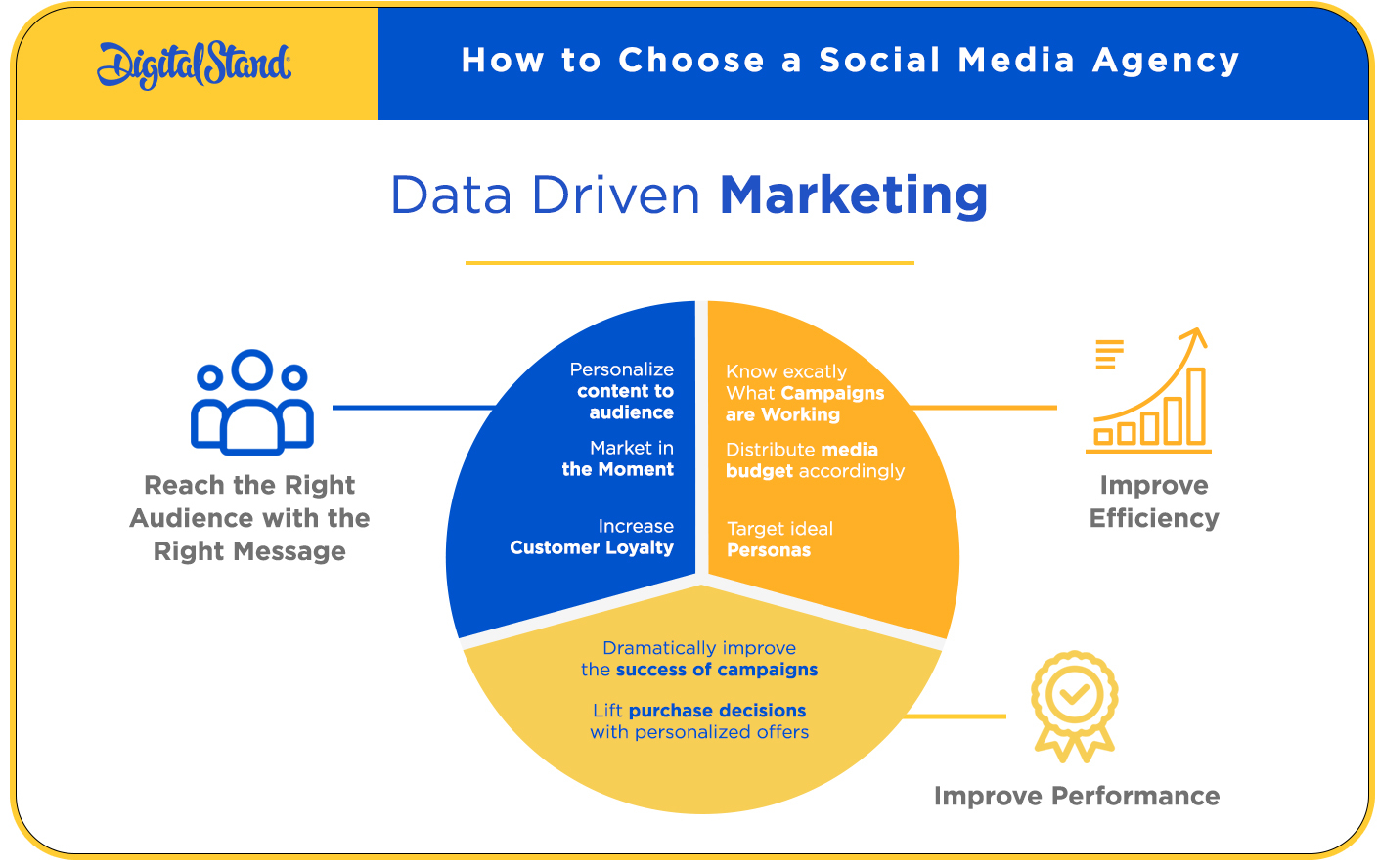 When it comes to assessing the performance a social media agency and their content marketing efforts the only indicator of true performance is data. Data is your single source of truth, it is not subjective, it has no bias or preferences.
A well-executed social media strategy, driven by both organic and paid social will be assessed by the following metrics:
Reach
Impressions
CTR
Unique CTR
Relevance
Conversions (Action)
All of the above metrics are critical in understanding the performance of your social media campaigns. This is also true for any client we work with or any agency you work with.
The transparency these metrics provide you when working with an agency is the foundation for a good relationship.
It is not subjective; they are performance-based and clear. Data is the barometer to use when measuring your relationship with any social media agency.
3. Creative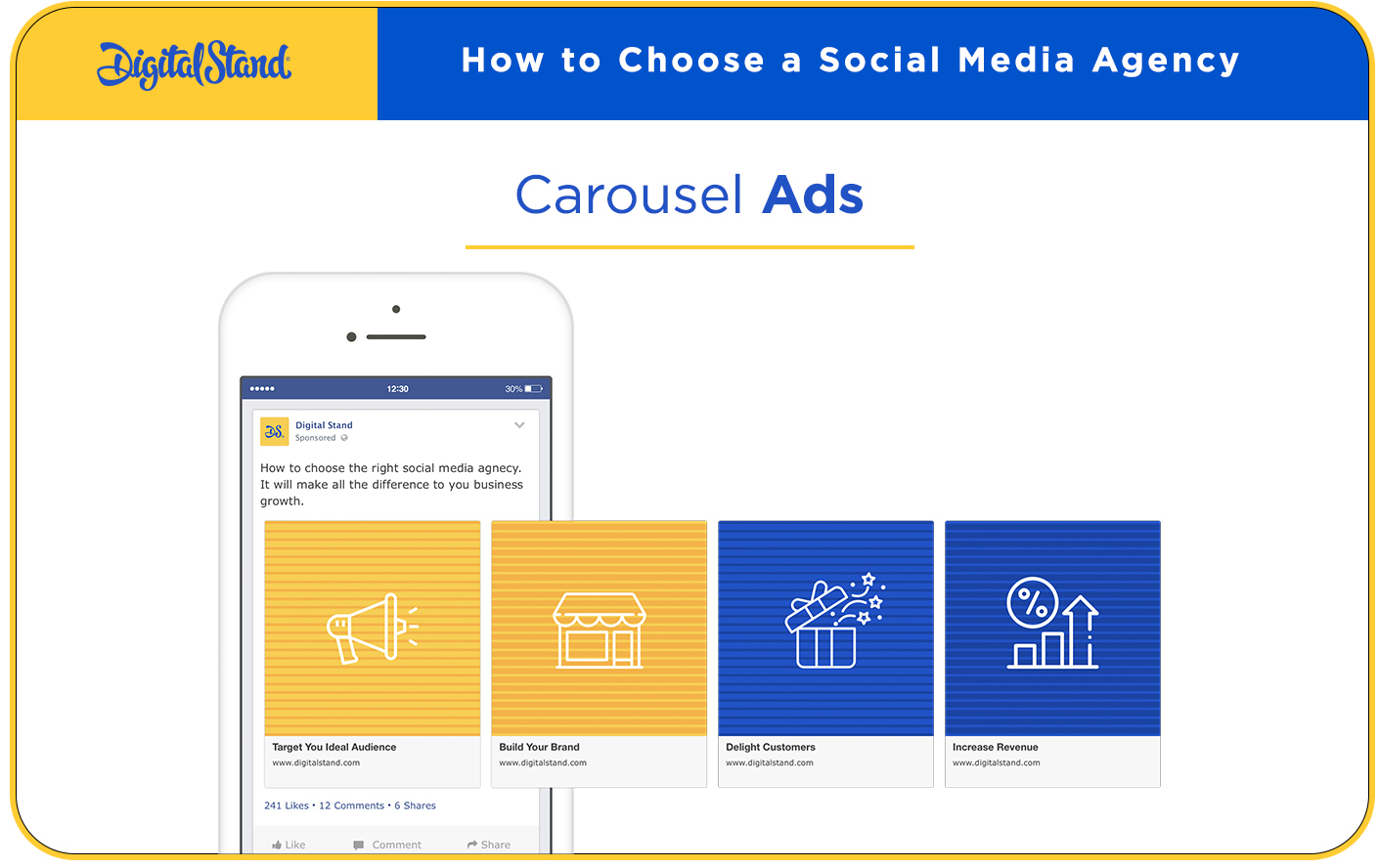 With social advertising providing so many options for creativity. It is important to not only create the right advertising but to also use the right delivery model of that creative on the platform.
Should you use video, static images, canvas ads, carousels, bots, or cinema graphs? Should your video be longer than 7 seconds? Should your copy include emojis? Should your copy on your images be the dominant factor or should the image itself be the focus?
There are many factors to consider when choosing the right creative and the right delivery vehicle.
And none of the above discounts the fact that your messaging to your target audience/persona needs to be right on the money.
Are you solving their issue?
Are you helping them:
Make money
Save money
Save time
Reduce effort
Improve their health
Increase pleasure
Eliminate pain
Your creative is no longer subjective! Despite your or our opinion once the creative is live, data becomes the single source of the truth.
It does not matter how much you like it, or we like it. If it does not perform, it is time to create content that does.
However, it is important to make sure as I highlighted in point 1 that you will not know if your creative is good if you are targeting the wrong audience.
The best creative in front of the wrong audience simply will not perform.
Or to think about this a different way. Imagine putting a superannuation ad in front of Year 12 students. Of course, they know it is important to them, but they believe they have more than enough time to save money, and they have no pain yet.
Although if you were to place an ad for how to write an effective job application or CV, then you would certainly have their interest.
A creative ad is an effective ad. No matter the medium this principle holds true.
The fundamental difference with social media advertising, when your targeting is accurate you can test your creative quickly and effectively. You can also do so at a moderate expense, and iterate and improve until you find the most effective method.
It is the only media platform that makes this possible.
4. Advertising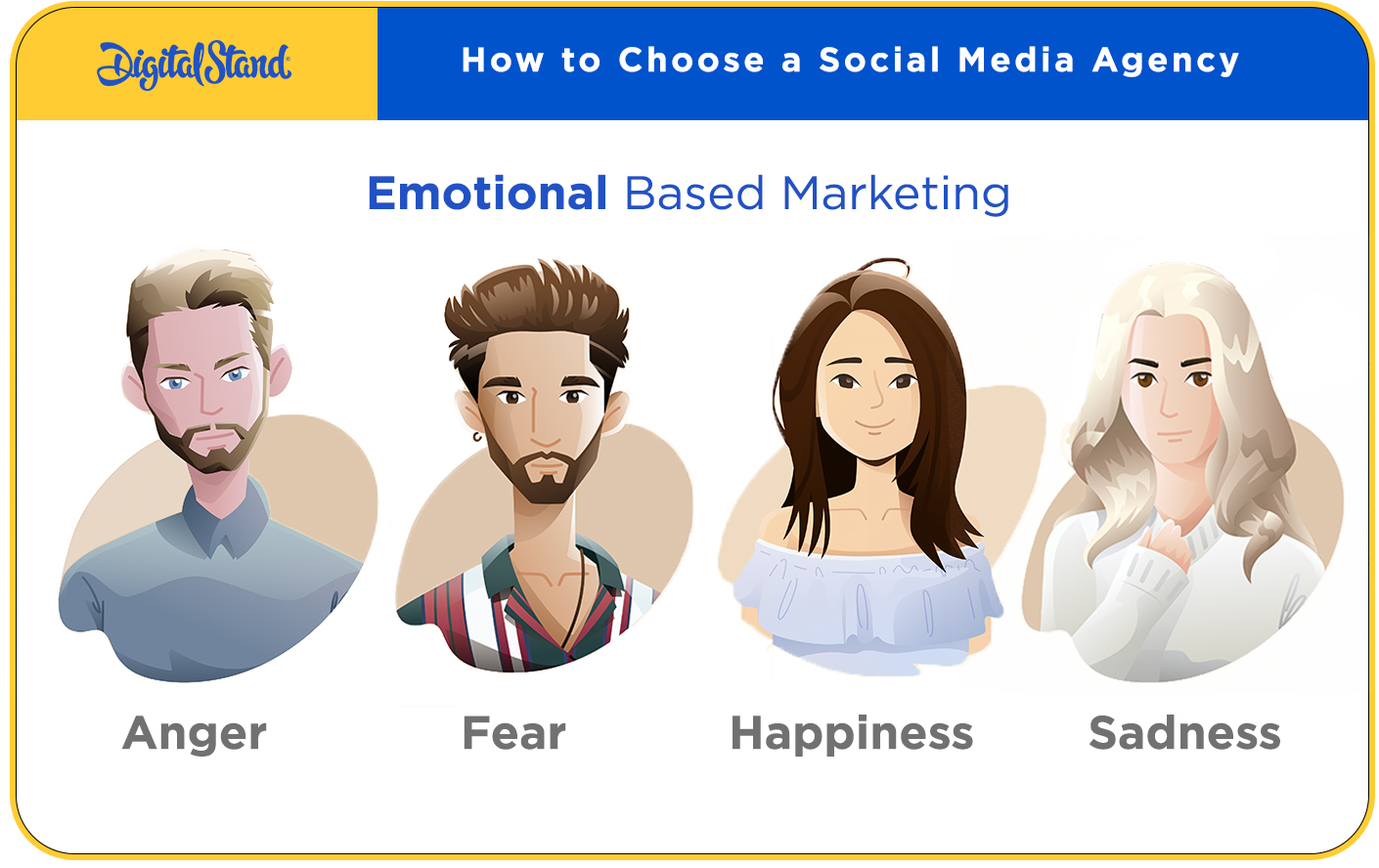 An effective social media agency understands that advertising is about creating an emotional connection with your audience. For that matter an effective social media agency also understands this.
You want them to engage emotionally and intellectually and create a bias for action.
The media assets available in social make it possible to engage the consumer meaningfully.
Once you have their attention, you have then earned the right to keep communicating with them.
If only 3 in 100 are ready to buy at any given point, there are 97 people left in your target market that you can influence over a period of time.
If done successfully on social, you can leverage this 97 to influence another X. As social media advertising has an inherent feature that no other form of media has. The consumer can "share" your ad! Certainly, something to consider?
You can of course also use influencer marketing at a micro and macro level.
The job of a social media agency in this instance is to make sure that you're targeting the right audience with those influencers, and your investment is likely to get the right return based on an assessment of their audience and the associated data.
5. Innovation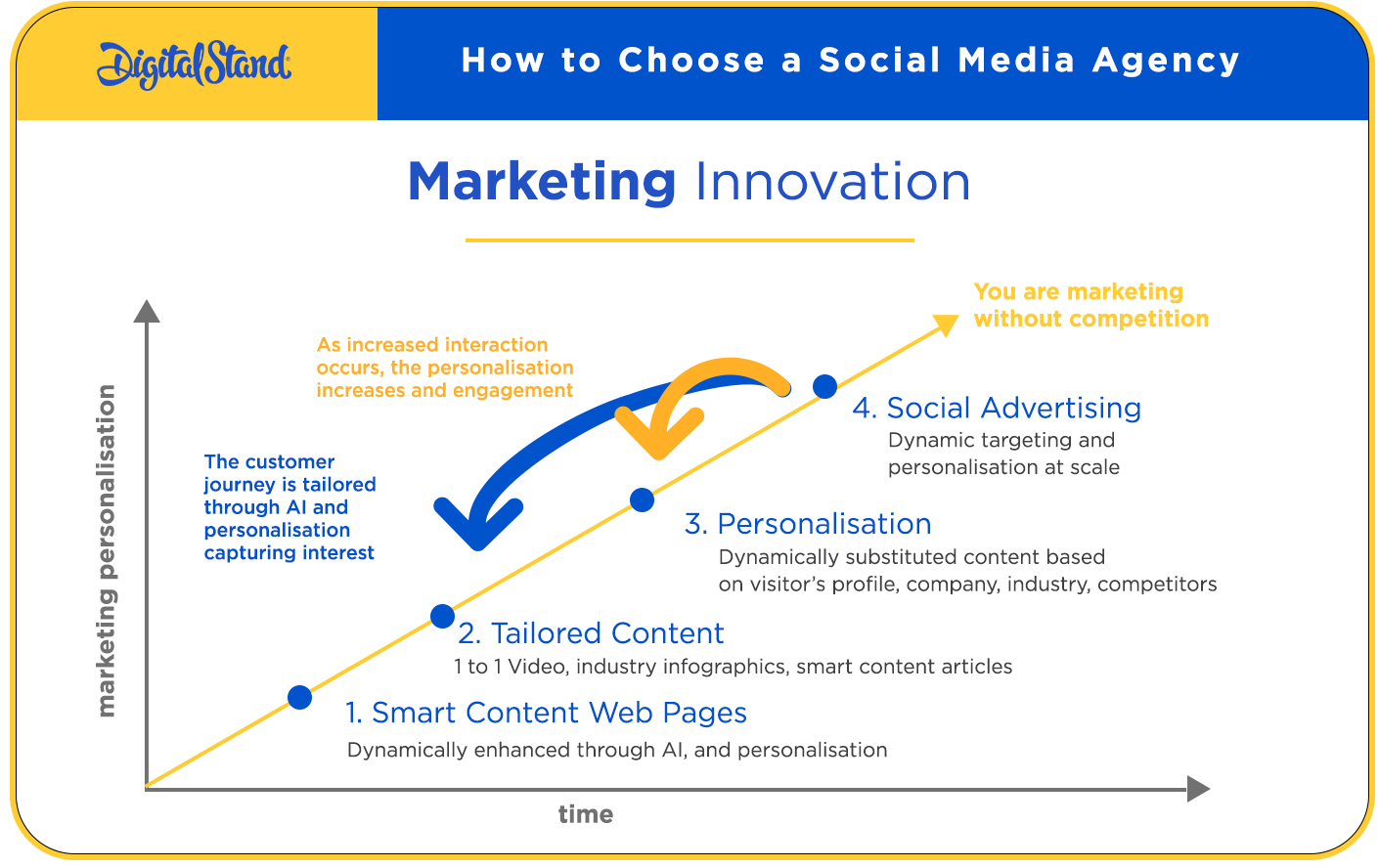 Move fast and break things used to be Facebook's motto. Social media is like a tidal wave of innovation. The changes that have occurred over the last decade of running this agency are nothing short of staggering.
We have gone from static images to full-blown multi-media delivery assets. This includes 360 videos, AI bots, audience collaboration, Instagram and Pinterest shopping. And the most sophisticated audience targeting on the planet.
Today's social media marketing agency stays ahead of the curve. They understand what is coming down the pipeline and enable their clients to take advantage early.
Whether it is targeting a native Chinese speaking audience in Australia with ad written in their local language. Sharing multiple brands (bands) audiences with a festival promoter to aggregate benefit.
Or working with clients to target B2B customers on Facebook and delivering our client C level leads across the Asia Pacific.
The opportunity to innovate away from traditional, fixed models is endless.
6. Execution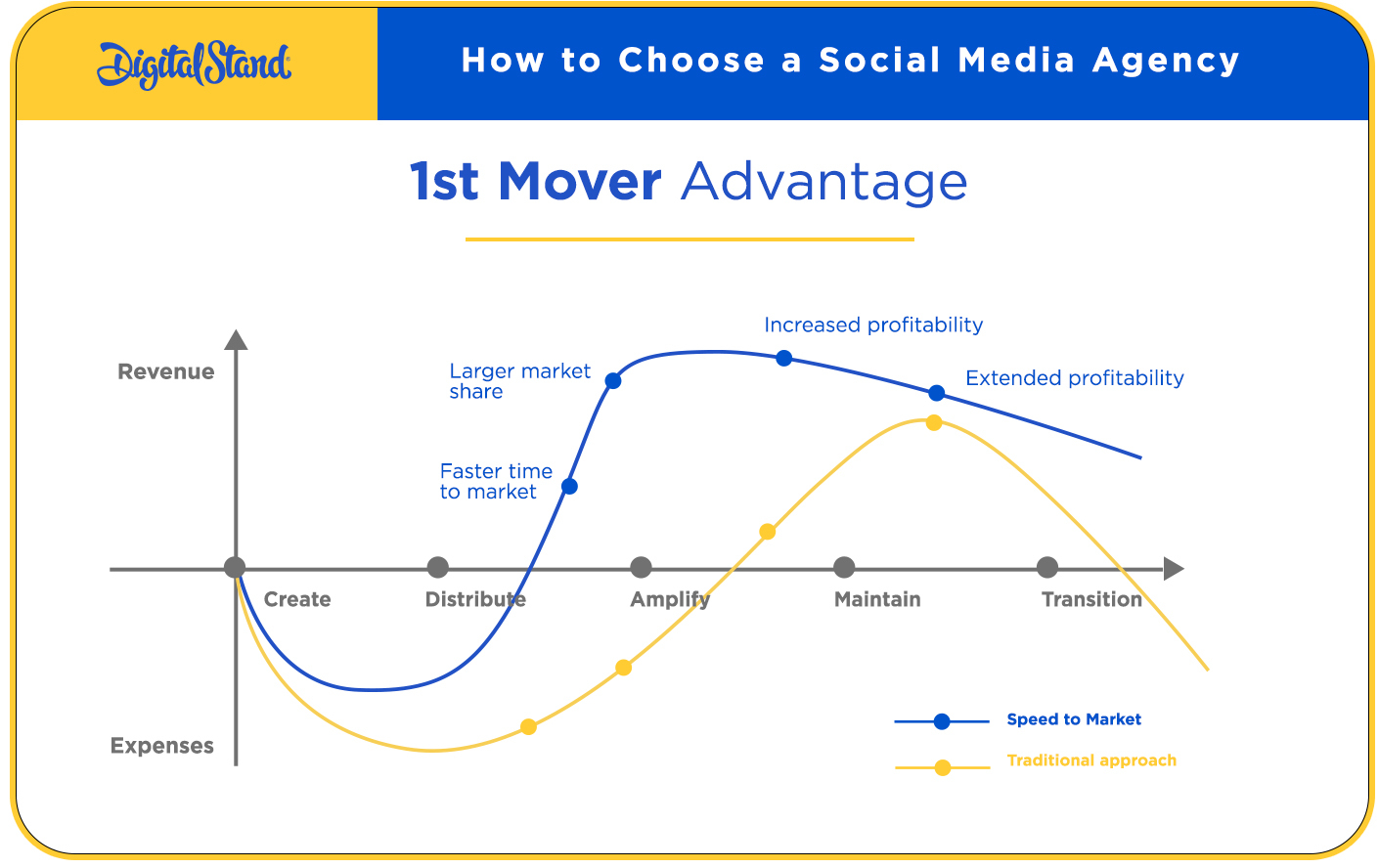 All of the above counts for very little if you cannot execute quickly, and effectively.
Speed is a key advantage when it comes to social media. If you move fast, if you move first, you win. It is as simple as that.
When the beta availability to advertise to one target market in 5 different native languages become available, our clients who could use this medium had access and executed quickly.
When the beta availability to advertise on Facebook marketplace become available our clients had access.
When Instagram shopping became available our clients had access.
Knowing how social media is evolving, preparing clients for the opportunity, and executing quickly is a key advantage.
Think about this for a second. If you know anything about social media advertising, you will know that the algorithm plays a major factor in who and who does not see your content. This is both from an organic and paid perspective.
So when the social platforms release new media assets, there is a strong likelihood that they want other brands also to use those media assets. The only way other brands can see this is if they perform well in the algorithm.
Time after time when we have executed early for our clients with new media assets, they have outperformed all other forms of advertising.
If a social media's platform goal is to increase users and increase user time. Any form of media that does this will perform well, whether it is paid or organic. Did you know if your ad is performing well on social the cost of delivery goes down?
Let me repeat that.
If your ad is performing well on social your cost of delivery goes down. Your reach goes up and in all likelihood so do your conversions.
Social media management is always in an active state of delivery, you of course need not move quickly, but for those that do, they win more than you realise.
7. Attribution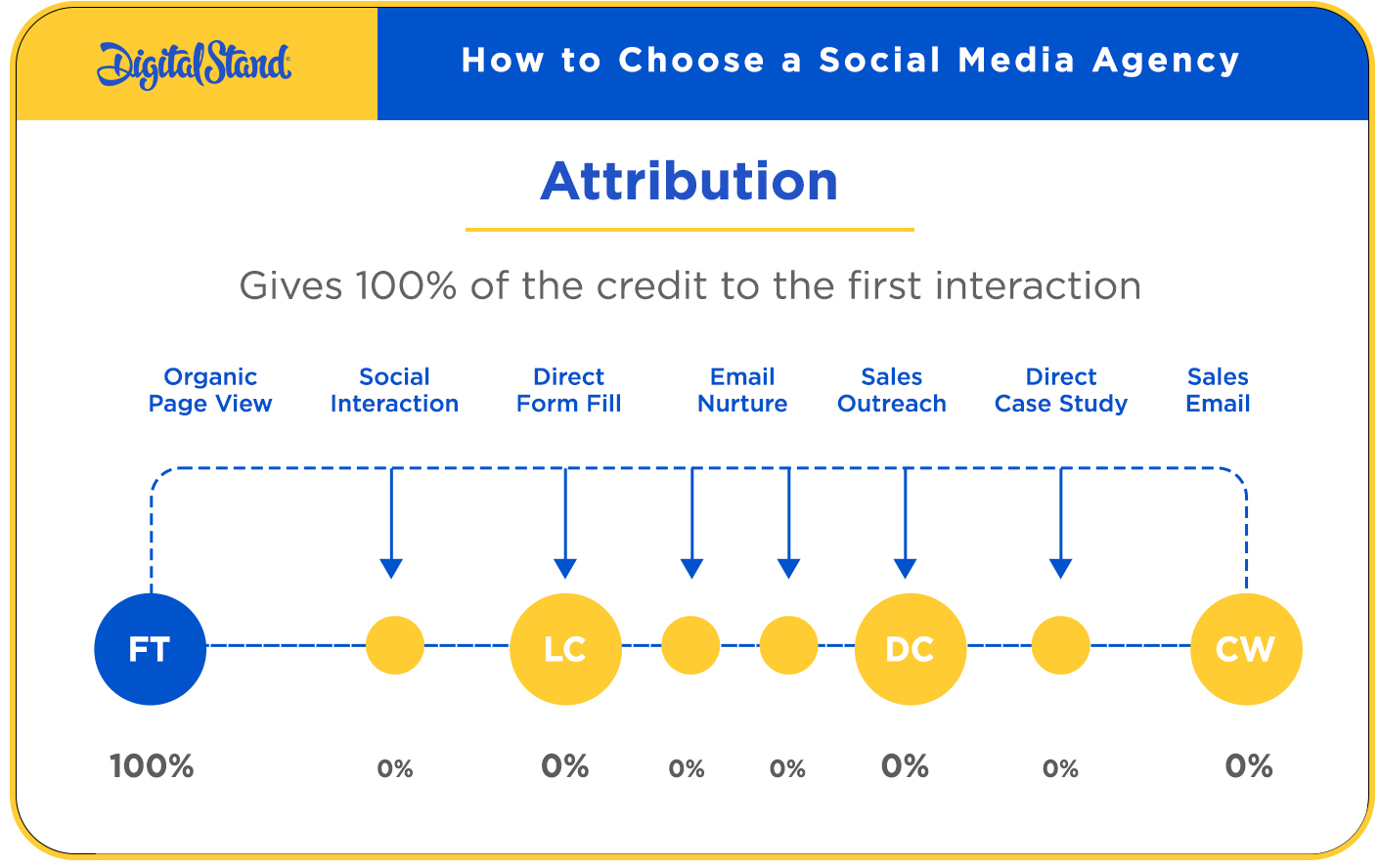 Understanding exactly how you are growing leads, and what role each component has an impact on your growth is critical to success. In the above model you can see the full attribution is provided to the organic view. However, all the other steps impacted the outcome. A multi-touch attribution model is far more likely in today's digital world when it comes to growing the revenue line.
We have never had a client who is building brand awareness. Every single client we have worked with ultimately cares about one thing only. A lift in the bottom line.
Because when it is all said and done, revenue - cost = profit. And without a profit, a business does not grow.
Now while some may argue that companies like Uber or Amazon are not profitable, this is merely a choice as opposed to their position.
A 2021 social media agency not only knows this is critical to business success but also reports on attribution. Because attribution justifies the expenditure. And when the investment is justified, it is never questioned.
Social media advertising allows you to measure from click to conversion.
As we move forward at an unprecedented speed (see Moores Law). Everything we thought we knew about media and human engagement is going to evolve and substantially change.
The principles that once served the traditional agencies so well will simply be disrupted.
Data is the single source of the truth
Speed is a key and material advantage
Creative is no longer subjective
Execution is everything
And you are now in an ongoing two-way relationship with your consumer, where frictionless engagement and customer service is critical to your success.
Competent social media agencies and their clients are now in a position to completely disrupt traditional agencies and those they serve.
In 2021 your choice of a media agency or social media agency has never been more critical to the survival of your brand. You can either become a case study or be one.
Your social media efforts, and your social presence matter more than they ever have.
Want a checklist of everything you should consider when choosing a social media agency, then download our detailed guide on the right-hand side of this article.
For almost 10 years, we have been helping companies just like yours exceed growth targets via social media. If you want a no-obligation quote, you are welcome to contact us here we would love to hear about your plans to dominate your market sector.