Look around. Video is everywhere in the world of social media marketing, and by 2021, it's predicted that video will account for 80% of total mobile data traffic. To capitalise on this trend, Instagram reacted by launching IGTV - a mobile-optimised long-form video feature.
IGTV lowdown
So, what exactly is IGTV? Introduced in June 2018, IGTV is Instagram's latest video feature that allows users to upload and watch mobile-optimised long-form videos ranging from 60 seconds to 60 minutes in length. IGTV has its own standalone app - the IGTV app - but users can also watch IGTV videos via the regular Instagram app. Any user can create an IGTV account, including business accounts.
Following its initial launch, IGTV had a slower start than anticipated with brands relatively slow to adopt the new video feature. Why? Well, there were a number of reasons. At the top of the list were the costs and time associated with producing the long-form vertical videos. Comparisons were also made between IGTV and YouTube, which for years has been the go-to platform for video content.
The founders at Instagram believe that IGTV is the future of video, with a range of unique features that bring users and creators closer together and make IGTV a valuable tool for businesses. Key features include:
IGTV is primarily built for vertical format videos. From a viewer's perspective, IGTV videos are built for how we use our phones - vertically and on full-screen. For creators, vertical videos mean that there's less pressure, time and investment needed to create professional-looking videos. Instead, creators can use their mobile phones to create IGTV videos.
Whether you're using the IGTV or the Instagram app, access to video content is instant. As soon as you open the app, the videos begin playing. This means minimum effort and navigation is required to get started. From a discoverability point of view, this is extremely beneficial for businesses.
The platform features a simple interface, including tabs such as "for you", "following," and "popular". The search bar functionality also generates personalised suggestions based on interests and previously watched videos. This further enhances the unique discoverability option provided by IGTV.
IGTV Updates
With Instagram keen to make IGTV happen, since 2018 they have introduced a series of updates to improve the feature, including an option for landscape video following popular demand, increased UX and most notably, preview videos. In early 2019, Instagram announced that content creators could share one-minute previews of their IGTV channels in the main Instagram feed. The result? Greater exposure and therefore increased engagement. With previews, businesses can catch the attention of followers without requiring them to navigate away from the main Instagram app.
Although the uptake of IGTV by viewers and creators alike has been slower than expected, with one billion monthly users and 500 million daily users on Instagram, it's likely that over the coming months the popularity of IGTV for Business will experience rapid growth. With an advertising reach of 849.3 million users, Instagram's marketing potential is huge. Organisations looking to gain exposure and accelerate business growth should look to onboard IGTV for Business early while competition is still low.
As of March 2020, according to Bloomberg Instagram is in the early stages of testing IGTV advertising. Commenting on the upcoming feature, Chief Operating Officer at Instagram Justin Osofsky, stated: "This is another step forward to help creators monetize with IGTV. To be sure we get this right, we are talking to a few emerging creators to help us test this and plan to expand slowly." Creators participating in the ad testing will receive a 55% share of all ads on IGTV, matching that already offered on YouTube and more recently on Facebook Watch. This will change advertising as we know it both on Instagram and on social in general. As and when IGTV advertising is rolled out more widely for all IGTV creators to access, this will offer great awareness and revenue potential for businesses.
How exactly can you utilise IGTV for your business? Read on to find out!
IGTV for Business
So, how does businesses use IGTV? IGTV provides a new way for businesses to connect with existing and new audiences. Unlike Instagram Stories, with IGTV businesses can create longer, permanent videos with freedom when it comes to length, format and type of content. This opens up a wealth of opportunities for businesses to forge deeper connections with potential customers.
Instagram offers a unique visual experience and the same can be said for IGTV. The tools available on the IGTV platform enable businesses to share their narrative through videos and captions. You can leverage IGTV to break down the fourth wall in marketing and completely transform the customer experience. Let customers into your world by creating fun, engaging content that really gives viewers an insight into your business and its unique selling points.
When it comes to raising brand awareness, IGTV is an invaluable tool for organisations. An Instagram profile follow automatically generates an IGTV follow, which means that when your followers open IGTV, they can instantly watch your content. Because of the direct link between Instagram and IGTV, your IGTV is instantly accessible to the global community of more than 500 million daily users. Users visit Instagram for inspiration and discovery, so if you're creating distinctive and appealing content, you're guaranteed to engage existing followers and attract new interest and ultimately, increase brand exposure and reputation.
IGTV Video Specs
With content type decided, it's time to master the production side of things. The video upload requirements for IGTV are as follows: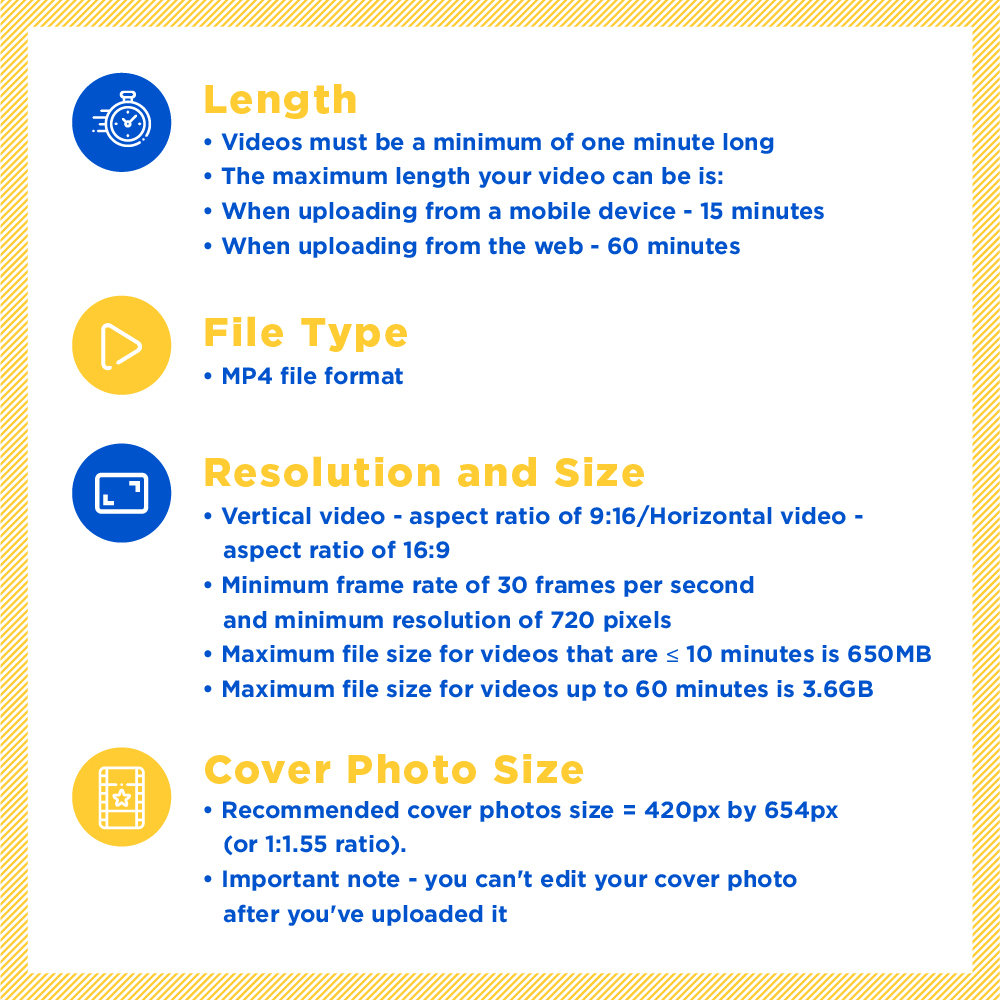 How To Upload
You can upload IGTV videos from both the Instagram and IGTV app, as well as via desktop. Here's how: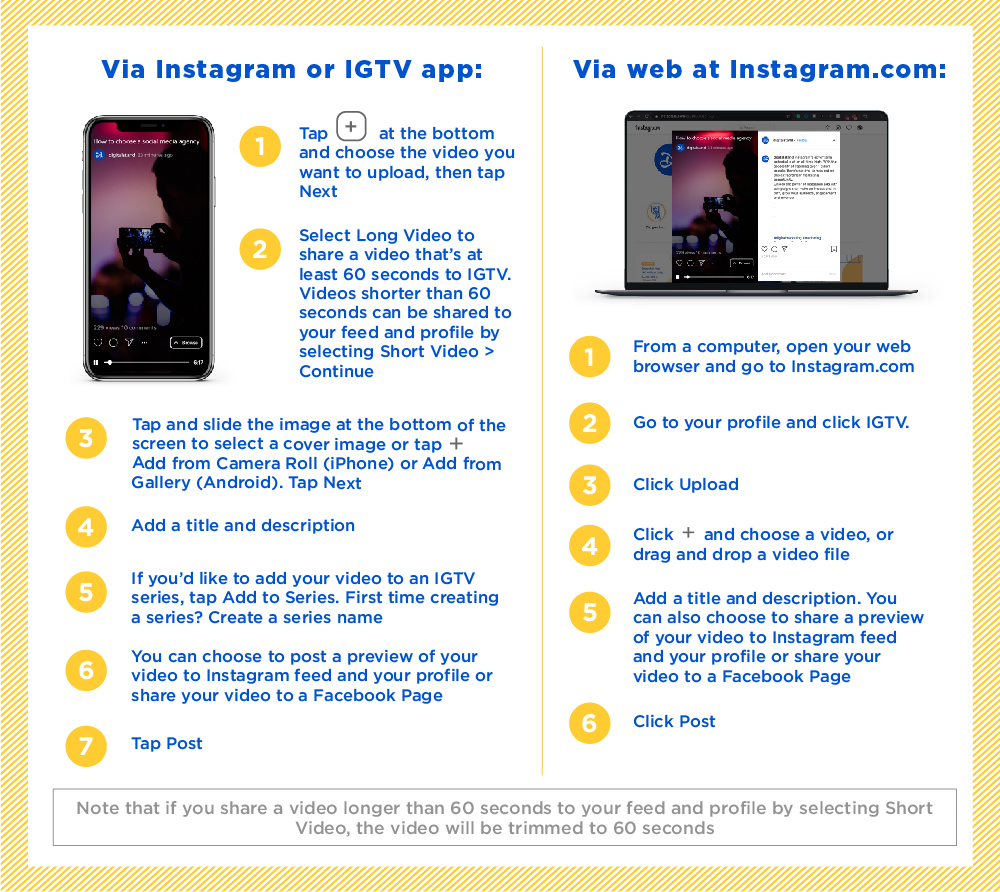 IGTV Previews
As mentioned earlier in the article, previews are a very effective engagement tool. So, how exactly do IGTV previews work?
Previews (the first section of your video) appear when you share a video to the feed and your profile. When the preview finishes, the video pauses, and if a user wants to continue watching, they will need to tap 'Keep Watching'. There are a few things to consider when sharing a preview of your IGTV video to the feed and your profile:
When a user taps the video on your profile, a preview will open with a link to the full video
When a user taps the video in the feed, this will turn the sound on and off
When a user taps the link, this will direct them to the full IGTV video where they can continue to watch from where they finished in the feed
The availability of your IGTV video will not be impacted if the preview is removed from the feed or your profile
A 4:5 center crop of your IGTV video will be displayed in the preview
Top IGTV for Business tips
Effective IGTV for Business content follows the creative marketing principles that apply to any channel. First and foremost, you need to determine the narrative and ensure that the content reflects business values. Once you know what you're looking to achieve, stick with it, create quality videos and share content regularly. Don't forget to incorporate your business logo and adhere to any brand-specific guidelines. As with any outward-facing material, IGTV content should be representative of the quality of your brand.
In terms of content type, be creative. To date, brands have used IGTV to share tutorials, product promotions and demos, behind-the-scenes clips, educational content and lots more. Brands have even partnered with Instagram influencers to further expand the reach and appeal of content, with Business-to-Consumer brands experiencing the most success. It's not just all about new content - many creators have effectively repurposed existing content for IGTV. Above all, it's important to consider the value your videos provide for both viewers and your brand. Be sure that the content you're creating aligns with Instagram's official Community Guidelines.
To maximise the potential of your IGTV videos, be savvy when it comes to utilising all of the tools on the platform, for example, titles, descriptions, and hashtags. Title and descriptions for videos are incredibly important; choose a catchy title and incorporate an insightful description relevant to the content to spark potential viewer interest. URLs in IGTV descriptions are clickable, so take advantage of this! With hashtags on IGTV, the same rules as Instagram apply - be tactical and feature a few relevant hashtags to achieve improved SEO appeal.
Once your IGTV for Business channel is up and running, monitoring the engagement of content via Instagram Insights is essential. Learn more about your audience, use your findings to identify what your followers care about, and create content accordingly. Audience interest and engagement should be key drivers in the direction your IGTV channel takes.
Are you ready to get ahead of the game with IGTV? Digital Stand is here to help you hit the ground running and incorporate IGTV into your marketing strategy. Say hello today and contact us to discover the untapped potential of IGTV for Business.