Are you using Instagram marketing for your business? If you think Instagram is not for you or your industry, think again, "More than 130 million Instagram users tap on an Instagram Shopping post each month." and 33% of B2B companies are on Instagram.
As one of the first agencies in the country to access Instagram ads, we have watched and been part of the inexorable rise of the Instagram machine.
Instagram is gone from a post-based picture-based platform to a complete multimedia environment. We have gone from posting single static images to Instagram stories, live videos, Reels and IGTV.
Make no mistake that Instagram is not just for B2C brands, and there is a rapid rise in B2B brands who can see the inherent value in the platform.
There are now 25+ million business accounts and a projected $18 billion in ad revenue this year. "With One-third of the most viewed stories coming from businesses" - Instagram
But given that, the real question is how do you make Instagram effective for your business?
In today's article, I'm going to explore:
The new Instagram algorithm
How to set up a business profile
Types of Instagram Posts
Instagram advertising
Instagram best practices
Influencer marketing
How to measure results
So, let's get started!
The New Instagram Algorithm
If you have read any of my other articles, you would know that every social platforms goal is engagement. Driving the number of users up and the time they spend on the platform.
When you create your content, this should be part of your consideration and or Instagram marketing strategy. Because no matter how many times the algorithm changes, it will prioritise engaging content every time.
Now, as a brand or business looking to do this, it is a lot simpler than you might think. What this means is you need to be producing content that adds value to your target audience.
If you are doing this, your audience will respond in kind by liking, viewing, saving, sharing, or commenting on the content. In turn, the algorithm will recognise this and reward you with reach.
Regarding the type of content and how best to publish it and use the platform, including your #strategy, I will cover this a bit later.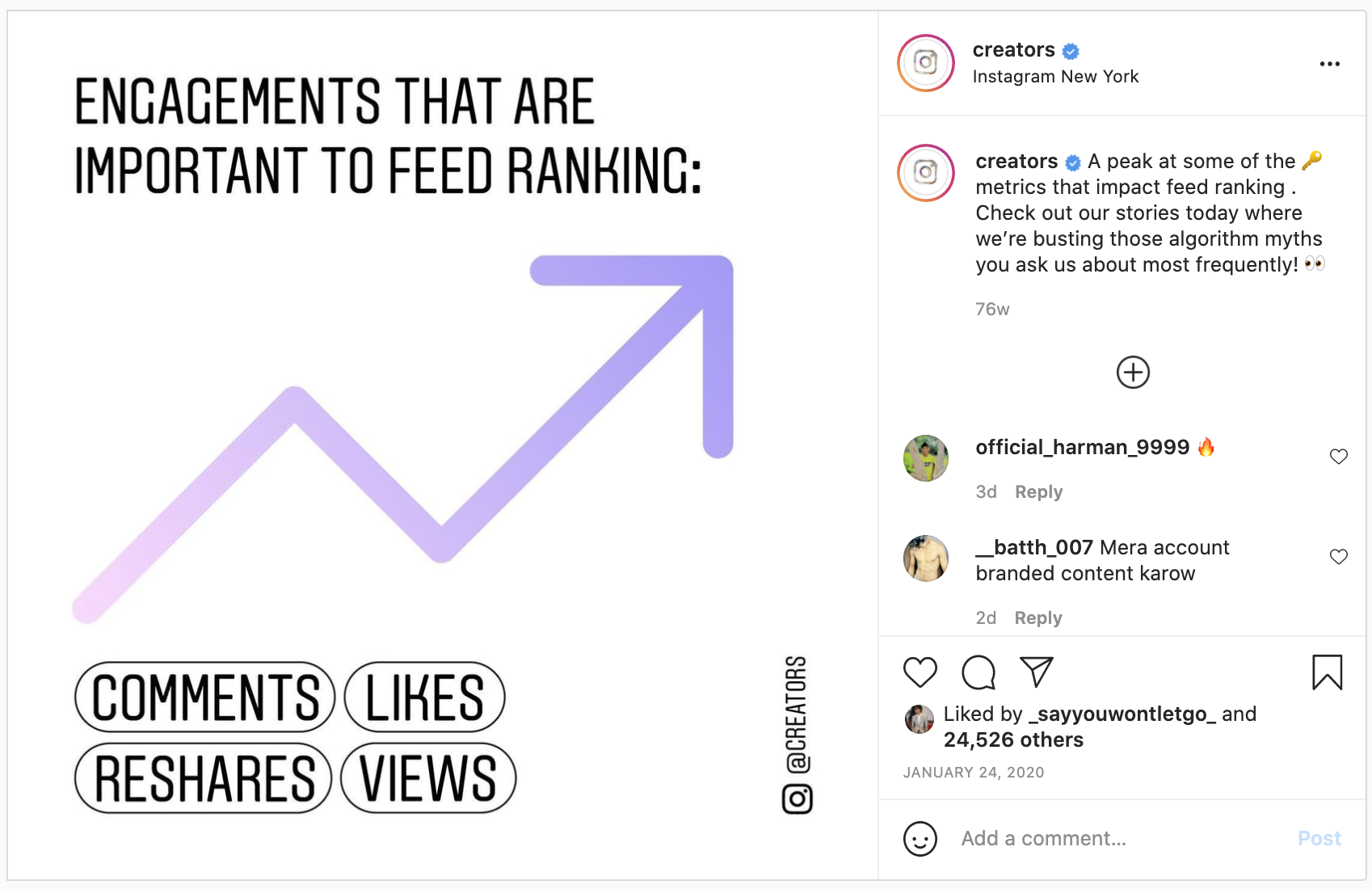 As an overarching principle when creating content for Instagram, you want to consider these components.
Content: When it comes to content, there are so many choices on the platform itself. However, if you're going to prioritise any form of content to try and leverage the algorithm, we would recommend making your content worth saving. And we have some great ideas on how to do this below.
Consistency: you're frequently posting content on the platform and building up your page and profile consistently.
Timing: when you post on Instagram matters quite a lot as well. Posting somewhere between 30 minutes before your audience is online will increase your chances of reach. Using Instagram insights, you will be able to determine when your audience is online or, at least for that matter, on the platform.
This, in turn, increases your chances of engagement, which in turn increases your chance of discovery in the Instagram feed.
For those advanced marketers or businesses out there, the Instagram algorithm is not singular but rather plural.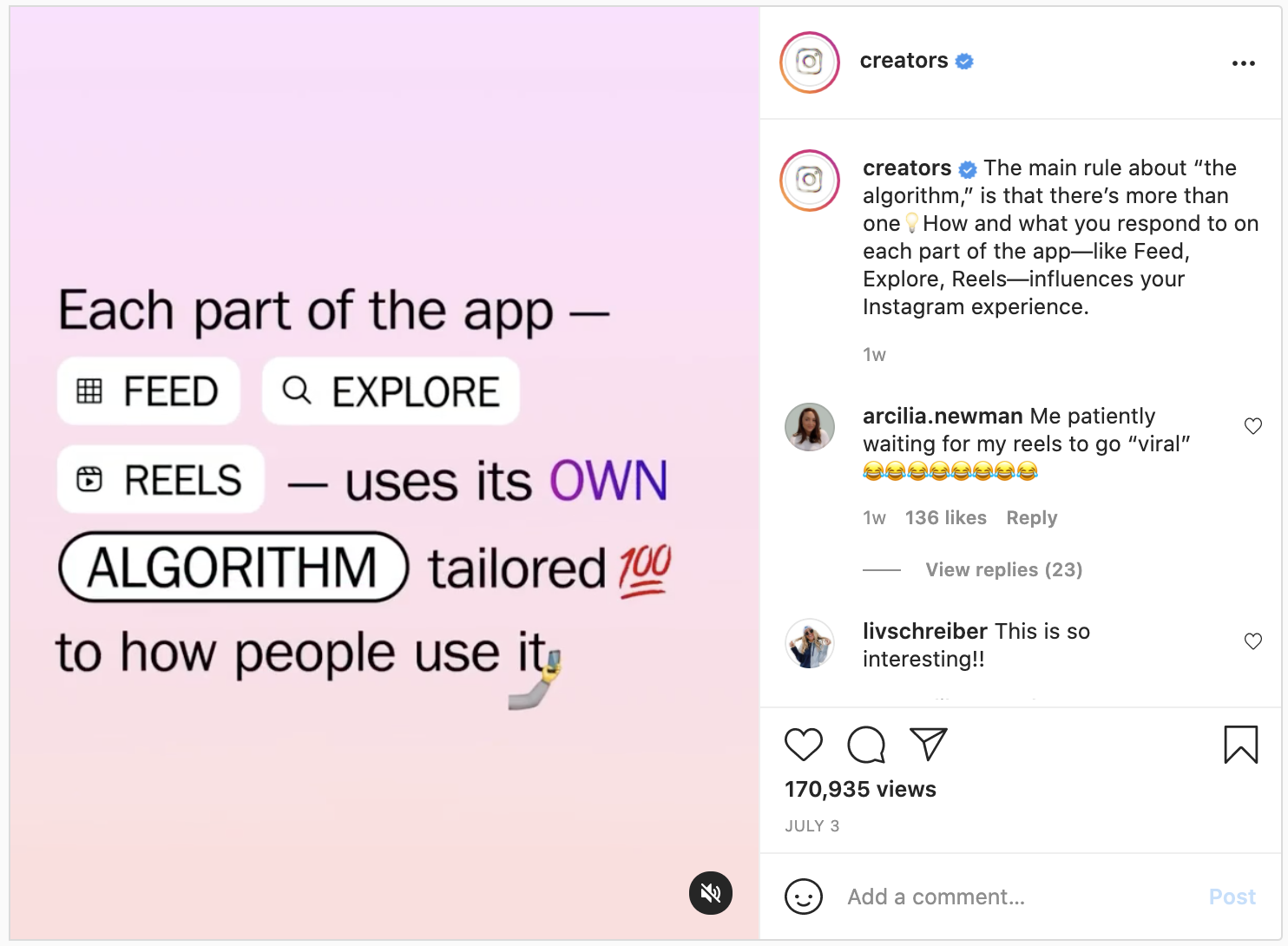 You can still bring this back to a straightforward formula, engagement with your content equals reach.
How to Set Up an Instagram Bio
The first thing to do is make sure you have set up an Instagram business account through the Instagram app.
@username: In terms of an Instagram @username, you wanted to closely match your brand to the extent possible, e.g. @digitalstand. In some cases, depending on your business, you might not be able to use your @username as some other individual is using it! Or it is being used by an international brand. In this instance, try a variant on the username, such as @digitalstandau, trying to avoid symbols, numbers or anything that makes it complex for someone to find your brand.
Profile picture: from business respect, you want to make sure that your logo is clear and visible. Your profile picture should not include a photo of the founder, a factory photo, and anything else but your specific brand.
Display name: in terms of the display name, there's no need to repeat the username. Include keywords specific to your industry and audience and discoverable through search and a call to action.
Page Category: include a page category that's relevant to your business.
Story Highlights: story highlights are a fantastic way to section out each part of your brand and or services for your business. It would help if you considered using this to separate each component of your business. This could include FAQs, products, services and helpful guides.
You can expand on a lot further depending on your creativity and what you want to share with your audience. Because as you gain new followers, they have a chance to discover a lot more about your brand.
Types of Instagram Posts
Some content ideas worth considering that might be relevant to your business include: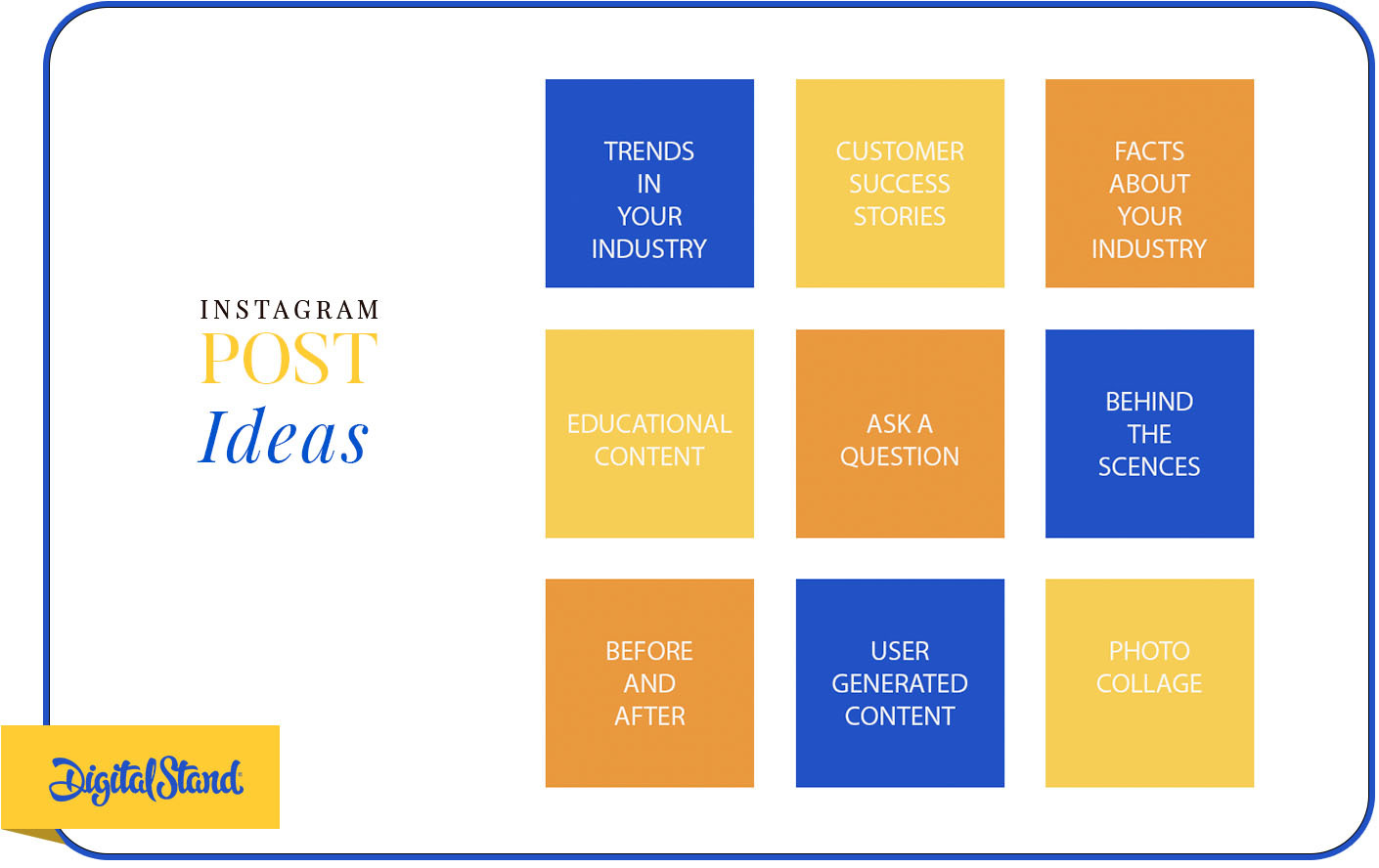 You could include, mistakes made in your industry, Industry quotes, Industry news, common myths in your industry, giveaways (this can be product or services), interviews within your industry, Influencers or people using your products.
Instagram Advertising
In terms of Instagram advertising, we've often found it to be more effective than Facebook advertising. Of course, this depends on the business and the offering that is being promoted.
But please don't think this is confined to selling a product when we have had tremendous success offering services as well. In essence, like any form of advertising, it comes down to the audience on the platform and their receptiveness to your offer.
If you've been active on Instagram for some time and use their advertising suite of products, you can build an audience that specifically targets this group.
That is, you can target a defined Instagram audience.
All the targeting options that you see on Facebook are also available on Instagram, as you would expect.
Although the multimedia capability in many ways is more extensive, recently, Instagram rolled out the ability to advertise on Reels globally.
This capability is only a month old, with Instagram making it available on the 16th of June, 2021.
Not dissimilar to when Instagram first rolled out advertising Instagram Reels provides a unique opportunity for brands to obtain a first-mover advantage.
Instagram Best Practices
When it comes to Instagram best practices, the only place to start is with data. Depending on how often you use Instagram, you may have noticed that carousels have become popular on the platform.
From analysing over 100 million posts, the joint report on Instagram engagement from Mention and HubSpot found the most engaging posts are carousels with "62 likes and five comments" as an average.
It also found that the sweet spot for caption lengths to get the most engagement are in the "500–1,000 and 1,000–2,000 characters range."
Last month, Instagram CEO Adam Moserri said they are moving away from being just a photo-sharing app. He also stated that the number one reason people are using Instagram is to be "entertained."
You should read "entertained" as "engaged."
Interestingly there also appears to be advice to cut down on the number of hashtags. From the same report mentioned above, it would appear that somewhere between one to eight hashtags are the optimal number to use.
So if you are currently using 30 hashtags which was the previous recommendation, it would be worthwhile experimenting with just 8. If you consider using your own hashtag, and there is that your audience might follow. You should also vary this up and not consistently use the same hashtags every time if you're looking for discovery in other audiences.
And if you are wondering the most popular hashtags on Instagram at the moment are #love, #instagood, #photooftheday, #fashion, #beautiful, #happy, #cute, #tbt.
And finally, you should look at using video on a more frequent basis.
As Adam stated in the same interview, you should consider that users come to Instagram for "video, shopping, and messaging content." He went on to say that Instagram updates in the coming months will be tailored in alignment with these needs.
Instagram Influencer Marketing
According to Influencer Marketing Hub, "Influencer marketing is expected to grow to be worth $13.8 billion in 2021." so in short, this phenomenon isn't going away anytime soon.
If you're looking to grow your brand quickly on the platform, then utilising Instagram influencers offers an advantage. If you're looking to launch a new product, then it is also worthwhile considering.
Your focus in every respect should always be to get an influencer that aligns with your values. Remembering that authentic posts and influencer marketing are how you achieve optimal performance.
As you might suspect, there were influencers, and then there were influencers! But what might surprise you is that "84% of Instagram influencers are female" - Social Media Today.
The break up below shows exactly the number of accounts on the platform by the percentage of followers.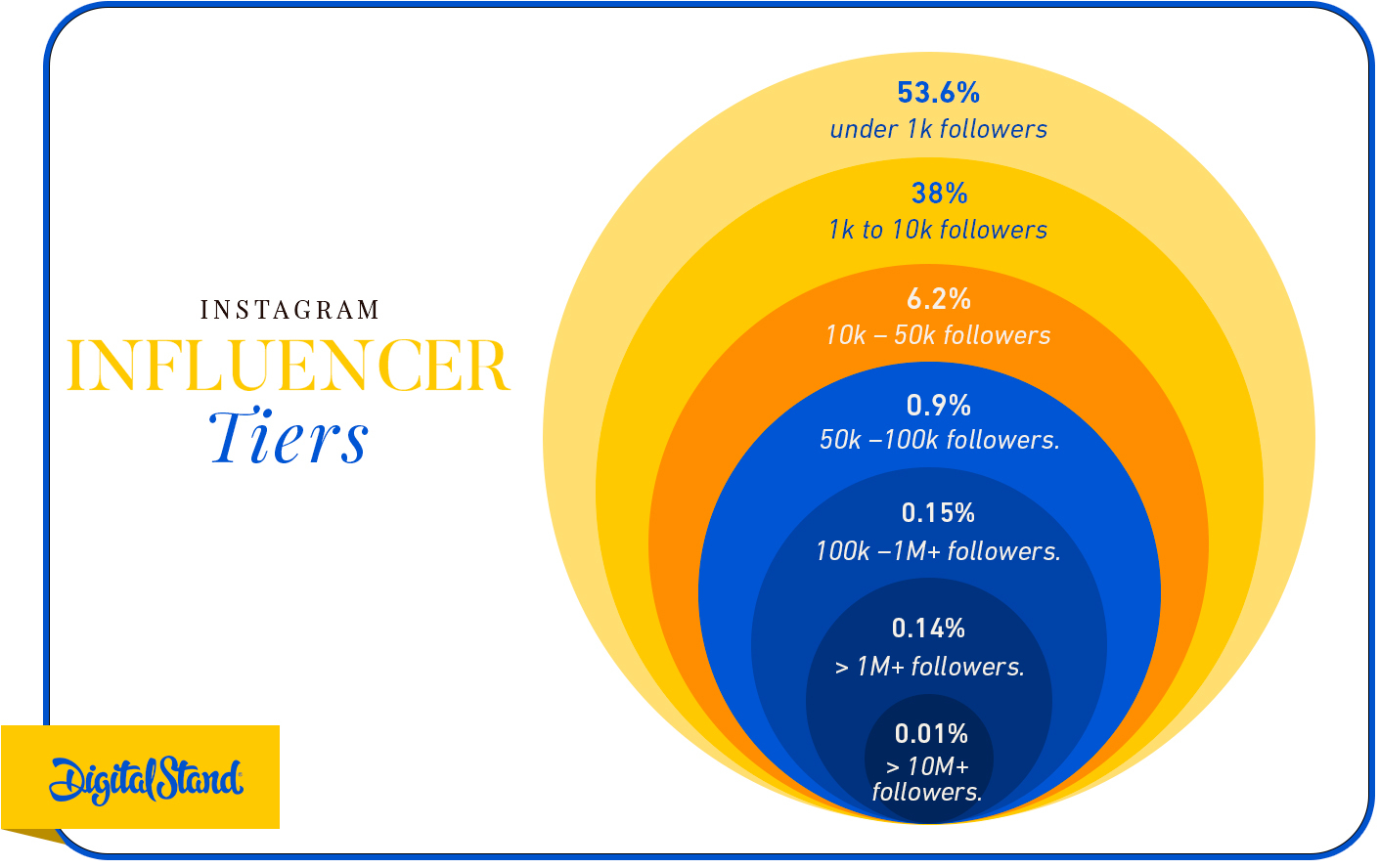 The overarching question is should you use influencer marketing as part of your Instagram strategy?
The short answer is, depending on your budget and business priorities, yes. Often this is not as costly as you might think. Sometimes even sharing a product to an influencer to trial and use will get you a post, new followers and new customers.
You do not need to utilise the Kim Kardashian's of the world or their equivalents to have an impact through influencer marketing on the platform. We have launched several campaigns that have been successful utilising micro-influencers.
With an audience size of between 10k to 50k followers. With the cost of this level being very modest for the brands.
But if you're curious what someone like Kim Kardashian charges per post, it has rumoured to be anywhere between $300k to $1m!
How to Measure Results
When it comes to measuring Instagram performance, there are some key tenants that you want to look at.
Follower count
Engagement per follower (including comments, shares, saves)
Reach
Website Traffic
Sales and or Leads
Sometimes we can overthink how to measure results, but it is like a business; the only accurate measure is growth.
The real question you need to ask yourself is how you can stand out among the other 95 million photos and videos posted each day? And the answer is you because no one can compete with that!
Hi, thanks for checking out our blog. At Digital Stand we have been helping brands grow through social media advertising and inbound marketing since 2013. We are headquartered in Sydney but run campaigns both nationally and globally - if you're interested in a no-obligation free consultation to see if we may be a fit for you, please get in touch with us.
If not, download the free white paper below and connect at the right point in time.