Reels is Instagram's new short video creation tool, designed to compete with popular sites such as TikTok. While you may think of TikTok and other short videos as mainly for music and humour, this format is getting extremely popular and has business applications. Using Reel can help you set yourself apart on Instagram and capture your audience's attention in a fresh way.
Just like Instagram stories has taken off you can expect Reel to do the same. So let us give you an overview of what this means.
An Introduction to Instagram Reels
Instagram Reels is a new feature that has been tested in several countries, including India, Brazil, France, and Germany. The global release is scheduled for early August.
Reels will be part of the Stories feature on Instagram. However, unlike Stories, these videos can be shared in the Explore area, where everyone can access them (not only your followers).
Videos are limited to 15 seconds. This is typical for short videos, though TikTok's limit is now up to 60 seconds.
Videos can be set to music. Facebook will provide access to music tracks that users can legally use.
Editing tools will enable users to make changes to their videos such as adding filters, and other effects.
Countdown feature lets users prepare for the start of a video for more control.
The Growth of TikTok
TikTok, a China-based company, was launched in 2017 and has become one of the fastest-growing social media sites in the world. It has around 800 million users worldwide and over 2 billion downloads. Like Snapchat and Instagram, TikTok is extremely popular with younger users, especially teens. TikTok videos are often set to music and often have dancing.
TikTok, however, is also facing a great deal of scrutiny due to concerns about hacking and data theft. The site was recently banned in India after recent border skirmishes with China. In the United States, President Trump has declared his intention to ban the site. This controversy has created an opportunity for Facebook's new feature to fill the gap. Facebook, of course, has been working on Reel before the proposed ban but this could be another factor propelling its growth.
Instagram Reels for Marketing
While it's still early to predict how popular Instagram Reel will be, considering Facebook and Instagram's vast audience and the troubles TikTok is experiencing, it's likely that lots of people will flock to this new alternative. Here are some ideas for using Reel for marketing your business.
Get Creative With Short Videos
Here are a few possible ways to use Reels:
Highlight products. Depending on what it is, you can show someone using, wearing, eating, or drinking your product.
Share information. You can cram a surprising amount of content into a 15-second video. You can demonstrate how something works or provide a list of suggestions, destinations, or ingredients.
Promote an upcoming event such as a webinar, promotion, or a live event (when live events get back into swing).
Use a Reel as a teaser. You can use a short video to drive traffic to a landing page, longer video, article, or anything else you're promoting.
Facebook and Instagram Reels Design Zone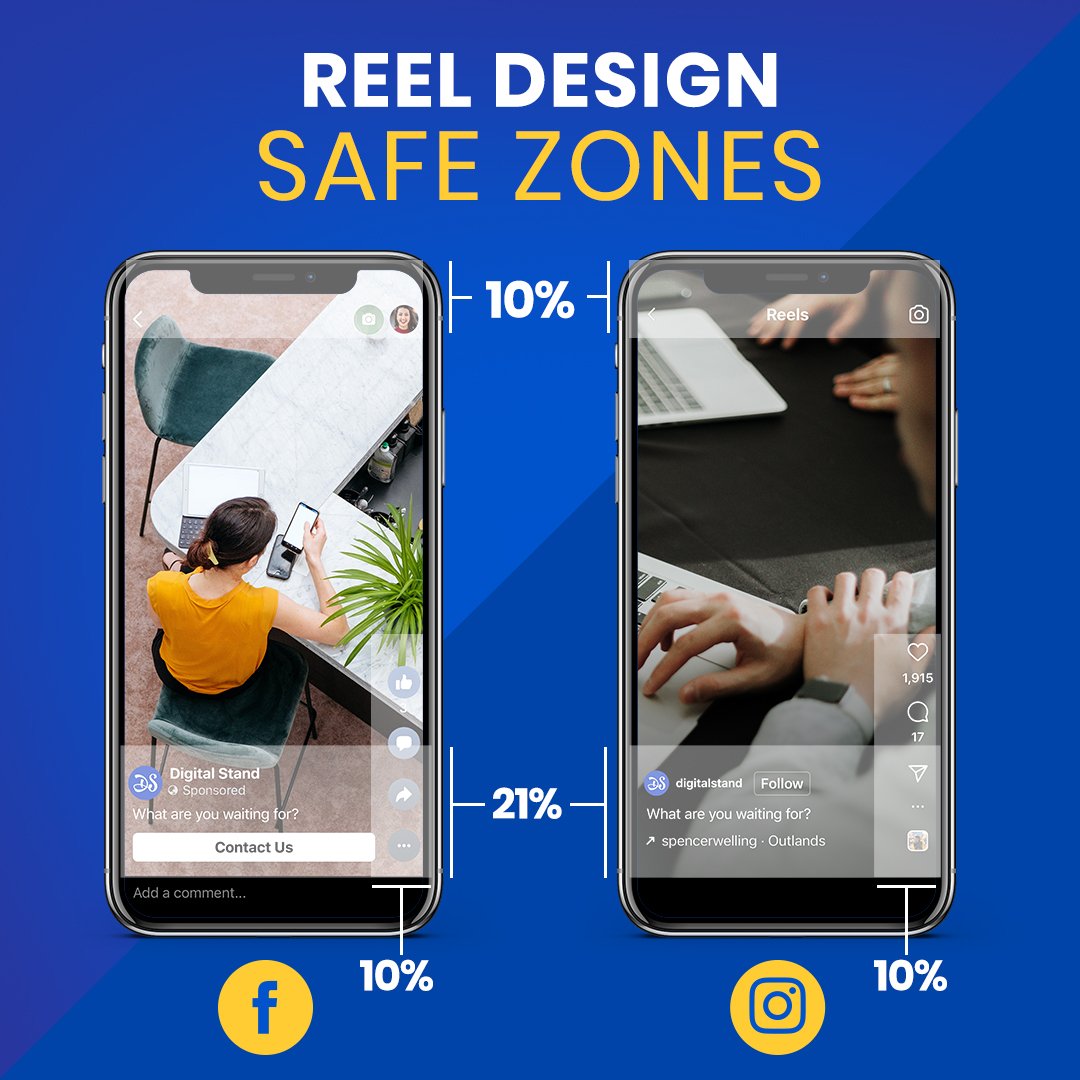 When creating content for reels it is important to consider how this shows up in the feed. Above is a guide to the safe design zone as adapted from Facebook's own creative guidelines.
Short Videos: Not Just for Kids
When TikTok first appeared, users were mainly teens or members of Generation Z. However, older people are quickly starting to appreciate the format. Comscore found that US-based users aged 25-34 increased from 22.4% to 27.4% over a 3-month period in 2020. This is similar to other features and platforms where younger people are the trendsetters but older generations follow. The takeaway for marketers and businesses is that you can use short videos to market to Millennials as well as Gen Z. Keep your eye on the latest stats, as even older users may eventually discover short videos.
Tips to Attract More Engagement
Here are some ways you can get more attention to your Instagram Reels:
Use hashtags. Hashtags are helpful throughout Instagram so keep them in mind for your short videos.
Create timely and relevant content for your audience. As with any videos (or any type of online content), use keywords in your video titles and descriptions.
Partner with influencers. You may be able to work with influencers with large Instagram followings, who can bring more traffic to your campaigns. TikTok has spawned a whole new version of influencer marketing. Some of these TikTok influencer tactics can be studied to use on Instagram Reels, as the two platforms are so similar.
Keep a close watch on the latest developments. Reels is still in the experimental stage, making it likely that Facebook will add, edit, or delete features as feedback is collected.
Instagram Reel is similar to Tiktok and is likely to explode over the coming weeks, especially if many TikTok fans can no longer access that platform. Even if TikTok survives its challenges, you can tap into the gigantic Facebook/Instagram audience who will be surely curious to check out this new feature. Short videos are currently one of the best ways to engage with your audience, making Reel a feature worth incorporating into your marketing strategy.
Digital Stand creates data-driven growth strategies for small and medium-sized businesses using inbound marketing, social media, PPC, and conversion rate optimisation. To learn more about our services, contact us.