Instagram Shopping and the ability to check out on Instagram - The frictionless purchase. For consumers and brands this is a monumental shift in the direct to consumer model.
Instagram has over one billion monthly active users! With the under 35's making up more than 70 per cent of Instagram's more than 800 million active accounts. A recent UBS report stating that millennial spending could be worth $24 trillion by 2020.
So when you connect the dots Instagrams move into payment processing is not surprising. The opportunity for brands and marketers is unparalleled. Removing friction from the sales process and harnessing all the fundamentals of social proof.
According to a recent survey 81% of Instagram users research products and services on the platform. In addition to this 83% of them discover new products and services.
So, for the brands that saw this coming, they are very well placed to execute on this opportunity. These brands and their marketers/agencies have been building up their audiences to educate and enable consumer sales.
All a customer needs to do now is click on the product, choose the desired size or colour, and enter payment information.
Once they've completed the checkout process, they can keep track of their orders through notifications about shipping and delivery right inside Instagram.
Instagram Shopping - How checkout on Instagram works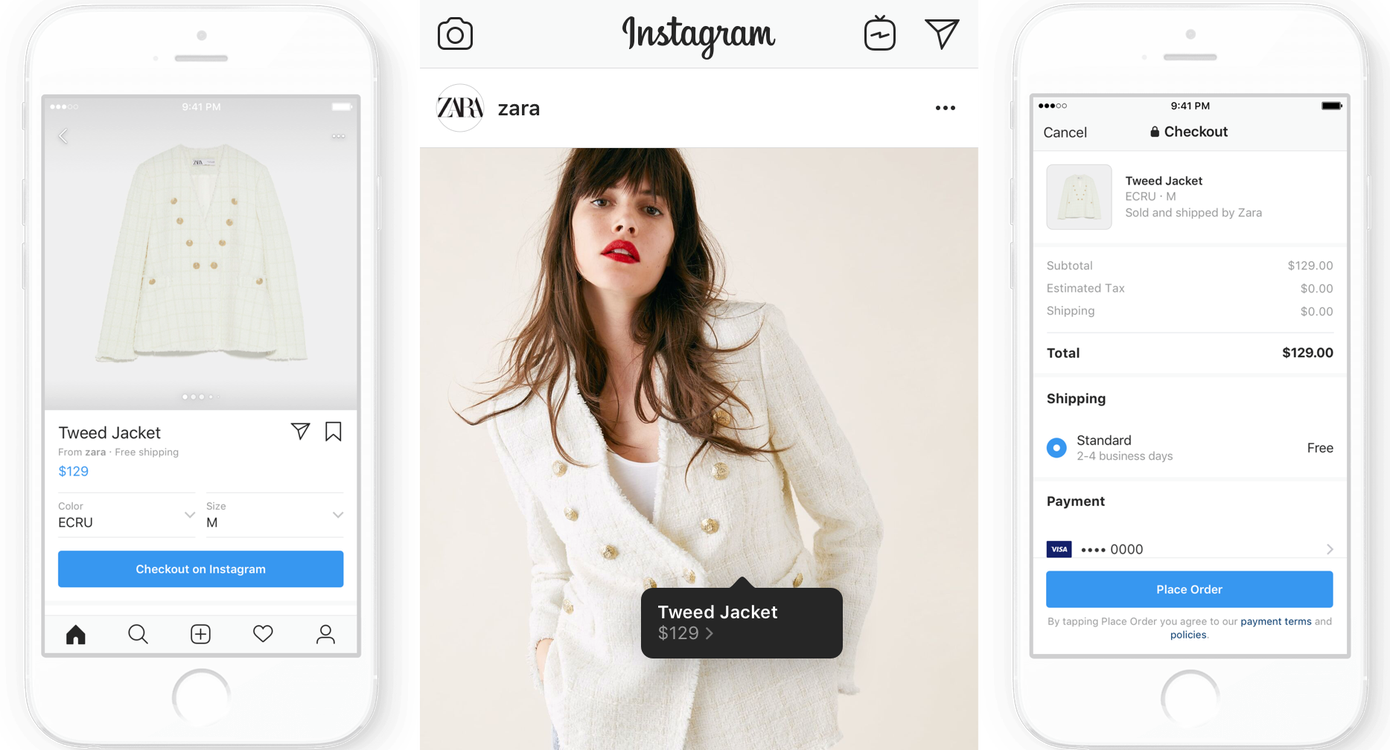 Before, Instagram has given brands the ability to add shoppable links within their posts and stories. However, these links would take users away from Instagram and lead them to a mobile version of a given brand's website. From there, customers could make a purchase. The problem with this process is that it was clunky and often frustrating to users who didn't want to leave the app.
Now instead of a 'View on Website' button, customers are now provided with a 'Checkout on Instagram' option. The new feature provides the ability to purchase within the app, and they can easily return straight to their Instagram feed. This makes for a more convenient, seamless experience for Instagram shoppers. And a faster more direct purchase process for brands.
Instagram shopping ROI for brands and marketers
Because there are fewer steps in the buying process, customers can save time by just clicking a button. Furthermore, Instagram will save payment information for future purchases. This can also help simplify purchases and even reduce cart abandonment.
If a customer is shopping with more than one brand, they often have to create a new account with each different brand. Instagram Checkout will give users the ability to buy from more than one brand without needing to enter information each time.
As many online shoppers are impulse buyers, customers value instant gratification. So it is vital that their shopping process is fast and convenient, and of course frictionless.
As a more natural and convenient shopping experience is likely to generate more leads and sales.
'Checkout on Instagram', is similar to Amazon's "one-click" system. Customers only need to enter their information once without having to do it again. Brands and marketers can now capture significantly more sales, and measure ROI instantly.
Do you want to increase your company's exposure and gain new customers? At Digital Stand, we can help you grow your business through data-driven social media marketing. To learn more about our services click here.