If you're looking to create a winning social media campaign, these are the principles that you must understand. A successful social media campaign has a lot more to do with science than it does with creativity.
This is not to undermine the power of the creative or the copy and its need for emotional appeal. However, without the proper execution of the science in targeting and optimisation, even the best creative will fall short.
Today's article looks at the tenants of what makes a social media campaign successful. In doing so, I'm going to answer the following questions for you:
How do you set the right objectives for a social media campaign?
How to launch a social media campaign?
How much does a social media campaign cost?
How long should a social media campaign last?
How to determine if it is successful?
How do you manage a social media campaign?
How do you make a social media campaign go viral?
In the last ten years, social media has fundamentally changed communication.
In 2020 2.6 billion people were using social media. In 2021 there is 3.8 billion. Interesting right?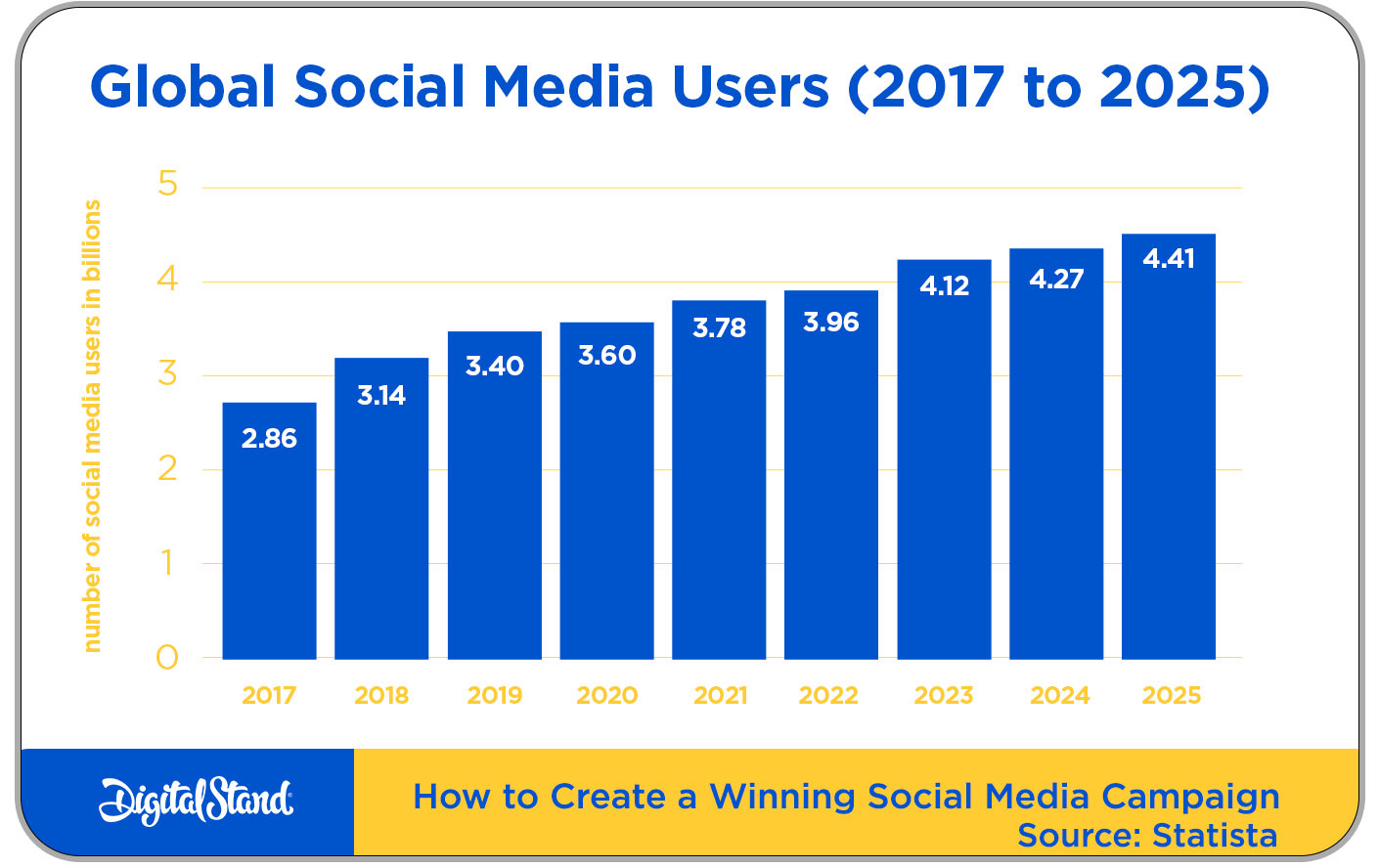 In 2020, 74% of marketers reported that they used social media for their marketing campaigns. Showing just how much it has grown in popularity as a marketing platform (HubSpot).
Having a presence on social media is now not only a must for any brand and organisation looking to be successful. Understanding how to make social media campaigns effective by return is critical to brand growth.
The competitive landscape of social media is changing every day, with more and more brands still coming into the fray. And those brands are launching more and more campaigns. Not only must you outplay your competition, but you're also competing for attention generally.
Brands that think they are only competing against their competitive peers fail to understand they are competing against everyone seeking consumers' attention.
Back in 2017, it was shown if the average social media user consumed everything on their Facebook feed, that would be viewing 2.5 posts per minute. This includes posts from friends and any other campaigns.
The complication of this is not to be understated. However, the reality is this is the landscape that you're playing in. You have little to no choice but to ensure that your social media campaigns are effective against this backdrop.
If they're not effective, you must find a way to improve them and generate the returns you need.
Setting the Right Objectives for a Social Media Campaign
When setting the right objectives for your social media campaign, you want to start with the audience in mind.
What I mean by this is it does not matter if you are a digital marketing agency, FMCG, consulting company, or a property developer; you are solving a problem.
The problem you are solving is your client or potential client's problem.
The only way you will hit the objectives of your campaign is by intrinsically and extrinsically matching your solution to your customer's needs.
When setting our objectives, this is where we must start. By starting here every time we launch a new campaign, our chance of success significantly improves.
At a macro level, we are aiming to achieve three things with any campaign.
Awareness of our brand
Become part of any consideration process
Drives conversions
There is one more item I would encourage you to consider. For any conversion that you drive, look for an opportunity to leverage their network. Because the best referrals come from existing customers. This also lowers your cost of sale.
By doing this, not only do you improve the chances of your campaign success, but you lower the cost of acquisition.
There are many terms for what I am suggesting above, although I feel the best term is a viral loop, which we will discuss later in this article.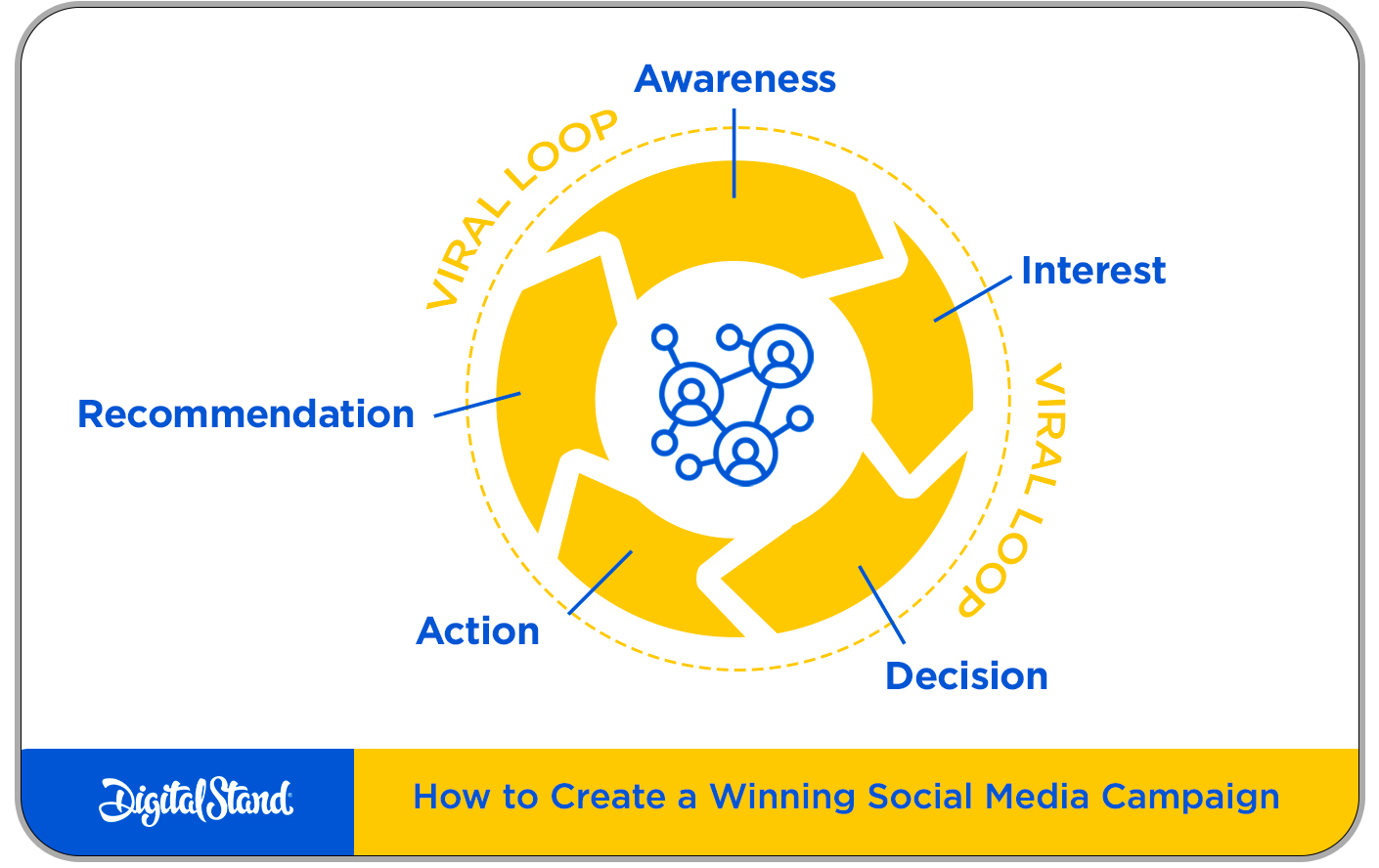 Diving deeper into campaign objectives, you will find many social media or digital advertising platforms break these three areas down even further.
You will note by the below Facebook example that none of the objectives looks to leverage referral-based marketing.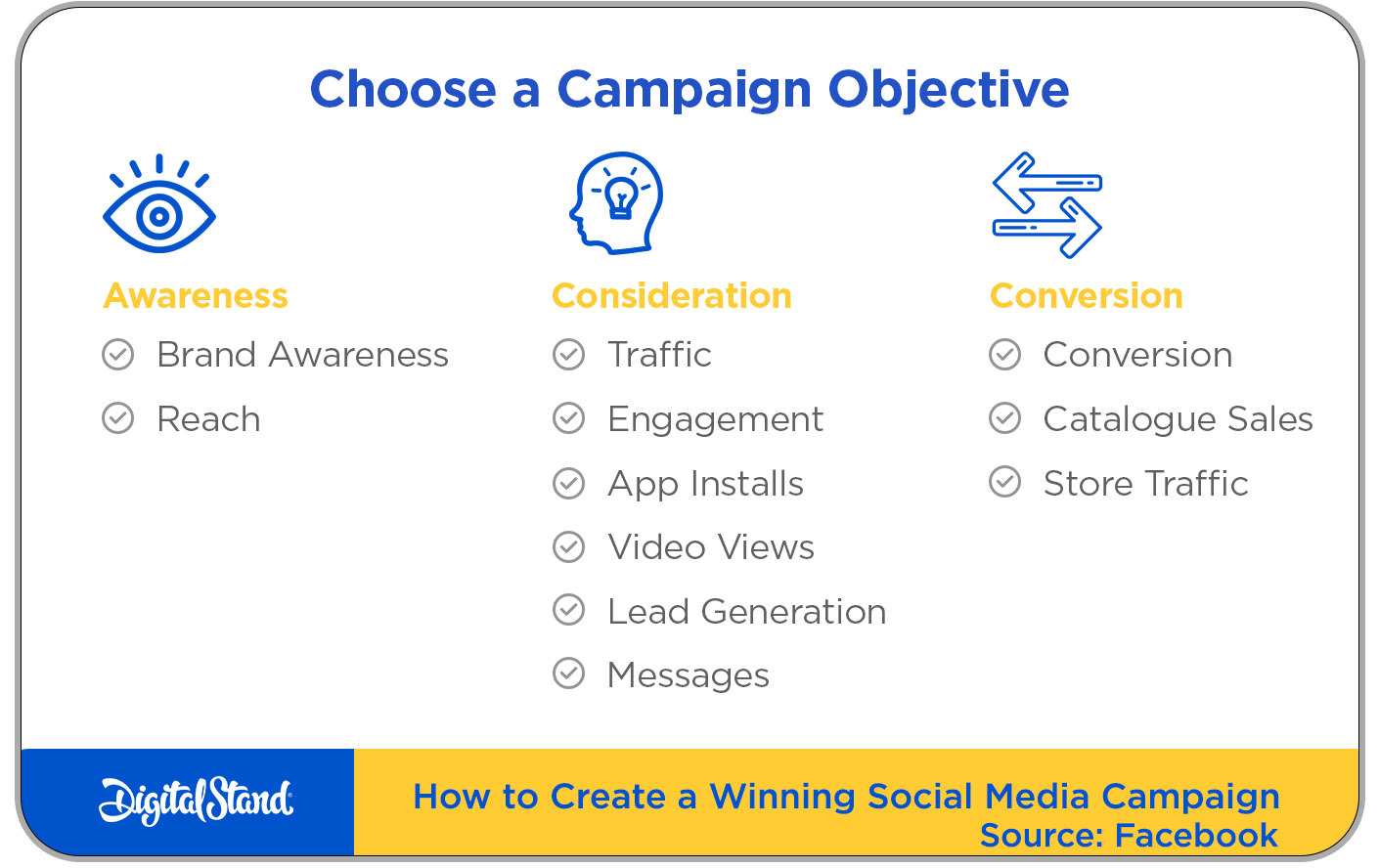 When choosing one of the below paths, you want to consider the objectives mentioned above. While many platforms will help you in remarketing, we're not talking about a client you missed acquiring or a sale that did not convert. We're talking about referral network-based for those who you did convert.
Thinking laterally about your campaign at the outset creates a greater possibility for campaign success.
Let's briefly break down each of these areas.
Awareness
Brand Awareness
The brand awareness objective is designed to show your ad to the people most likely to remember them. That said, this objective can only be supported by a well defined and targeted audience.
When looking to increase brand awareness, it is essential to remember the rule of seven. The rule of seven means that your prospective market or audience will need to see your message at least seven times before they already did make a purchase.
Reach
The best way to think of reach is to compare it to a billboard. Your goal here is to make sure as many people see your message as possible in a day, week, month and year. Of course, this is highly dependent upon how long you intend to run your campaign.
Because just like a billboard in social media, this costs you money every single day.
Consideration
Traffic
Interestingly under consideration, you will notice that there is a little bit of an overlap between each of the different areas. When it comes to setting traffic as an objective, you're sending someone somewhere; you might be sending them to a website blog post, a landing page, an event, or in Facebook's case, even their messenger service.
This objective isn't set out to be conversion driven but can be used in this manner depending on your offering.
Engagement
This objective is a consideration one but is one of my least favourites. The social media algorithm will target an audience of your design to engage with your content. In this case, you get more page likes, comments, or responses to your ads.

App installs
The purpose of this targeting is to target people who are most likely to download your app. This falls under consideration as opposed to conversion.
Because as any company would know who has developed an app or marketed one, a conversion comes from the app itself. Only when people start to use the paid version daily or weekly has a conversion taken place.
Video views
There's no question the point of this particular option is to have people watch your video. I would typically consider this more under the awareness stage but potentially also a consideration option.
Worth knowing that you can include video in any of these phases, from awareness consideration to conversion. And according to Wyzowl, for marketers who are using video, 87% of them are stating they are getting a positive return.
Lead generation
This is a great advertising option when you want to create more leads for a business. You might have ended up on our database this way. This model seeks to offer the consumer and business something valuable in return. Known as a fair value exchange of the email address and sometimes contact details.
Messages
Last but not least in consideration is messages. It is a great option when you're looking to communicate directly with your potential customer or client. Enabling them to ask you questions about your product service or offering.
Conversion
Conversions
Fairly straightforward, we target an audience that should either convert on our landing page, purchase a product, download our app, or commit to our brand.
Catalogue sales
Great for e-commerce stores when looking to sell a specific product and have your potential consumer convert.
Store traffic
Before COVID, we had terrific success with this particular option having the consumer visit shops in a specific location. And it was also remarkable for brand new store launches.
In terms of setting up the right objectives for your campaign at the outset, you must understand your audience's intrinsic and extrinsic motivators. You want to ensure that your solution is positioned accordingly. And of course, you want to choose the right objective for your advertising.
You then actually want to move your audience from awareness to consideration and conversion. Only in this manner can you grow your brand exponentially, bringing in new leads, new clients, educating them and then converting them.
Launching a Social Media Campaign
Before launching your campaign, there are several steps that you want to go through.
The competitive landscape
What are your competitors doing now, and what are they advertising? How are they positioning their content? And what exactly is their social media strategy.
By simply looking in each of their social handles, you may very quickly be able to determine what they're positioning for at the moment. By doing this, you understand whether you're positioning a me-too offering or differentiating in terms of the market.
Multiple pieces of content
When we began back in 2013, one of my earliest strategies was to use various creative under one particular advertising campaign. This was far from standard practice because most agencies would create one campaign and use this continuously.
This offered both our clients and us a distinct advantage that we continue to use today. Because you never know how the consumer and market will respond to your content. By using varied ranges to test the effectiveness, it helps you generate a far greater return.
Organic content
You also want to ensure that you have organic content posting simultaneously to your campaign. So regardless of whether someone is going to your feed or your ads, they see a consistent message.
Hashtag strategy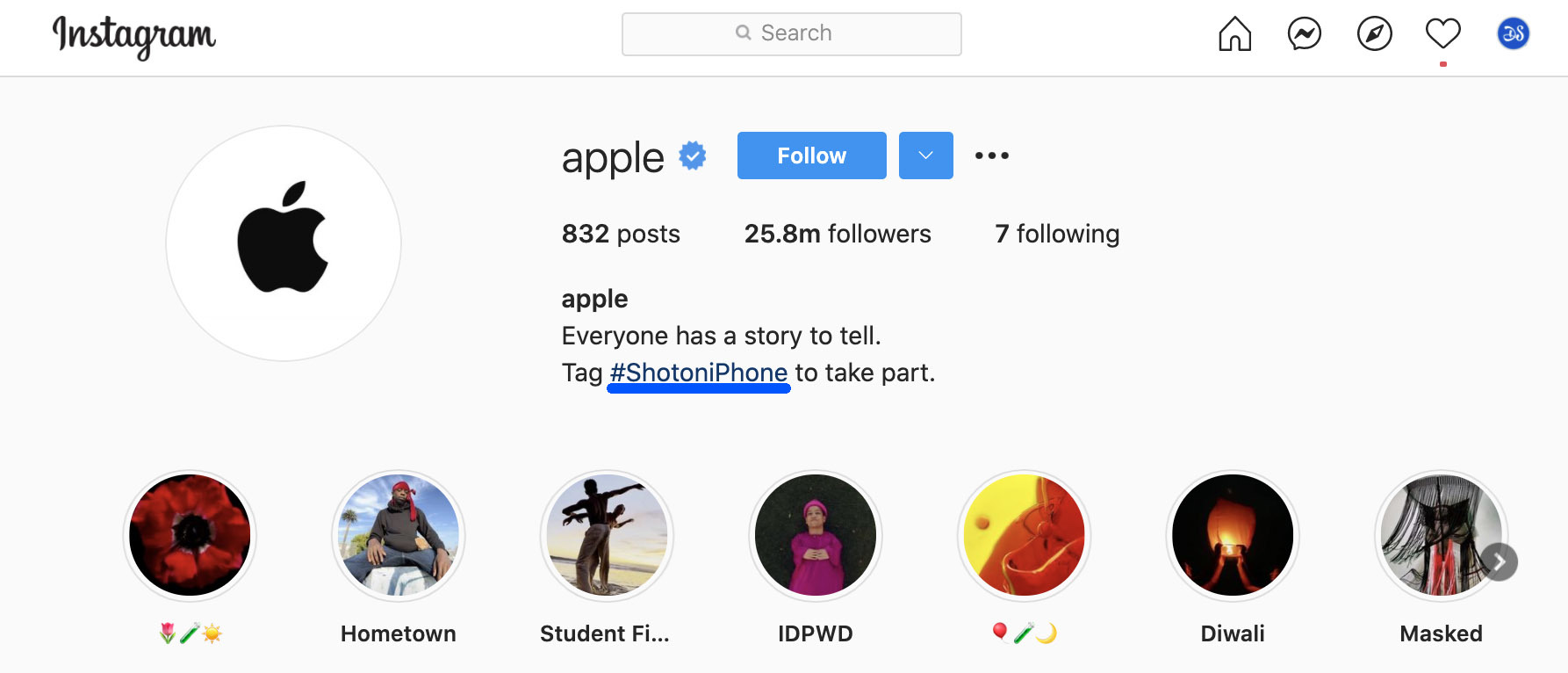 A quick way to understand the audience is engaging with your content is to use the hashtag strategy. By using a hashtag strategy, you can see the type of audience that you're attracting.
You get a greater insight into their comments and or questions, and you increase your reach by others discovering this particular hashtag.
Audience Tracking
You want to make sure that you set up these associated pixels to track your audience and the different events on your website landing pages. Or anywhere else you're sending this traffic to.
It also makes a lot of sense to ensure that your website URLs on each social channel support your campaign and link to what you're trying to promote. After all, if you're running a social media campaign, then you want all your social assets are supporting this. Both from an organic and paid advertising perspective.
How Much Does a Social Media Campaign Cost?
Regarding direct advertising and launching a new campaign, it doesn't matter whether you are a B2B company or B2C. You can test advertising and the effectiveness of your campaign for as little as $100 a day.
Of course, this does not consider any of the research planning at all content creation and is just the advertising spend.
Depending on the client circumstances and campaign, you may want to start a lot higher than this. And there are very sound reasons to do so.
In last weeks article, I talked about a client who achieved tremendous results at one at 1/10th of what they had budgeted for on a direct Mailer campaign.
However, after proving this in, they quickly accelerated their spending. Far, exceeding their original budget allocation. They did this because they discovered a new revenue stream that accelerated the growth of their business.
When you think of social media advertising, the worst possible term you could use is cost! Because any advertising campaign should offer you a return. After all, what is the point of advertising if all it does is increase your cost without growing your bottom line?
With the benefit of close to real-time data, the cost can be managed far more effectively and accelerated at the right point in time. The trick lies in accelerating your spending when the campaigns are performing well. It isn't as simple as doubling your expenditure.
By doing so, the algorithm will treat it as almost a brand-new campaign. You want to incrementally move it up continuously, testing as you go, as you may also reach a ceiling with the audience.
How Long Do Social Media Campaigns Last?
Before you completely revisit a social media campaign, you want to run it for at least 12 weeks. Unless in the first week you realise it has completely fallen flat!
By giving it this time, you can track the campaign's performance and the associated audience. How they have behaved across the customer journey and the learnings you can take away from the conversions and those who did not.
This allows you to determine the most effective form of content and whether or not you will use this messaging again or a variation of it.
Even if you intend to continue the campaign all year, you want to make sure that you're adjusting your creative and messaging and accounting for any changes in the market.
Interestingly, when researching this particular point and comparing it to our data, I saw commentary suggesting that you should run in a campaign for as little as two weeks. In a real term sense, a client we picked up two years ago took us two weeks to make the first sale on their business.
That first sale generated the client close to $12k, but it did one other thing, it helped the algorithm find a conversion-based audience. We continued to run that campaign for 90 days achieving a 7 to 1 return on investment.
If we pulled the campaign at the two-week point, the client would never have seen this return on social media advertising. They would have also determined it wasn't a viable channel for them.
Provided you are continuously managing the campaign, a 12-week period is ideal. There is a term used by most of the social media channels called frequency. Frequency represents the number of times that particular audience is seeing your advertising.
Based on your frequency number, you can determine whether or not to change the audience or to continue advertising to that audience.
Remembering the rule of seven. If your audience is somewhere between 240,000 to 500,000, you will likely want them to see your brand or message at least seven times.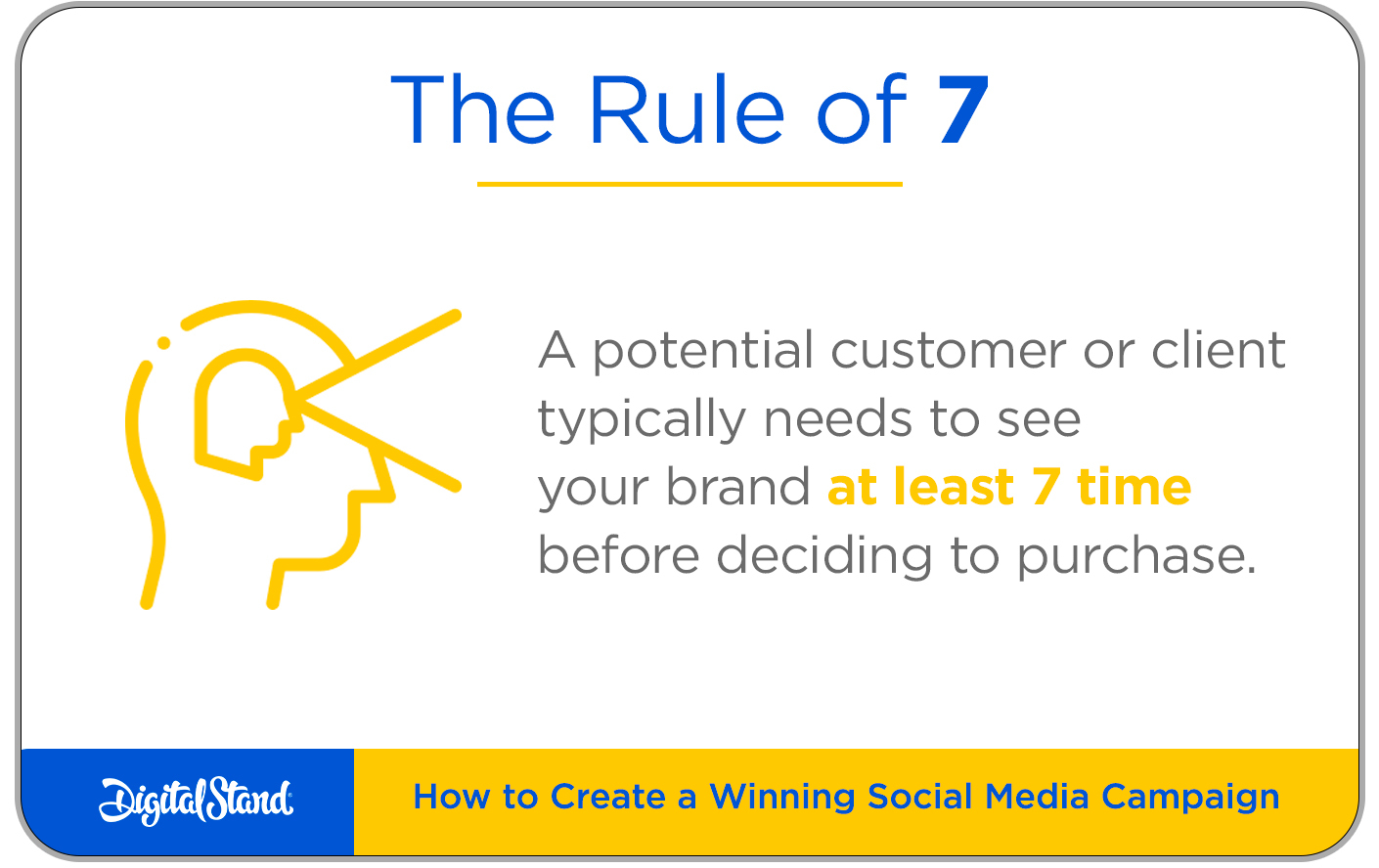 How to Determine if it is Successful?
There are only three actual measures to look at here to determine whether your campaign is successful.
Impressions
Reach
Conversions (ROI or ROAS)
We want the maximum number of impressions and reach that we can achieve and conversions. Conversions being measured by return on investment or return on advertising spend depending on how your organisation constructs their model.
You also want to ensure that you are capturing the client's lifetime value. Because there can be an initial purchase, but over 12 months, how much are they spending with you?
How do you manage a Social Media Campaign?
The short answer here is every single day. You want to continuously be looking at audience performance, frequency of your campaign, comments, shares, and engagement.
If you are sending traffic to a website, you want to make sure that your abandoned cart is not high or that they're not converting on your landing page for some other reason.
To illustrate this point further, one of our first clients was in financial services. Our advertising campaign regarding typical impressions, reach, and click-through metrics exceeded all benchmarks.
But very early on, we noticed that no one was converting. Back then, most organisations would have said social media wasn't working because this was around 2013. However, we determined when we started to look at the client's environment; they did not have a frictionless customer journey.
They asked new clients to spend between 5 to 10 minutes in the digital environment to answer specific questions.
When we questioned the client further about this, we determined that we could take this time and reduce it to somewhere between 60 seconds to two minutes. Consequently, return on ad spend proved itself straight back in once we changed the customer journey.
This is why managing a campaign requires continuous observation and analysis to determine if any bottlenecks are getting in the way of optimal performance.
Of course, you want to make sure the customer journey is correct before you set out and launch the campaign, but sometimes you cannot see everything. This is why data is a single source of truth, showing you where any breakdown in your campaign might be occurring.
So to reiterate, you manage a campaign by looking at the numbers and the data every day. Missing a simple comment on one of your ads could reduce your conversions considerably, especially if it's negative.
How Do You Make a Social Media Campaign Go Viral?
A viral loop created every single one of the social media platforms that you use today.
For example, Facebook's viral loop was once you signed up, their goal was to connect you to 10 friends within seven days. Because if they got you to connect to 10 friends in seven days, they knew that you're going to continue to use the platform.
Not only were you going to continue to use the platform, but you were likely to share it also with your contacts. This is why platforms like LinkedIn will ask you to connect to your contacts to see who else you may know? And then provide you with the ability to invite someone to the platform itself.
If you want your social media campaign to go viral, you must provide some incentive to share your brand and message. It is also important to note that virality sometimes has a window that will stop after 24 hours, a month or even a year, depending on the environment.
If you can get your audience and customers to share your message, you'll lower your advertising campaigns' costs and increase your revenue.
This can be as simple as offering a new client a discount every time one of their friends signs up to your platform or purchases your product. Incentivising your audience to create user-generated content or even a powerful creative campaign can do it.
By understanding the core principle of generating 1.1 referrals for every person you can design your social media campaign with virality.
Hi, thanks for checking out our page. At Digital Stand we have been helping brands grow through social media advertising and inbound marketing since 2013. We are headquartered in Sydney but run campaigns both nationally and globally - if you're interested in a no-obligation free consultation to see if we may be a fit for you, please get in touch with us.
If not, download the free white paper below and connect at the right point in time.