1. Not Tracking Your Audience
Your audience is not being tracked. Each of the social media platforms provides an ability to track your audience and conversions.
It provides you with the ability to track all visitors, and areas of interest, and in many cases create segmented and specific audiences, i.e. abandoned carts, pages of interest, articles and materially more.
This allows you to segment the audience for advertising purposes and place contextual advertising in front of the right audience.
You can expand this further by cloning your ideal audience and then advertise to similar buyer personas and a wide range of options beyond this. It is important to note that this is not re-marketing. This is contextual advertising.
And for those that know how you can advertise to the same audiences across multiple social media and digital platforms.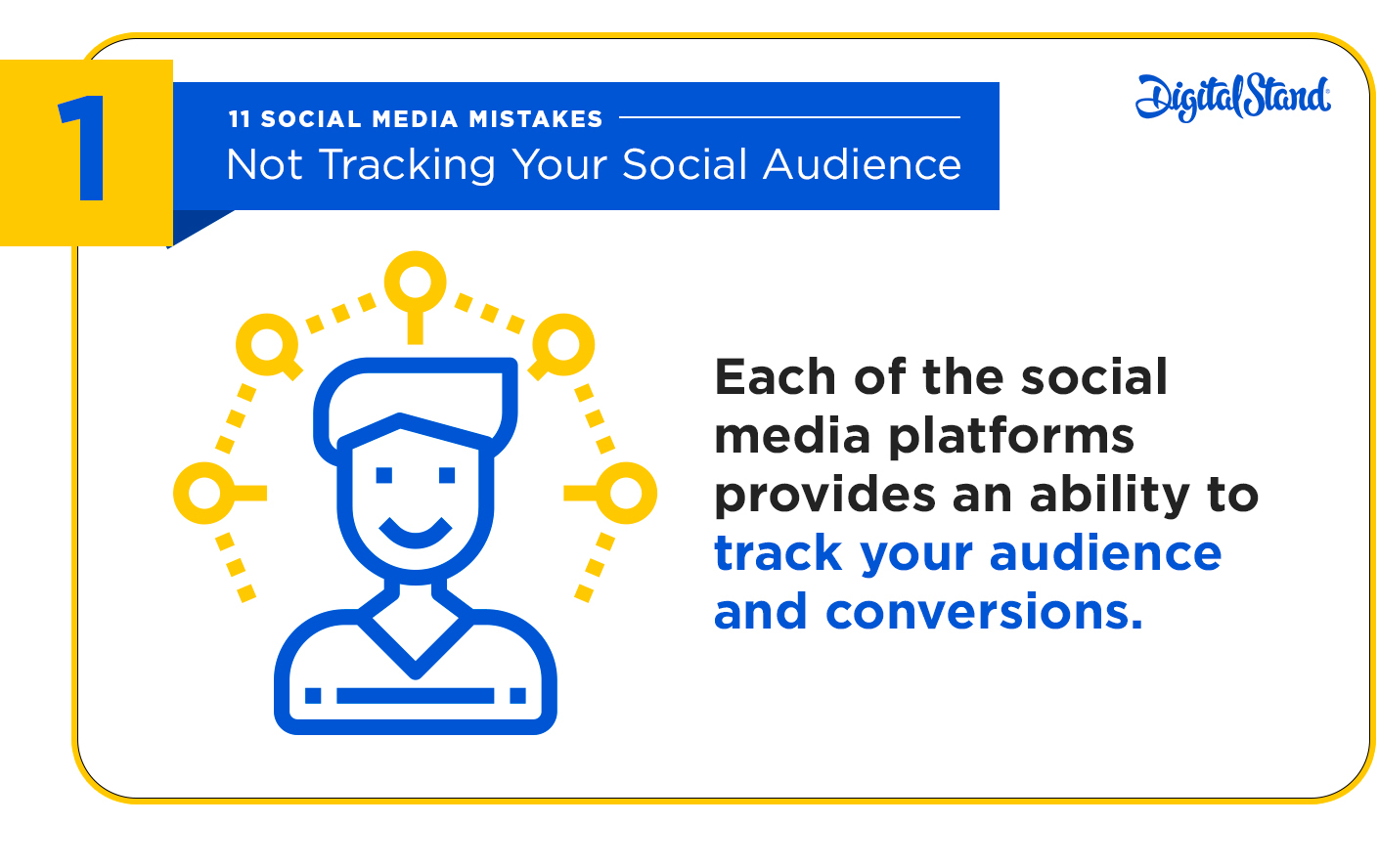 2. No Persona or Hypothetical
For any brand, a minimum of 3 ideal personas is a must. There was a time when personas were created around theoretical ideas, beliefs and assumptions.
The ability to analyse social data, current digital trends and forums has removed the need for any of this to be theoretical. As marketers, we have more data and knowledge in our hands than ever before!
We should know their pain points
Their areas of interest
Age
Education
Location
And even brand infinity
Using Facebook insights, LinkedIn groups, Google trends, your marketing data, and even the top 10 books on Amazon in your field will provide you with everything you need to understand your customer.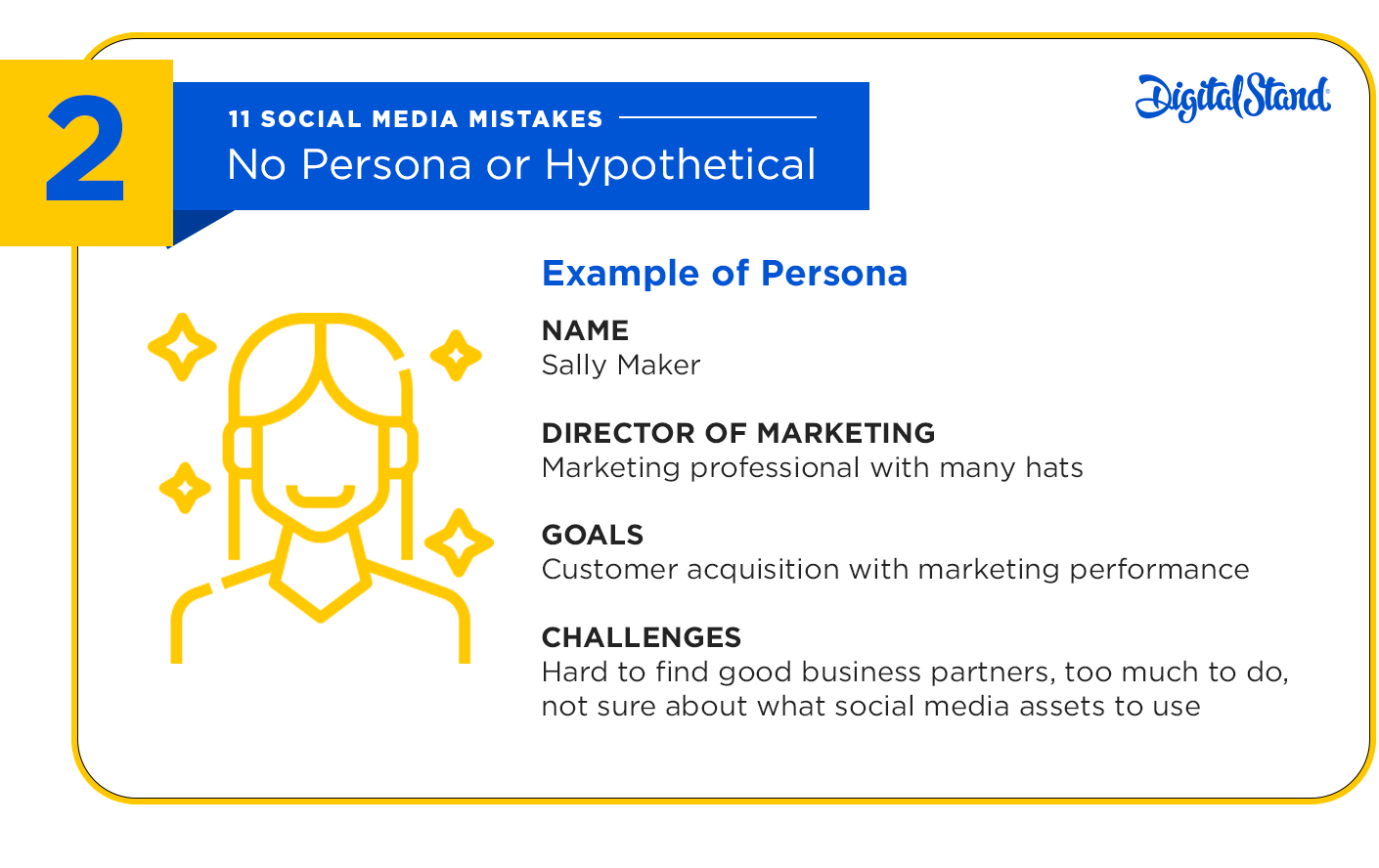 3. Your Content is Meh! But You Want Your Fans to Engage.
Creating compelling content is not subjective anymore. Data and or engagement provides objective feedback on audience acceptance.
A trap we see many brands fall into is they either compare themselves to their competitors or industry and create content on this basis.
As you are competing for "attention." You must look across industries as a benchmark for content creation. If your content stands out on the "social" platforms, it is likely to be compelling.
Data will always tell you the truth, whether you like the answer or not. And who says your competition is doing it right?
Average organic engagement is around 2%, but we can expect this to drop.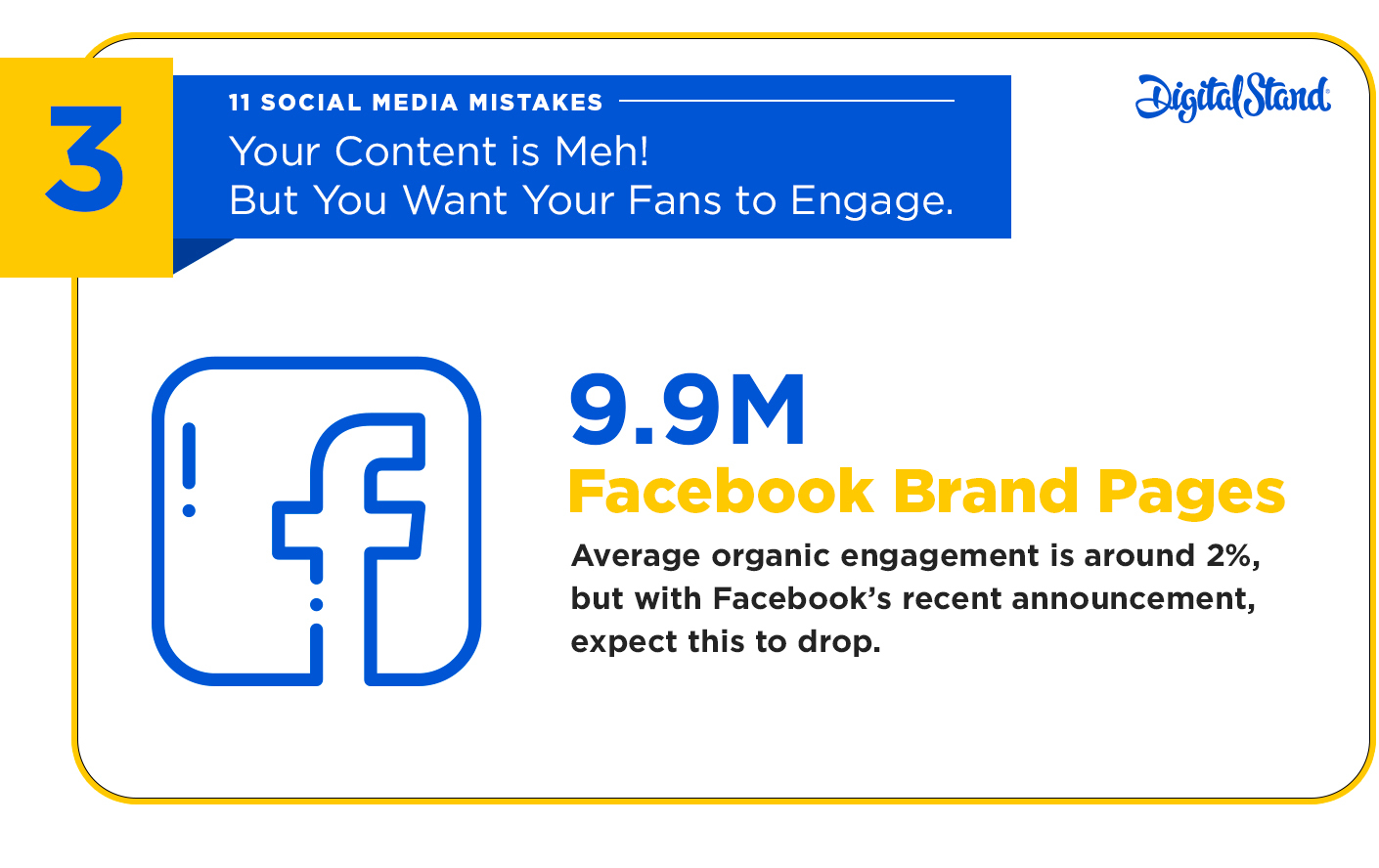 4. Inconsistent Publishing
As you build an audience with compelling content, they will want you to turn up every day. One of the world's best bloggers/marketers "Seth Godin" writes every day and posts at the same time every day!
This is what your audience expects, consistency. If your content is sporadic, or you are not looking for the optimal time to publish for your audience, your engagement and audience building will suffer.
Here is a pro tip: Do not publish when everyone else is. It is like heading for home in traffic at the same time everyone else does. Look for times when audience levels are high, but the branded content is likely to be low. Perhaps a time when everyone has gone home for the day, but those same users check their phones.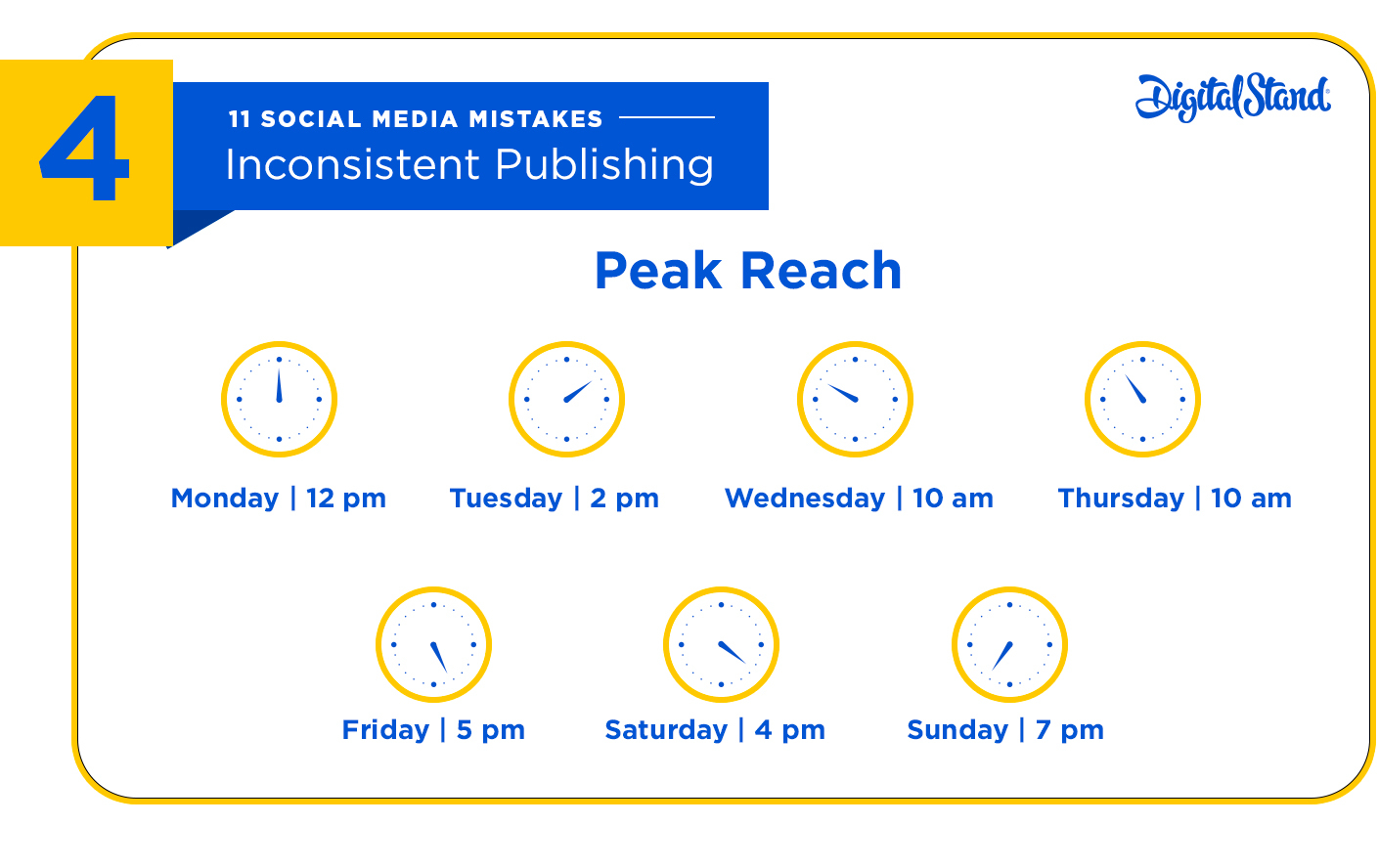 5. A Bad Guide or Idea
We see many brands advised on platforms like Instagram to follow and then unfollow an audience. Trying to trick potential followers/customers.
This is a common practice by substandard agencies and poorly led brands. Especially with regards to Instagram. Which now has a staggering 1 billion monthly users.
It is ineffective for many reasons and damaging to your brand. Your only actual audience is one that follows you based on the quality of your content, and their interest in your services, product, and business.
But this is not contained to Instagram, did you know you can bid lower on Google and beat all your competitors, or your ad spend is lower on Facebook when relevancy is high. Choosing the wrong guide is one of the biggest mistakes we see brands take.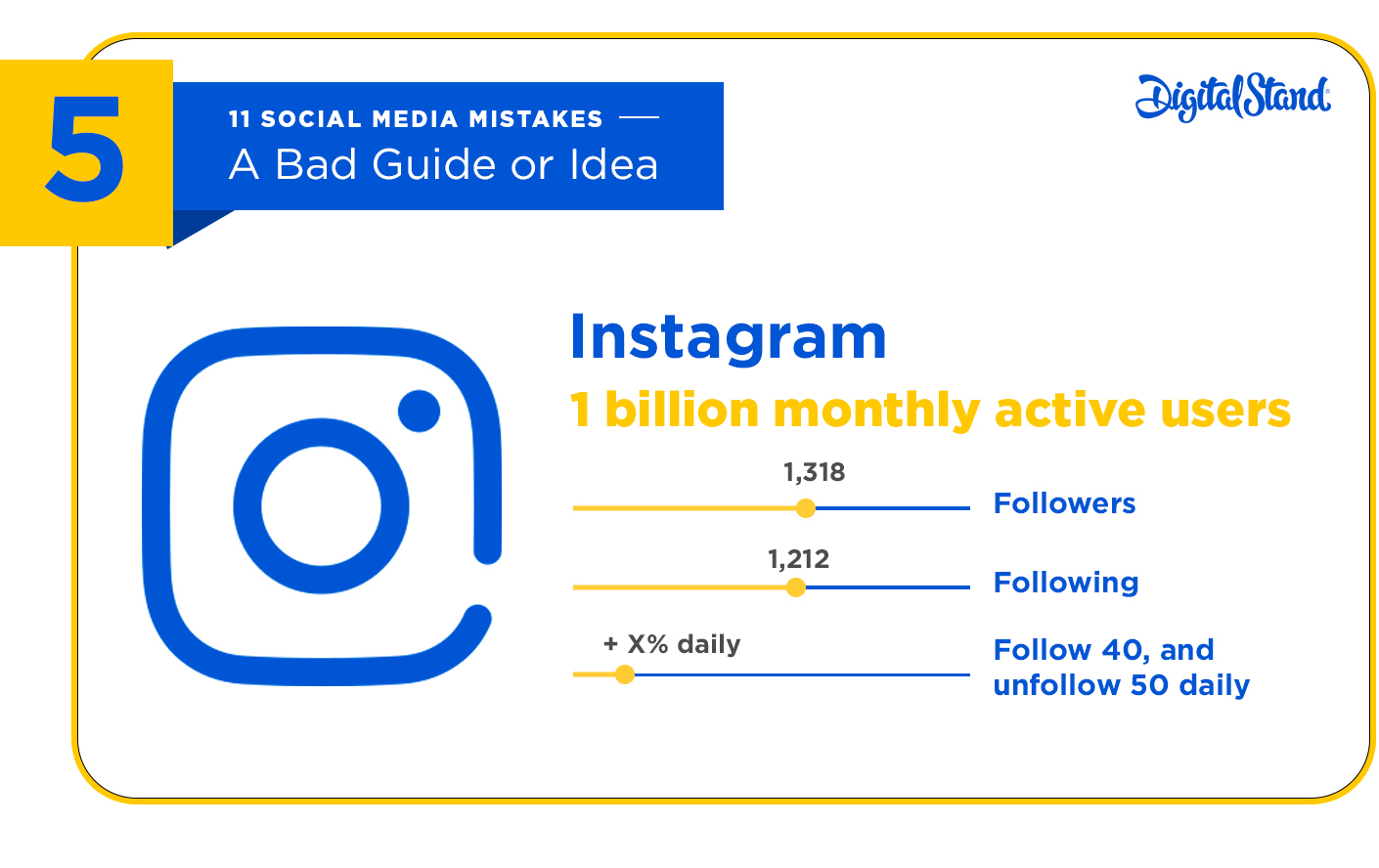 6. Social Media is Free Media
Enough said. It is not; this is new media. It is every network, paper, billboard, and radio service in the palm of your hand. And just like traditional media, it costs to advertise.
Pro tip: However, if your ads are effective, as the audience engages, your advertising cost goes down. It is important to note that a social media platform's goal is to increase engagement and average user time. Good advertising works for you, and bad advertising hurts you (financially on many fronts).
The difference with social is you are getting the data to measure this, and provided you act on this data you will end up in front of your competitors.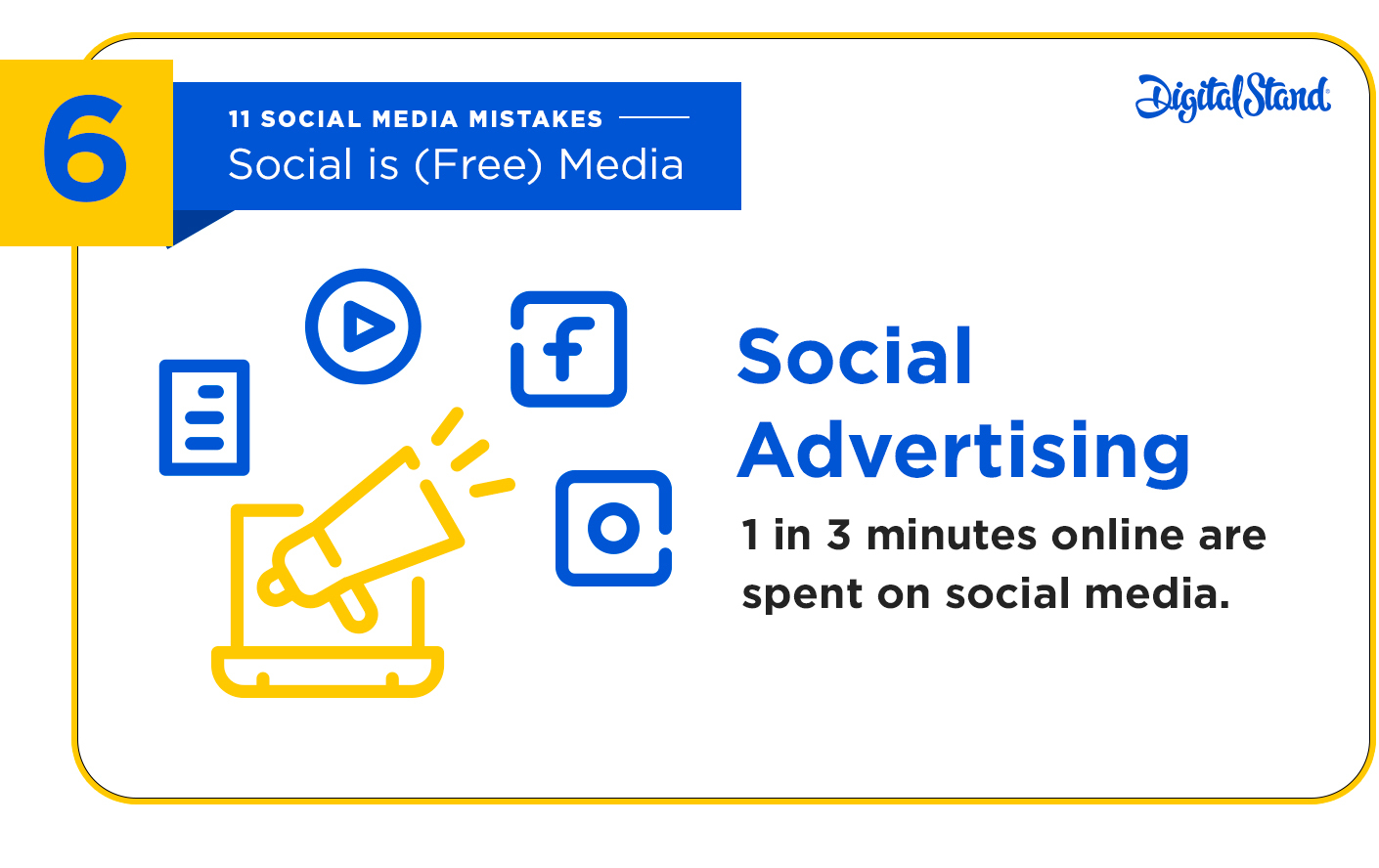 7. Right Country, Wrong Language
You are not aware that all the platforms have a different language, and you do things like use hashtags on Facebook, believing this is how users search! It is not.
If you are not sure how to use each platform, look at the very best across industries, and brands within those industries and model this. Each platform has its nuances and understanding these early, ensures greater success.
Not doing so is like moving to Rome and expecting everyone to understand English. You need to learn the local language and adjust your message to be heard.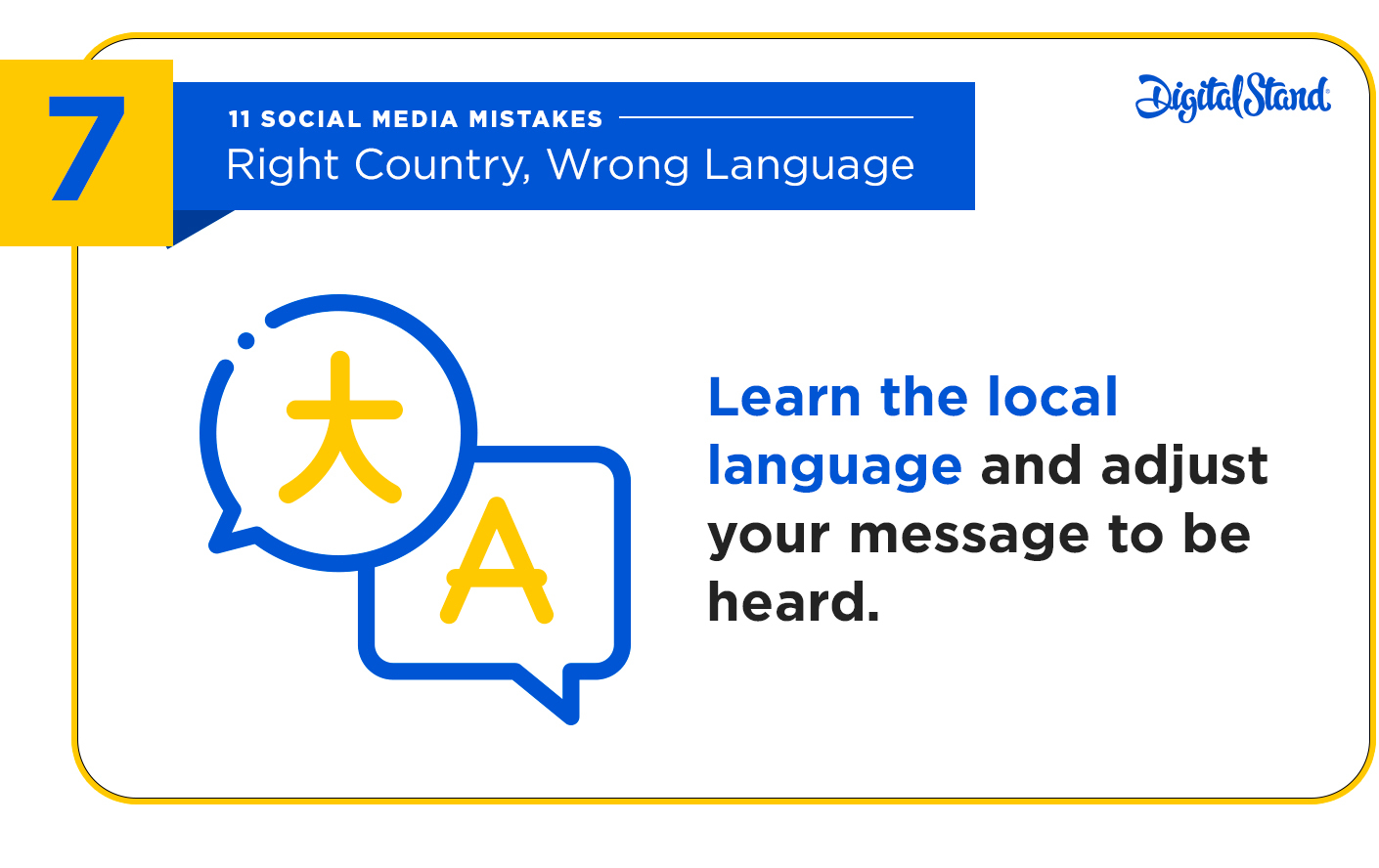 8. Slow to Move or Do Not Know!
Heard of Clubhouse?
You are slow to use new social media features. This could include Facebook Messenger, Lead Ads, Instagram Stories, LinkedIn Matched Audiences, Lifetime Value Audiences etc.
The age-old rule of marketing is to be first. Always be first! And if you cannot be first, at least be second.
Digital Stand has done this on behalf of many brands over the years, and consistently we obtain greater reach, engagement, and revenue when we have moved first. We suspect that because it is a new offering from the platform, they also want other brands to take it up. And for this to occur, different brands and users need to experience/see the new offering.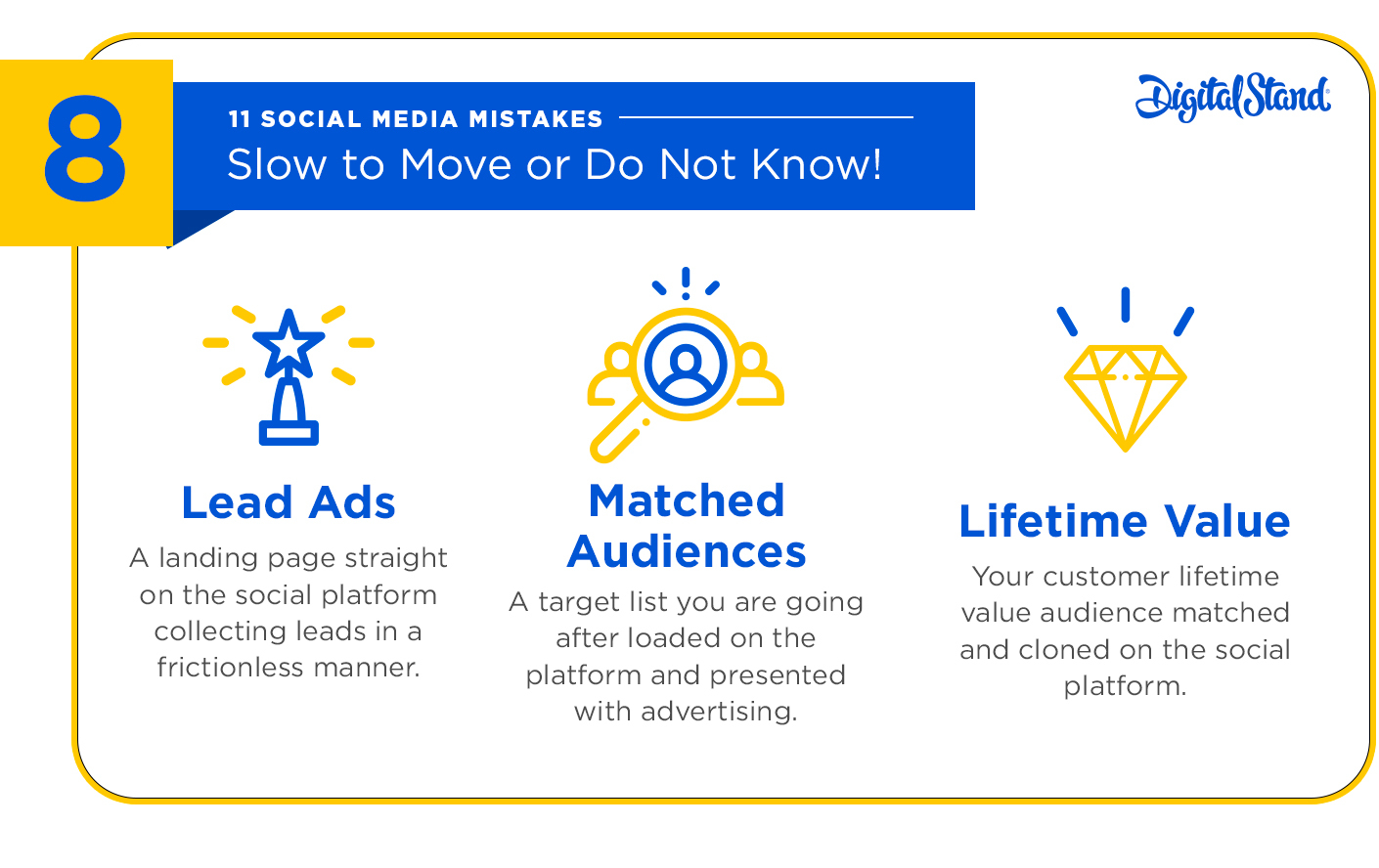 9. Not Knowing All The Options Available To You
Your business, industry, service, and product is complicated enough. Effective social media advertising means you must also know all the options for communicating your message. Competing for attention on the platforms means you must outplay the competition. To do this, you must have knowledge that they do not have.
With the right guide, the upside potential is significant.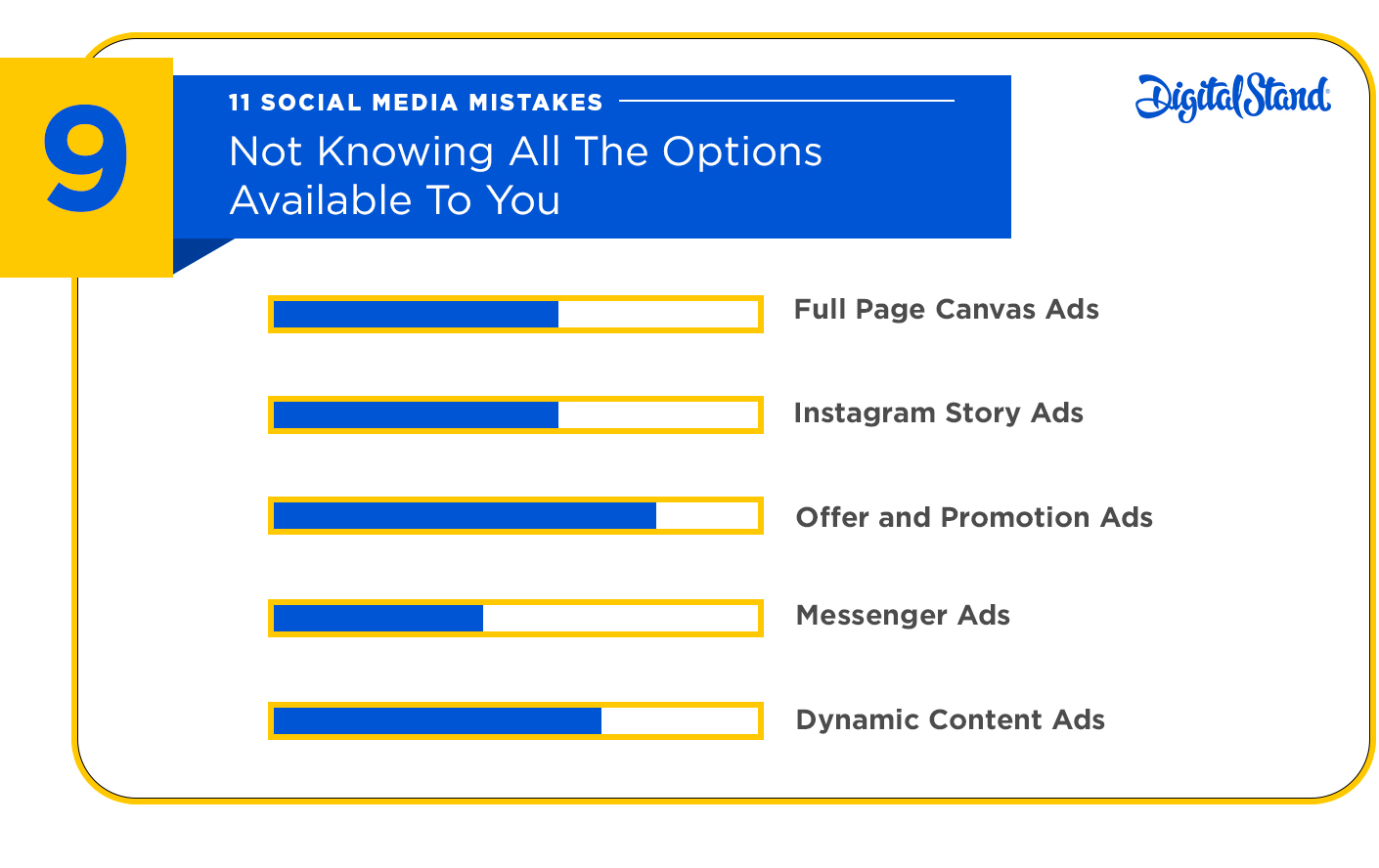 10. Not Measuring and Looking for Leverage
Social media is not a billboard or TV ad, or for that matter, a print ad. We get real-time feedback on performance through data. Therefore we can leverage performing media assets, and retire non-performing positions.
Imagine being able to swap out a TV ad, if it did not bring you sales in real-time? Or push it nationally in real-time if it was successful at a local level. And then imagine the cost of doing so comes down as you increase spending because your advertising is effective.
Yes, effective social advertising costs less than ineffective advertising. Why? We suspect that because all of the social platforms are measured by engaged time. They can only increase engaged time, with the use of compelling content. Whether or not this is branded content or their friends content if it works, it pays for them and you!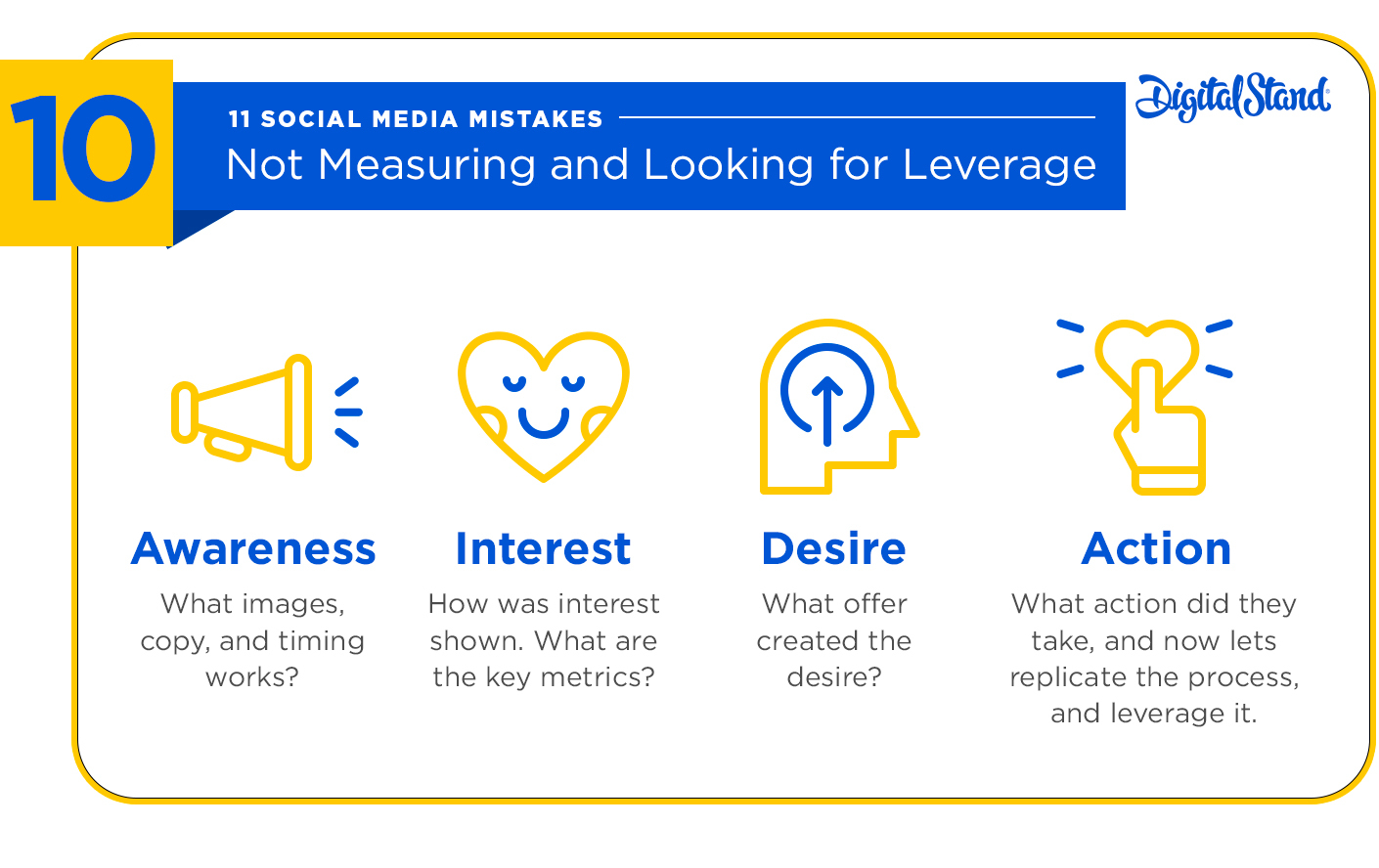 11. No Help Required or a Poor Guide
You think you can do it all yourself, or you believe the agency that was running your PR, print ads, or television ads can also do social media.
To be effective on social, you need the right guide, as this form of media is nothing like the proceeding forms of media. This is where data, creative, audiences, and timing are critical.
"Advertising is entering a new era where strategy is king."
One final point to think about is any platform can disappear overnight! The purpose of your social media marketing should always be to capture contact/lead details so you can always continue the conversation.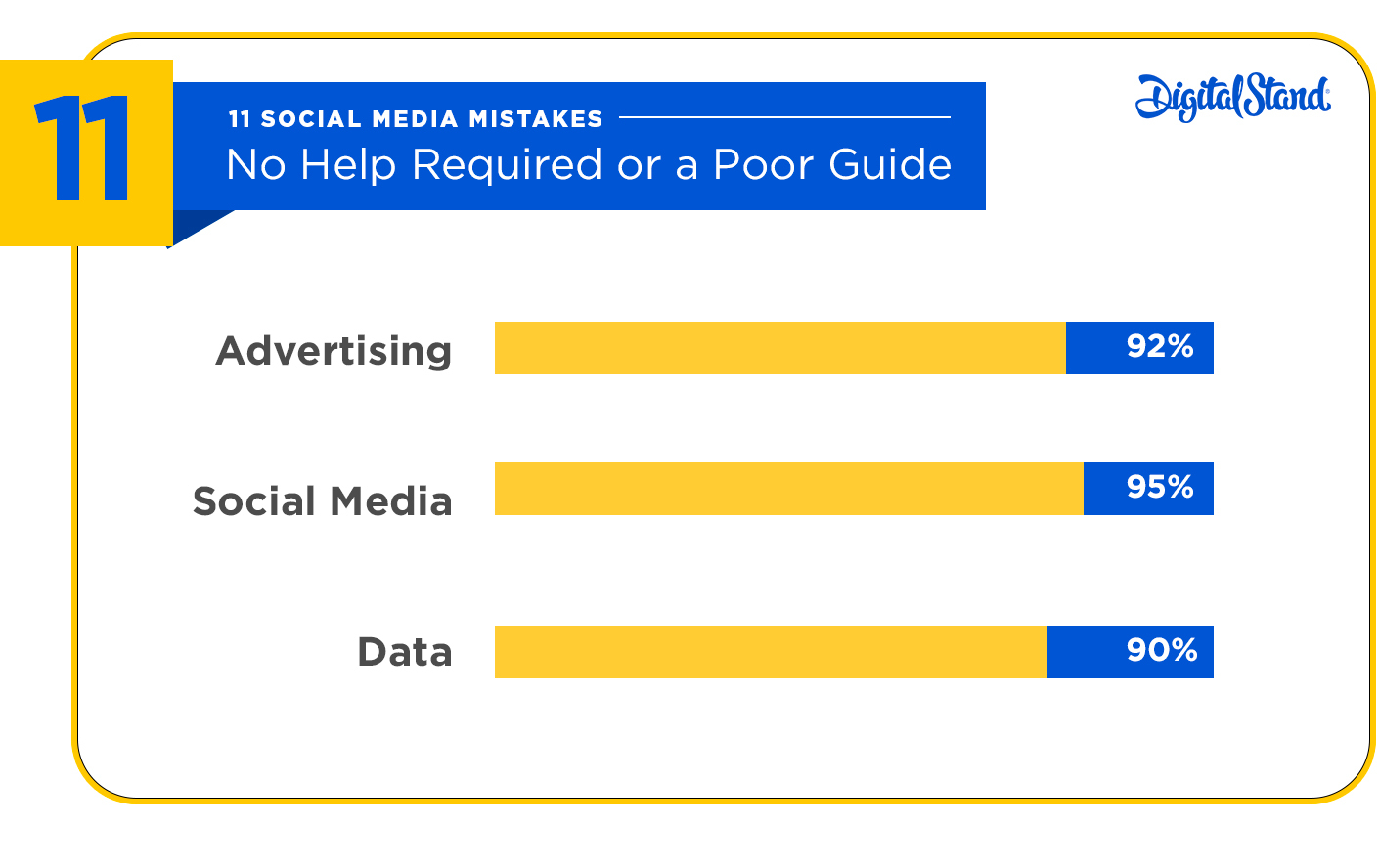 Want to know what we can do for you, or just a deeper conversation then contact us below.
Since 2013 we have been helping brands like yours succeed on social media and digitally, and we are always open to new conversations.
Want a more detailed guide on social media mistakes, download the whitepaper below.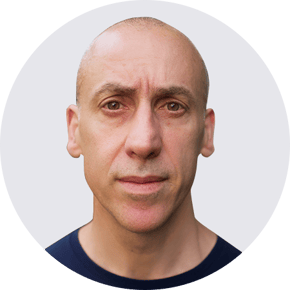 Mathew Slavica
Founder, Digital Stand (Sydney), Industry Keynote Speaker. Obsessed with helping our clients grow.