If you want to create a website or refresh an old one, this article will provide you with focal points to consider. Some things are subjective, while others are outright mistakes regarding web design.
After all, the better you can make the user experience and frictionless nature of your environment, the greater your chance of driving more leads and sales.
Did you know that between 57% – 70 per cent of potential buyers will research a company before contacting a B2B company, according to a study conducted by Bloomberg. Or 70% of users will visit a store because of what they found online.
The following article outlines the five most important things that your website must have to increase its chances of conversion success. after all, your website is the digital foundation of everything you do online.
The latest survey and studies show that the average conversion rate of e-commerce websites is 2.86%. The average conversion rate for B2B companies is 2.23%!
And the last thing you want to be is average!
As you would appreciate, not everyone who lands on your website is ready to make an inquiry and or make a purchase. If you're not achieving these numbers and this is a sign that you must do something sooner rather than later. However, if you are in an average position, you have an excellent opportunity to lift the conversion rate.
The conversion rate is not the only consideration, as increasing your traffic is another variable by which you can drive additional leads and or sales.
Website Design Do's and Don'ts Number 1

Do
In the image above, you will see the common characteristics of high-performing websites. When considering how to layout your website design, you want to ensure that everything is structured to make it easy for you to be contacted and the searcher to identify what it is your business does.
The top right-hand side of a website is your highest value real estate on the entire website. Ensuring that this is prominent and easy to see for the user is the ideal layout. Ideally, you'd like to place your logo in the top corner on the left-hand side and your call to action button on the top right-hand side.
Having clear, descriptive navigation labels for what your business offers also ensures that the searcher can identify the services your company delivers. Whilst at the footer, you also want to include your contact information, including your street address from a physical location POV, links to key pages, social media icons, and at minimum, somewhere where they can subscribe to your newsletter.
Don't!
Do not make it difficult for your potential customer to contact you or, for that matter, understand the problem you solve. For us, that is simple as "we help clients stop wasting money on marketing, and track and measure real results that grow their business."
A framework something like this might help when thinking this through:
Website Design Do's and Don'ts Number 2
One of the most often overlooked aspects of website design can be the copy. Now while many businesses think they capture this, what we've discovered is often they'll write this in the context of what the business offers. What is the difference, you might ask?
Simply put, the difference is the copy needs to be written in terms of the problem you're solving on behalf of the client. No one is searching for your business to identify the products or services you offer because they are only a means to solve their problem.
And as you would appreciate, when we can articulate this clearly, we immediately find common ground with the searcher's intent and our offering.
Someone looking for a digital marketing agency does not need SEO services, a new website or social media advertising; they need more leads, sales, and growth.
Don't
Please don't go on about the intricacies of your offer unless you can relate them to a business problem. For example, search engine optimisation increases your Google ranking for keywords that relate to your business, bringing you more traffic, which brings you more leads, and, ultimately, more sales.
As an example, you might write something like this " We help clients in the ------ Industry deal with ---- business issues and develop growth opportunities."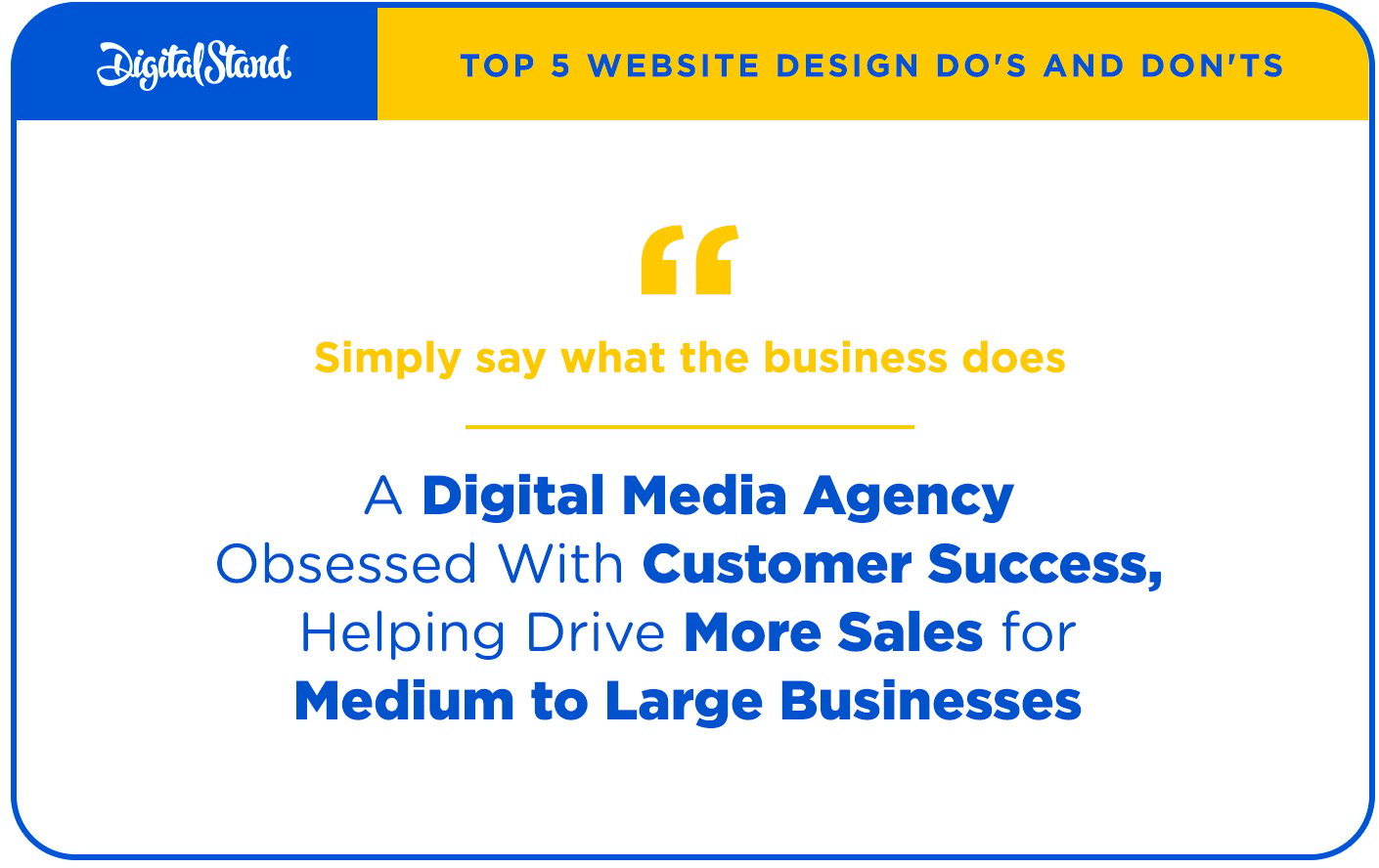 Website Design Do's and Don'ts Number 3
Call to actions can come in a whole range of different forms. Whilst having a sticky CTA is now optimal from a design point of view. This is a call to action that scrolls as the user moves down your page, making it easy for them to contact you.
It is also very worthwhile ensuring that you have several different CTA's that could increase your chances of at least capturing the lead so you can continue digital communication. Doing this from either a social and digital advertising perspective or through EDMs and digital communication.
For example, you can have CTA that says contact us, download this free guide, subscribe to our blog, or learn more when you're trying to educate someone on a subject at a far deeper level.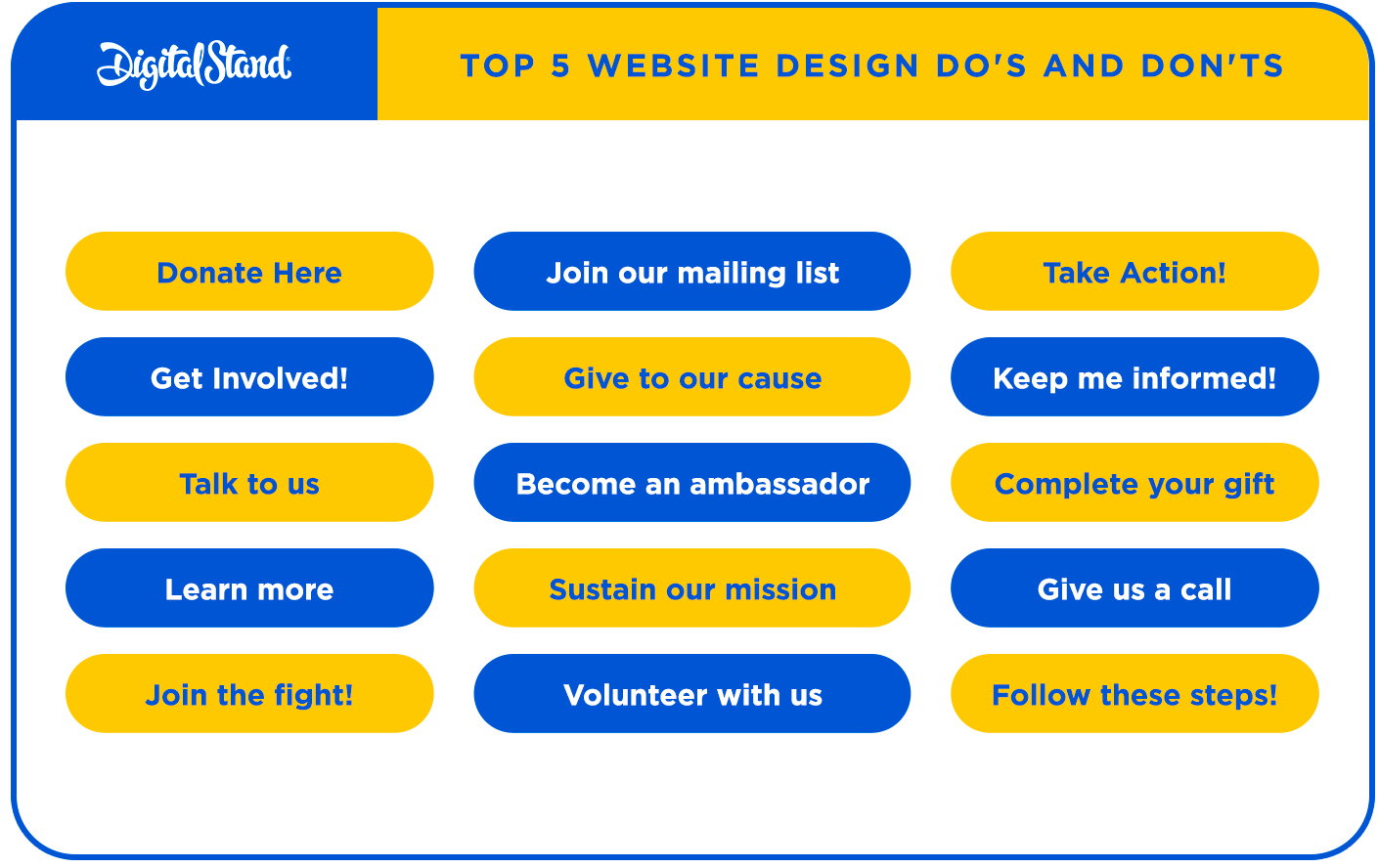 Don't
This might be a difficult one to convince you of. But the reality is people often think if they have one or two CTA's (call to action) on a page, that is enough. They do not want to bombard potential customers with too many take action points.
However, the reality is they end up not putting in enough. Gaining someone's attention is difficult at the best of times. So as long as you logically place them and they are not all "book a call" now, but some offer value, they will also bring value to your business.
95% of people do not buy on the 1st visit to your website. So you must create a strategy to at least capture their interest and ideally email to bring them back.
Website Design Do's and Dont's Number 4
Robert Cialdini first introduced social proof in his 1984 book "Influence." It is the idea that people will copy other people's actions to save time and make the right decision, absent the facts or even with them.
The idea is that if your company solves a problem for a company just like mine or an individual just like me, their chances of solving it for your problem will be a lot higher.
This mitigates risk on behalf of the company and individual and provides far more confidence in them deciding to purchase from or engage your business.
Examples of social proof can include user testimonials, certifications, strategic partners, case studies, or even earned media (as seen on). This, of course, is not an extensive list of social proof ideas but a sound basis from which to understand the concept and how you will influence others to consider your company and organisation from a purchase POV.
Don't
Something we have even been guilty of in the past is not asking for references. Digital ones! How many Google 5 star reviews could you get if you asked? How many strategic partners do you have? Or what about case studies?
Don't underestimate the value of "social proof"; there is no other more significant driver of influence by design.
Website Design Do's and Don'ts Number 5
While I briefly touched on this above, it's worthwhile to restate the importance of an easily identifiable contact button. Having the ability for your client to call you or email you will submit a form on your website will significantly increase your chances of conversions.
You do not want to limit the different ways people can get in touch with your organisation because all it does is create friction points to contact your business.
The top right-hand side of your website is the most valuable point part of a website, and it needs to be above the fold. Above the fold refers to the initial part of the screen that everyone sees when they first arrive on your home page. There is no more important space than this particular area.
Best practices of 2022 from any comments POV are to either have a sticky cart CTA, which increases conversion or a sticky header that enables a contact us button to follow the user as they journey through your website.
Making this prominent as it stands out from the rest of the website will increase conversions.
Don't
Do not build a new website without one! It is that important. For example, a "Sticky Add to Cart Button Gets More Orders by 8%" - Growthrock.
Not every web page you design will be the same, but some principles should be applied across your entire digital environment.
Bonus Content
Please see a bonus ten considerations and some valuable tools if you read the article this far.
No more than two font types are ideal.

Keep the same font size across the entire site.

Test your page loading time with tools like Pingdom or Google page insights. Speed matters more than you may think!

UX design should be customer journey driven and not design-driven.

No website you build or its navigation options should ever be static. And if you are not aware of it, best practice centres on growth-driven design.

Use SEO tools to scan your pages to make sure they are optimised.

Stock photos are not ideal, but try to use sites like these if you need them.

Any sales page should have a form above the fold.

It is easier to decide on design principles when measuring against customer data or website traffic.

As a rule of thumb, your conversions should be above 2% as a minimum. If they are not, something is not working.
Are you interested in learning more? Download the free guide below, or get in touch with us here.